How to Connect Samsung to PC
I am using my Samsung S5 for a while to debug apps yesterday, after my daughter played with it, I can no longer connect to PC.
As a huge fan of Samsung devices I realize that the biggest problem for Samsung uses is that their Samsung devices cannot connect to PC or laptop. Or in another word, computer or laptop cannot detect Samsung devices, just like the above complain came from a Samsung Galaxy user. You'll find 4 solutions on how to get your Samsung devices connect to PC or laptop.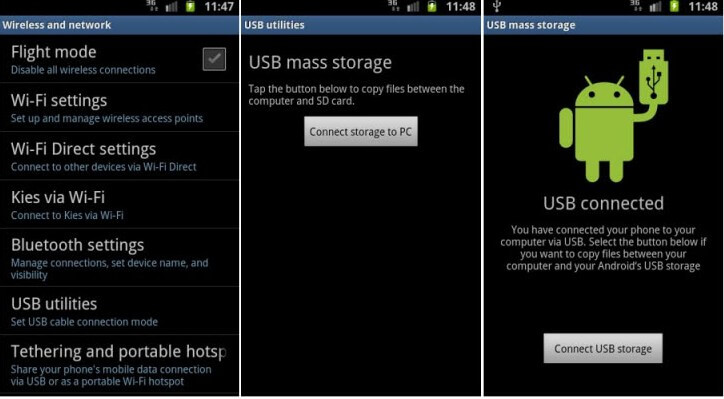 How to Connect Samsung to PC or Laptop
The 4 solutions below will fix the problem and help you connect Samsung Galaxy to PC. Try one of them.
Solution 1. Connect Samsung Phone/Tablet to Computer via Wi-Fi
Normally we connect Samsung device to PC using a USB cable. If this does not work, try Wi-Fi. Tenorshare Android Data Recovery Pro will help you connect any Android device, including Samsung, to a PC or laptop. It's easy to handle, and there are detailed steps on the windows. Get this tool now.
Solution 2. Turn on USB Storage
1. Unplug everything. Reboot Samsung devices first and make sure all apps are closed (optional).
2. Go to your phone's Menu and select Setting -> Wireless and network -> USB Settings and press Connect storage to PC.
3. Then plug in the cable to the phone & computer and you will see Android logo saying USB connected. Then your computer will detect the device.
Keep in mind these steps which you could use every time you mount your USB driver.
Solution 3. Connect Samsung Devices to PC Using Kies
Kies is a freeware software application used to communicate between Windows or Macintosh operating systems, and more recently manufactured Samsung mobile phone and tablet computer devices, usually using a USB cable connection. Wireless LAN Kies connectivity is now possible using some devices. Kies is similar to Apples iTunes software.
1. Install Kies to your computer or laptop.
2. Select Menu and choose Settings -> Wireless and Network -> USB Settings.
3. Click Samsung Kies to enable it.
4. Connect your PC or laptop to your Samsung device with the USB cable.
Kies will automatically detect your device and you are basically connected!
Solution 4. For Those Using ICS Version
1. Reboot Samsung devices first and make sure all apps are closed (optional).
2. Go to your Samsung devices' Menu and select Settings-> Device -> Storage.
3. On the top right of the screen, tap the 3 single squares icon. A screen will pop up stating USB computer connection and you should top on that.
After these steps you'll be lead to two options: connected as media device (MTP) and connect as camera (PTP). If you want to connect to your computer, select connect as media device (MTP).
Hopefully you'll know how to connect Samsung phone to computer with methods provided in this article. If you accidently deleted or lost photos on Samsung S10/9/8/7 or other galaxy phones, you can recover lost Samsung data with Samsung Data Recovery software.