How to Force Restart & Hard Reset Samsung Galaxy S6 and S6 Edge
Samsung Galaxy S6 and S6 Edge are the remarkable smartphones Samsung has made ever before. There are a lot of breakthroughs to talk about, unavoidably, in the meanwhile, there are bound to be some mishaps along the way. Sometimes you find yourself in a situation where your Samsung Galaxy S6 or Samsung Galaxy S6 Edge frozen, the screen gets stuck when you rotate between portrait and landscape; or the device is hung completely or stuck in Download mode. Usually we can pull out of battery and reinsert it to fix the frozen issues, but with S6 and S6 Edge, you cannot do that because the battery is now non-removable. Read continue to know how to fix Galaxy S6 frozen screen via hard reset Galaxy S6 or force restart Galaxy S6/S6 Edge.
How to Restart Galaxy S6 When Screen is Frozen
Whenever your Galaxy S6 frozen screen and will not respond to any touches, try a soft reset. It will force restart the device and no data will be erased by doing this.
What you need to do is just press and hold the Power and Volume Down buttons simultaneously or 7-10 seconds, until the device powers off. It will then restarts and the welcome screen appears as below: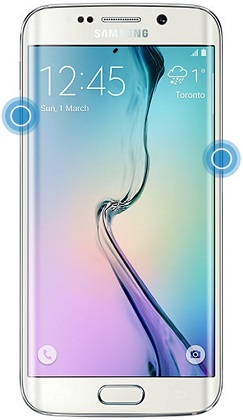 How to Do a Hard Reset on Samsung Galaxy S6 or S6 Edge
If you still run into stuck and freeze constantly after a force restart, you may have to hard reset Samsung Galaxy S6 Edge.
All of your data in the memory card will be removed and the device is reset to factory settings. If you want to recover your lost Photos, Messages, Contacts, App data and other documents after reset, you can use this Samsung Data Recovery software
There are two ways to perform Samsung Galaxy S6 active hard reset.
Way 1: Galaxy S6 Factory Reset from Settings Menu
Go to Menu from home screen > Settings > Backup&reset > Reset device >Erase everything
Way 2: Galaxy S6 Hard Reset from Startup
Step 1. Turn off your Samsung S6/S6 Edge; Press and hold Volume Up + Home + Power button at the same time until the Samsung logo appears.

Step 2. Release Power button, but keep holding Volume Up and Home buttons.
Step 3. Release all buttons when the Android system recovery screen appears.

Step 4. Use Volume Down button to scroll down and select "wipe data/factory reset" option. Press Power button to confirm your choice.

Step 5. Use Volume Down button to scroll down and select "Yes--delete all user data" option. Press Power button to confirm your choice.

Step 6. Wait for the reset process to complete.

Step 7. Select "reboot system now" to restart the device.
That's all. You have reset your device successfully.
The Bottom Line
Here we give all the feasible solutions to fix various kinds of freeze and stuck problems Samsung Galaxy S6 or S6 Edge might have. Most cases you can get the device back to work by a force restart.