The Safest Method to Completely Delete Samsung Galaxy Series Data [Samsung S22 Supported]
As one of the most popular mobile phones, Samsung galaxy is popularized for the easy-to-use Android system, gorgeous interface as well as smart size. It is widely used to save photos, videos, documents and so on. If you want to upgrade Samsung Galaxy to an upper version and are planning to sell the old one, it is quite necessary to completely clear Samsung galaxy. Is it possible to clean Samsung memory and remove photos, videos, applications or other private staffs from Samsung Galaxy?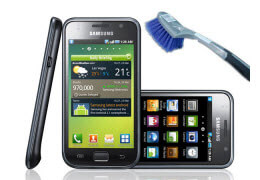 The answer to this question is definitely yes. You can wholly remove files from Samsung Galaxy with no recovery possibility. And you will need third party Samsung Galaxy wipe software to help you. Data Wipe is the most secure and reliable Samsung Galaxy clear program. It can terminally wipe data clean and turn Samsung Galaxy to a real fresh slate. The program can work well on Samsung galaxy series including SII, SIII, Note, tab, etc. The following tutorial tells you how to permanently delete data from Samsung Galaxy.
Four Simple Steps to Erase Samsung Galaxy Phone
To wipe Android phone, Data Wipe offers three different data wipe modes: Wipe Partition, Wipe a Specific Folder, Wipe Files. You can delete all files in Samsung Galaxy at one time or select one specific file to shred. (Here we take Wipe Partition for example)
Step 1. Connect Samsung Galaxy to PC
Connect Samsung Galaxy to Windows PC with Data Wipe installed. You can do this from the notification tray or from settings > wireless & networks > USB connection.
Tips: This program can be well compatible with the newest Windows 8.
Step 2. Choose Data Wipe Mode
Run the program, in the main interface, choose "Wipe Partition". In the next window, highlight Samsung Galaxy drive and click "Next" to begin erasing.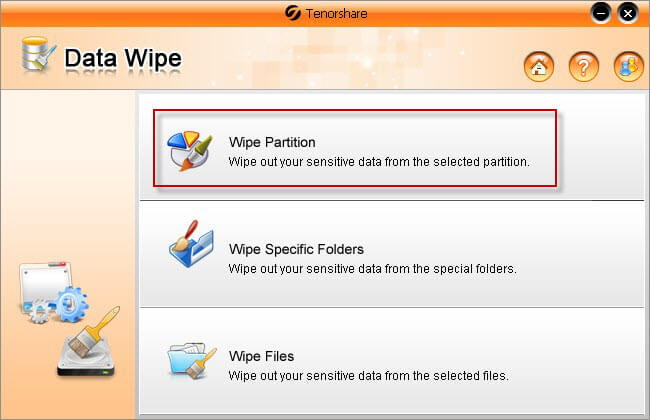 Step 3. Save a Record
After completing data wipe, you can save the record to your local computer or other removable media to indentify which files you have deleted. Or just click "Close" to terminate operation.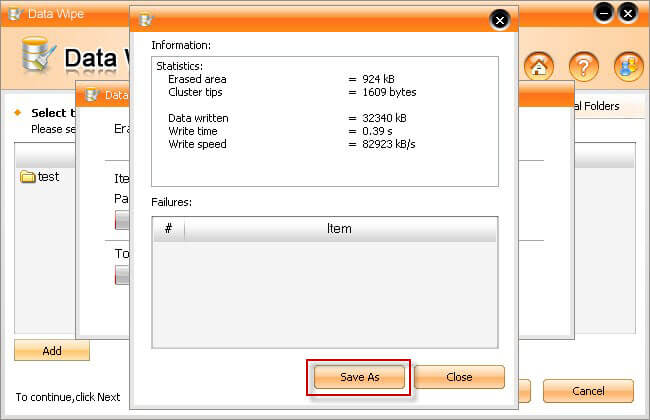 Note: You are highly advised to backup your important data like contacts, photos, videos, emails books, applications before shredding data. Because once they are deleted, there is no lucky to get them back.
Data Wipe can completely erase Samsung galaxy mobile phones, including the hot ones like below:
| | | | |
| --- | --- | --- | --- |
| Samsung Galaxy S5 | Samsung Galaxy S4 | Galaxy S4 mini | Samsung Galaxy Note 2 |
| Samsung Galaxy Fame | Galaxy Young GT-S6310L | Samsung Galaxy Ace | Galaxy Victory |
| Samsung Galaxy Guos 2 | Galaxy S3 Mini | Galaxy Rush Prepaid | Galaxy Tab 4 |
| Samsung Galaxy S | Samsung Galaxy S III | Samsung Galaxy S II | Samsung Galaxy Note 2 |
| Samsung Galaxy Nexus | Samsung Galaxy Note | Samsung Galaxy Exhilarate | Samsung Galaxy Nexus Android Smartphone |
| Samsung Chrono 2 Flip Phone | Samsung Galaxy Reverb | Samsung Galaxy Rush | Samsung Galaxy Stellar |
| Samsung Galaxy Victory 4G LTE | Samsung Entro Cell Phone | Samsung Freeform 4 QWERTY Cell Phone | Samsung Montage QWERTY Cell Phone |
| Samsung Array QWERTY Cell Phone | Samsung Comment 2 QWERTY Cell Phone | Samsung galaxy ace | Samsung galaxy tab |
| Samsung captivate | Samsung infuse | Samsung infuse 4g | Samsung tablet |