How to Fix Samsung Blue Screen of Death
If you are having a Samsung Galaxy S7, or other Galaxy series device, you should not be strange with Blue Screen of Death (BSOD), that is, the Samsung stuck on blue screen and you cannot turn it off. Let's see a topic on Android forums:
My S4 has always froze. It's annoying, but it doesn't bother me that much. But recently I've gotten the infamous blue screen of death twice within 24 hours and I think there may be something wrong with my phone. Any thoughts?
When an Samsung phone caught a blue screen of death, it might restart itself after about a minute, and then the blue screen hit again after a while, or sometimes it happens once every week or month.
Then, what solutions you could try to fix blue screen on Samsung phone?
Feasible Solutions for Samsung Galaxy Blue Screen of Death
When you got a blue screened Android mobile phone, one of the follow suggestions may do the trick and get Android device out of the Blue Screen of Death.
Method 1: Remove the Battery
When an Android phone is stuck and responds to no action, wait for a while patiently. If still no response, we suggest take the battery out of the phone and insert again. This is also called a software reset.
Remove the back cover of your Samsung Galaxy phone and take the battery out of the phone. Let the phone stay cold without battery for 5-10 minutes. And then reinsert the battery again and install the back cover.
Restart your phone as normal and the blue screen problem might be fixed.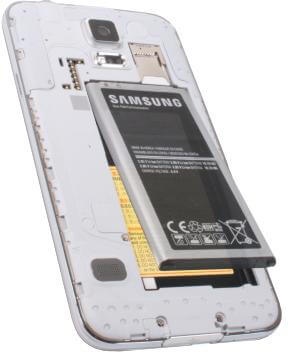 If you are using the new Galaxy S6 / S6 Edge that have a non-removable battery, this solution does not do the trick. Try the second method below.
Method 2: Initiate Hard Reset
A hardware factory reset should be used as a last resort to fix the BSOD.
The hardware factory reset will erase all settings, photos, videos and other data. If you never have a backup before, you canrecover Samsung data with an Android Data Recovery program
Here are the steps to reset a Samsung Galaxy Smart Phone or Tablet
Press and hold Volume UP + Home + Power button simultaneously for a few seconds until you see "Recovery booting" message. Let go of Power button but keep holding the other two buttons until the device enter into Android Recovery Mode.
In the Recovery Mode screen, use Volume up/down button to navigate and select "wipe cache partition" and press Power button to confirm your choice.
Scroll Down to select "wipe data/factory reset" and use Power button to confirm.
Scroll down to Yes to confirm wipe of all user data.
Navigate to the option "Reboot system now" and hit Power button.
The Bottom Line
That is the two solutions to fix the Samsung Black Screen of Death and other Android devices. If neither helps, it might be a hardware issue. You should send to Samsung warranty repair center. A Samsung data recovery would be helpful if you worry about the data in your phone.