How to Fix Samsung Boot Loop [Samsung S22 Supported]
I have a Samsung Galaxy S6 the yesterday suddenly switch itself off. It then constantly tried to open itself and shut down again in a never ending loop. Do you have any suggestion on how to fix Samsung galaxy s6 stuck in bootloop?
Here is the letter from our readers who recently experienced this kind of problem that Samsung Galaxy 20/8/7/S6/S6 Edge//S5/S4/S3/S2 gets stuck or keeps restarting in reboot loop. Probably most of you might have met same situation. This is a common Android firmware bug which put your Samsung Galaxy into endless booting loop.
So now this article will tell you how to easily fix Samsung boot loop problem. Basically, we don't know what the problem really is. Hence before fix it, the first thing we should do is to determine what caused the Samsung Galaxy S6 boot loop.
Solution 1. Remove the Battery if Your Phone Has a Removable Battery
There are chances that the Samsung S22/S6 restart in boot loop can be fixed easily by removing the battery. Pull off the Samsung phone's back cover and remove the battery. Please wait for a minute or more before you reinsert the battery.
Turn on your device and see if the bootloop has sovled.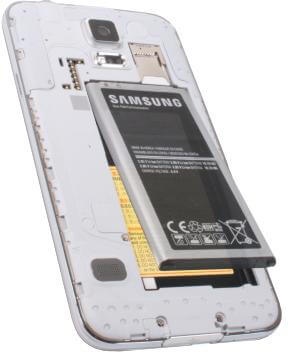 Solution 2. Boot Into Safe Mode to Solve Samsung Galaxy S22/S6 Stuck in Boot Loop
If you can boot to Safe Mode and your phone doesn't restart, there is a possibility that it is caused by third part app. To confirm it you have to let the device run in safe mode for at least an hour and observe whether it would reboot by itself.
Step1. Turn off your device completely. Wait for a while and then press and hold "Power" button.

Step2. Release the "Power" button when Samsung Galaxy logo pops up on the screen.

Step3. Press and hold "Volume Down" key as soon as release the "Power" button.
Step4. Hold "Volume Down" key until the reboot process is completed.
Step5. If you can read "Safe Mode" at the bottom left corner of the screen, release "Volume Down" key. Otherwise, repeat the process until you can boot your phone to Safe Mode.
Solution 3. Using Recovery Mode to Solve Samsung Reboot Loop
To enter recovery mode on your Samsung phone, press and hold the "Home"+"Power"+"Volume Up" buttons together. Release the buttons once your phone boots up into a screen showing Android system recovery at the top (like the image below). For smartphones like Samsung Galaxy S8 there is no physical "Home" button, you can press and hold the "Power"+"Vol Up" buttons together.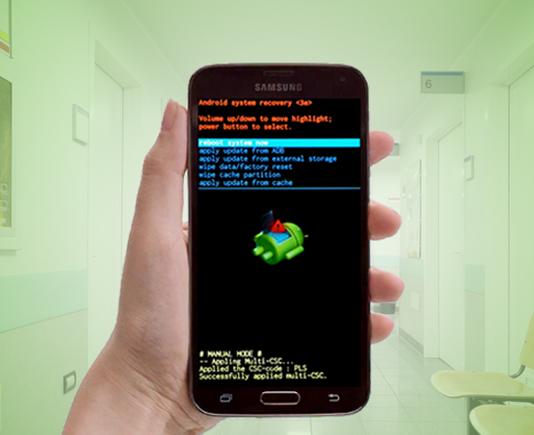 Use the volume up/down key to higlight the "reboot system now", and use the Power button to confirm the selection.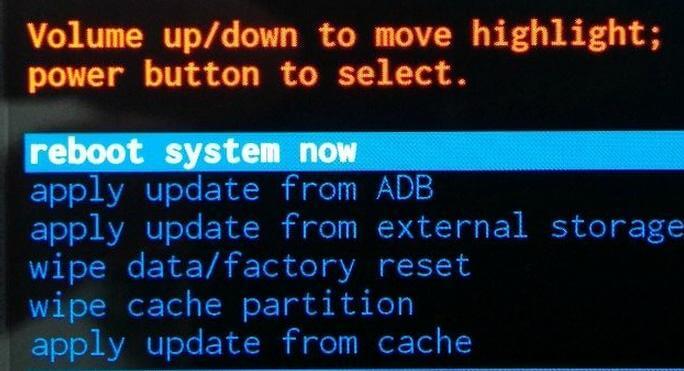 Solution 4. Boot Samsung into Recovery Mode and Wipe Cache Partition
Sometimes it is the cached data corruption that caused Galaxy S6 reboot loop. You can fix this issue by clearing the cache partition.
To do this, you need to enter Android recovery mode firstly. Once your device in recovery mode, use the Voluem up/down button to highlight the "wipe cache partition" option and press the Power button to select it.
Once the cache partition has been cleared, use the volume up/down key to select the "reobot system now" option and use the Power button to confirm your choice.
Solution 5. Factory Reset Your Samsung Via Recovery Mode to Fix Boot Loop (Data Wipe)
This is the last resort we recommend to solve Samsung bootloop because this method will erase all user data and contents in the device. If you don't want to lose your data, the best method is to use professional Android system repair software.
Step 1. Turn off your device completely. Press and hold the "Volume Down"+"Home"+"Power" buttons simultaneously.

Step 2. Release the "Power" button when your phone vibrates but keep holding "Volume Up"+"Home" buttons.
Step 3. Release both the "Volume Up"+"Home" buttons when the Android System Recovery screen appears.
Step 4. Use the "Volume Down" key and press the "Power" button to select the "wipe data/factory reset"

Step 5. On the next screen use the volume key to highlight the "yes-erase all user data" option and confirm this selection with the power button.
Solution 6. Repair Android System to Fix Samsung Logo Boot Loop without Data Loss
If you care about your data and the other methods can not fix your Samsung Galaxy S22/S6/7/8 that's stuck in bootloop, you should use UltFone Android System Repair. It is professionaly aimed to fix over 150 types of Android system issues including Android boot loop, Android phone won't turn on, black screen, no command error, etc.
Steps of Repairing Android System to Fix Samsung Reboot Loop
Step 1 Launch this program after installing it on a PC computer, connect your device to computer and select "Repair Android System" feature from the main interface.

Step 2 You will be required to select the correct device info to ensure success repair.

Step 3 With the correct device info, this program will automatically start downloading the firwmare file.

Step 4 Next, follow the onscreen instructions to start repairing Android system and fix Galaxy S4 reboot loop issue.
The whole process takes 10 minutes around. Your Samsung will boot up normally after the system repairing completes.
Last Words
Hopefully your problem of Samsung Galaxy S22/S6/5/4/3 restart loop or won't turn on problem has been solved using one of the solutions in this post.