Top 14 Ways to Fix WhatsApp Call Not Ringing When iPhone is Locked
A large number of WhatsApp users reporting the incoming call notification is not working when iPhone is locked on the screen. Here, in this post, we are going to elaborate on the feasible solutions to fic WhatsApp call not ringing issue including WhatsApp call notifications not showing.
Solution 1. Make Sure iPhone isn't in Silent Mode
First of all, it is important to ensure that the iPhone is not in silent mode. The Ring/Silent switch is on the left side of your iPhone. In the Ring mode, you can hear ringtones and alerts, whereas when iPhone is in Silent mode, you can't hear any ringtones or alters. Therefore, make sure that your iPhone is in the ring mode.
Then your iPhone is in the ring mode. You can see Silent Mode Off tips on the screen.
Solution 2. Change WhatsApp Ringtone
If you make sure that the silent mode on your iPhone is turned off, changing the WhatsApp ringtone is the following solution.
Open Settings on WhatsApp, then click Notifications. Choose Ringtone from the WhatsApp Calling. There are some choices for you. Just select one of them and then tap on Save.
Solution 3. Turn Off Do Not Disturb
Do Not Disturb is a minor setting and we advise checking it properly. If you enable Do Not Disturb (DND) in iPhone, you can't receive any kind of notification alert on your iPhone Screen, which can cause WhatsApp call does not ring when iPhone is locked. DND is to be turned on accidentally at the time of scrolling through your Control Centre. You can follow the steps below to check and disable the Do not disturb settings.
Step 1. Got to the Control Cdenter on iPhone. Then scroll down the status bar of the iPhone.

Step 2. Use your finger to tap the Do Not Disturb icon which looks like a moon. It is in disabled status when the moon icon is black within a gay circle.
Solution 4. Disable Noise Cancellation
In many cases, Noise Cancellation is a practical feature that can effectively reduce the background noise when having a call. It sounds that this feature could not cause WhatsApp call not ringing. But as a possible solution, it is still worth having a try:
1. Go to iPhone Settings and choose Accessibility.
2. Scroll down and find the Audio/Visual option. Click it.

3. Turn off Noise Cancellation. When the switch becomes gray, it has been turned off.
Solution 5. Turn Off Screen Time Restriction for WhatsApp
Screen Time is a useful feature to keep us from smartphones by limiting accessing assigned Apps. But some users may forget to turn it off. In this case, they asked why WhatsApp call not ringing. For this situation, turning off the Screen Time restriction for WhatsApp can answer the question.
Navigate to Settings on iPhone and then click Screen Time. Choose WhatsApp and turn off the App Limit button on the next screen.
Solution 6. Turn on Airplane mode and Then Turn It Off
This may be a relatively simple solution as it can fresh network connection.
Swipe up or down on the Home Screen. Click the airplane icon. Wait about 30 seconds and then turn it off.
Solution 7. Disable Low Power Mode
Low Power Mode can save your battery. However, WhatsApp calls consume more power. Perhaps it is because you turn on this feature that WhatsApp calls are prohibited, so you can't hear WhatsApp calls.
To disable Low Power Mode:
Settings>Battery>Turn off Low Power Mode
Solution 8. Check WhatsApp Notifications Settings on iPhone
Please check and make sure you've enabled WhatsApp notifications on iPhone when WhatsApp call notification not showing on iPhone.
Go to Settings app on iPhone, and scrool to find WhatsApp, then Notifications. Turn on the button for Allow Notifcation otpion.
Please confirm that the three alert sorts of display notification are visible on the screen. These are the Lock Screen, Notification Center, Banners. Make sure that all these are enabled and checked. The most important thing is to make sure that the sound is enabled, either.
Solution 9. Check and Install any Pending WhatsApp Updates
This is also a possbiel reason for WhatsApp calls not ringing. It is important to keep all apps up to date.
Step 1. You need to go to the App Store of your iPhone device.
Step 2. Check the WhatsApp application page and click on the Update option if there is the latest version.
Solution 10. Reset Notification Settings
Resetting the notification settings is worth trying when the above tips do not help to fix the WhatsApp call does not ring issue.
Go to the Settings app on iPhone > WhatsApp > Notifications > Click on WhatsApp Notification Settings, and then click Reset Notification Settings.
Solution 11. Reset Network Settings
Still, you are facing this issue. it could be the improper configration of network settings on your iPhone. Let's reset the network settings to see if it is the cause of WhatsApp calls now ring when your iPhone is locked.
iPhone with iOS 14 or below: Go to Settings > General > Reset > Reset Network Settings. On iOS 15 or later, go to Settings > General > Transfer or Reset iPhone > Reset > Reset Network Settings.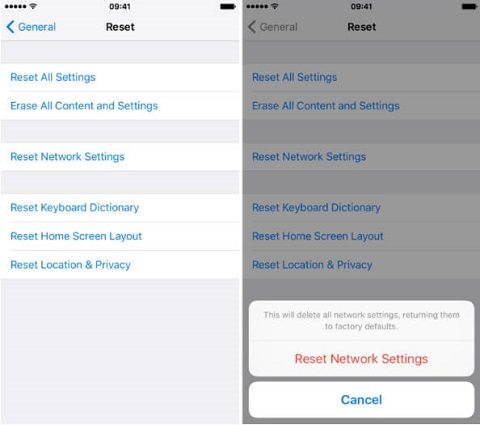 Solution 12. Reinstall WhatsApp on iPhone
Still, the WhatsApp call not ringing exists, we will suggest you reinstall the WhatsApp app on iPhone. Before uninstalling WhatsApp, you'd better backup WhatsApp data in case of any data loss.
After removing the app, go to App Store on iPhone to install the app again.
Solution 13. Perform A Factory Reset
A factory reset may solve "WhatsApp not ringing". But it has two limitations.
It will erase your data.
So it is highly recommended to back up your data such as contacts, photos, and videos.
It may cause problems if you have jailbroken your iPhone.
Go to "Settings". Choose "General" and then select "Reset". Click the first choice "Reset All Settings".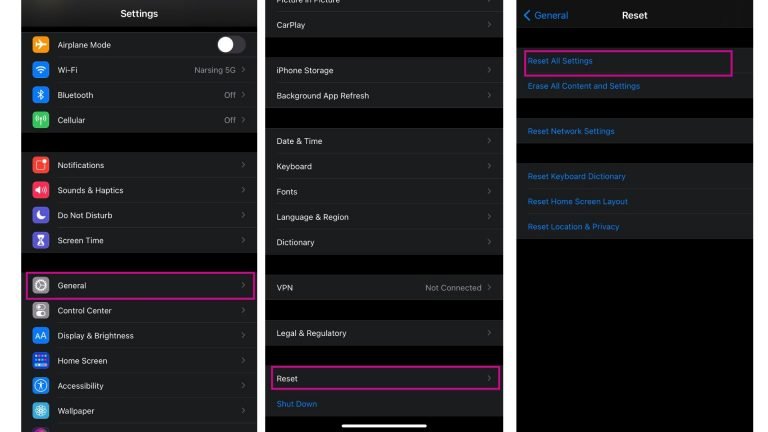 Solution 14. A Bonus Tip: Repair iOS to Fix WhatsApp Call Not Ringing on iPhone For System Reasons
After browsing all basic troubleshooting, still your WhatsApp video call not ringing when phone is locked, then there's just one option left which may be a problem with the iOS system. We highly recommend using professional third-party iOS system repair software. And one of the trusted software we tried was UltFone iOS System Repair. Its main features contain:
Provides two repair modes which can greatly increase the success rate.
The standard repair mode aims to solve most of iOS related issues without data loss.
Supports all iOS/iPadOS/tvOS devices and the software is always update along with Apple's update plan.
Neat interface, easy to use.
Here are the handy steps to repair iOS to solve WhatsApp call not showing/ringing on screen.
Step 1 First of all, you need to download and install UltFone iOS System Repair to a PC or Mac computer. After that, connect your iPhone with the USB cable or lightning cable and then click on the Start button to proceed to the future.

Step 2Now click on the Standard Repair option to fix iOS to normal without data loss.

Step 3 Now, over a new screen, you need to click on the Download option to download the up-to-date firmware package online.

Step 4 After downloading the similar firmware that has been successfully installed, click on the Start Standard Repair button to continue the repairing process.

Step 5 Once your iPhone iOS system repair is completed, at that time, your iPhone will automatically reboot. Test and see whether the problem WhatsApp video call not showing on screen has sovled.
Wrap It Up
In a word, this article list the common troubleshooting tips as well as a recommended third-party iOS repair software to solve WhatsApp call not showing on the lock screen. UltFone iOS System Repair is professional third-party software to recover iOS system without data loss.