How to Fix WhatsApp Restore Stuck on Android
I tried restoring my WhatsApp backup on another device. The extraction of backup went fine using a tool. But when I process it, WhatsApp restore gets stuck at 24% and fails abruptly. Any idea how to fix it or restore the backup easily?
Many users have experienced the WhatsApp restore stuck on Android issue. If you are one of them and looking for ways to get rid of this problem, today's your lucky day! We have compiled a guide for you that will help you to fix the Android device. Let's begin!
6 Ways To Fix WhatsApp Restoring Media Stuck On Android
Here are the ways that will resolve the media restore stuck issue quickly.
Video Guide: 9 Ways to Fix WhatsApp Backup/Restore Stuck 24% or 99% on Android
Way 1. Check Your Google Account and Phone Number
If an error occurs while WhatsApp is restoring media and Android gets stuck, then the first thing to check is your Google account and number. Follow this:
Step 1. Open WhatsApp > Settings > Chats > Chat Backup > check if the Google account you are using is correct.

Under the Settings menu, tap on your Profile Photo and check the phone number as well.
Way 2. Check Storage on Your Android Phone
Sometimes, the WhatsApp restore gets stuck at 39% or midway due to low storage space. If so, then you'll have to free up some space by removing unused applications and files.
Sometimes, the WhatsApp restore gets stuck at 39% or midway due to low storage space. If so, then you'll have to free up some space by removing unused applications and files.
To delete the apps that you don't use, tap, and hold on the name. Two options will appear, "Delete" and "Uninstall." Choose the Uninstall button and remove the app from your device to free up storage.
Way 3. Check Network Connection
In most cases, the process of WhatsApp restoring messages gets stuck because of an unstable internet connection. So, verify that your internet connection is active and fast to avoid getting the process stuck halfway. Or better, connect to a stable Wi-Fi.
Open Settings and go to Wi-Fi. Turn on the Wi-Fi and connect your phone to a network that is working fine.
Way 4. Update WhatsApp
When WhatsApp wont restore or restore stuck at 24/39/99, one of the reasons could be the outdated version of WhatsApp. To fix this, you simply need to open the Play Store and update the application.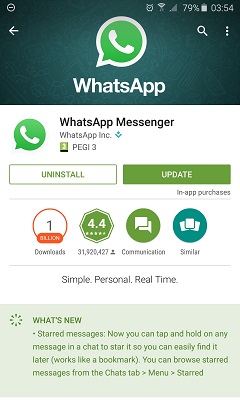 As soon as the update finishes, make another attempt to restore the data and see if the problem is fixed.
Way 5. Update Android OS
Pending operating system update on your device can also halt the media restore in WhatsApp and lead to this issue. That's why we recommend that before you move to the next method, see if you have the latest software version on your device.
Open device settings and go to System menu > Advanced > System Update. Check for new updates and, if available, install them right away.
In the latest devices, you will find the System Update option in "About."
As soon as the updates finish, try one more time to restore the media and messages. If the problem persists, it's ideal to move on to the next solution.
Way 6. Repair Android System
In the market, you will find numerous third-party Android repair tools that have the potential to fix such issues. Sometimes the WhatsApp restore not working is resulted from a damaged or corrupted Android system. If so, you can restore Android to factory settings to solve it. Or you can use an third-party tool to solve Android system issues in an easier way.
UltFone Android System Repair is a trusted tool for fixing system issues like stuck in download mode/recovery mode/fastboot mode, stuck on Samsung logo, and more.
More features of this tool include:
Enter and exit Android Fastboot mode with one-click
Use Android Recovery Mode in a simple way
Free access to Android download (Odin) Mode
Fix over 150 different types of system issues on Samsung phones like stuck on Samsung logo, won't turn on, stuck on downloading do not turn off target screen, etc.
Clear System Cache at once

Download and install this program to a Windows computer, you can fix Android to normal to solve WhatsApp restore stuck issue.
Step 1 Launch this program after installing it, and connect your device to computer via a USB cable. Choose "Repair Android System" from the main screen.

Step 2 You have to select the correct device info to ensure a successful repair.

Step 3 This program will start downloading the matching firwmare package for the selected device.

Step 4 Finally, this program will start repairing Android by installing the firwmare package to the device.
An Alternative Way To Backup And Restore Whatsapp On Android Without Stuck
You might find a way to fix the WhatsApp restoring message stuck issue, but while doing so, there is a risk that relevant data will be lost. But we have an alternative way to backup and restore WhatsApp data that won't lead to stuck issues ever. It is UltFone WhatsApp Transfer that can handle them professionally and carefully. The Backup & Restore feature allows the users to create a backup of both WhatsApp and WhatsApp Business and all the respective data on Android and Apple devices.
Get the software license from the website and use the guide below to safely restore the WhatsApp data.
Step 1 Run UltFone WhatsApp Transfer and connect your Android phone. In the main interface, the social media apps supported by the software will appear. Click on the WhatsApp icon and move forward.

Step 2 From the sidebar, choose the View & Restore option, and the software will detect the backup available on the computer. Hit the Restore to Android option to restore the data on Android.

Step 3 In the next screen, choose the device to which you need to restore the data and press the "Restore Now" button.

Step 4 Remember that the restore will overwrite the existing data on the device. Continue with the Restore, and the program will initiate the process.
Once the data restore is complete, the software will notify you, and the data will be accessible.
The Conclusion
In this guide, we learned how to avoid WhatsApp Restore stuck at 39%. From now on, we suggest that you use UltFone WhatsApp Transfer when it comes to social media app data transfer. It is a professional tool that can handle backup and restore tasks for such apps without a hitch. Tell your friends about UltFone and help them too!