How Do I Fix WhatsApp Backup Stuck On Android?
I own a Samsung Galaxy S3 phone. It has been 12 days that I've been trying to create a backup of my WhatsApp messages to Google Drive but I failed to do so. I don't know what's the problem – I have got enough storage on my Drive and a reliable internet connection. The backup is stuck with a message showing "Preparing Backup", so what should I do to fix it?
Though Whatsapp backup stuck on Android is not a common problem, some users may get WhatsApp backup stuck at 99 or 95, it can occur due to a number of reasons. But the good news is that there are certain tips you can try to fix the issue. So, have patience and continue reading this post. Here, we address this problem and offer you some common workarounds that may help you resolve the WhatsApp backup stuck issue.
10 Ways to Fix WhatsApp Backup Stuck On Android
Below are all workable solutions you can try.
Way 1. Check Google Account
Is Google account added to your Android phone? And is that Google account activated? It's important to have a Google account added to your device as well as it should be activated in order to perform a backup.
1. Go to "Settings" on your Android phone.
2. Click "Accounts/ Accounts & Sync/ Accounts".
3. Look for your "Gmail". Your Gmail should be displayed on the Accounts page. It may be listed under Google and ends with "@gmail.com".

If there is no Gmail account, then you have to add one. To do so, click "Accounts/ Accounts & Sync/ Accounts">" Add account">" Google. Follow the onscreen instructions in order to add your Google account.
Way 2. Check Google Play Services Is Installed and Up to Date
You could encounter WhatsApp backup stuck at 99 Android error if Google Play Services is not installed on your device. In order to perform a backup, you need to install Google Play Services and it should be up to date. Keep in mind that Google Play Services is available for Android 2.3.4 or above, therefore if your phone is running below Android 2.3.4, then you have to update it first.
To check Google Play Services is installed and up to date, follow the below steps:
On your Android phone, go to Play Store.
Look for "Google Play Services".
If Google Play Services is not installed, then click on the "Installed" button. If it's already installed and updates are available, then you'll see the "Update" option.
Way 3. Update WhatsApp
Is your WhatsApp app up to date? Outdated WhatsApp version could be the reason behind encountering WhatsApp backup stuck problem.
Open the "Play Store" app on your device.
Click "My apps & games">" WhatsApp Messenger".
Click "Update" next to it.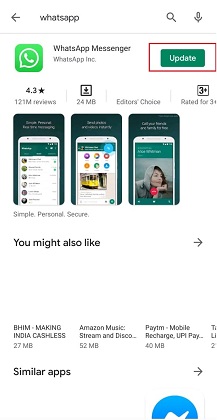 Way 4. Force Quit Whatsapp And Backup Again
When WhatsApp backup failed on Android, try to force quit your WhatsApp application and then try again to perform a backup.
Go to "Settings" on your phone.
Select "Apps".
Locate the "WhatsApp" application.
Click on the "Fore Stop/Stop" button.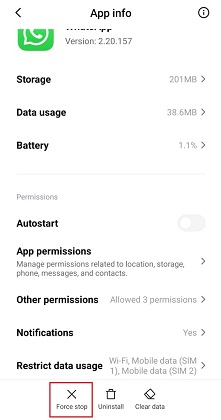 Way 5. Quit Whatsapp Beta Program
If you have a WhatsApp beta program and encountering a backup problem with the installed build on your Android device, then it could be great to quit the beta program. Instead, go for a stable build from the Google Play Store.
Open the Play Store app.
Locate "WhatsApp".
You'll now see the option to quit the beta program.
Way 6. Exclude Videos from Whatsapp Chat Backup
When you include media like videos in your WhatsApp backup file, it increases the backup size by pretty a margin. The good news is that WhatsApp provides an option to exclude videos while creating a backup. So, take advantage of that option as it might resolve your issue.
Open the WhatsApp app on your phone.
Go to "Settings">" Chats">" Chat Backup".
Turn off the "Include Videos" option.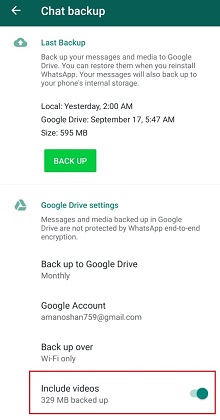 Way 7. Clear Whatsapp Cache
You can wipe out the WhatsApp cache on your Android phone and then try to perform the backup again to see if the Whatsapp Google Drive backup stuck at 99 problem goes away.
Long Press on the WhatsApp app icon and then open the app info.
Navigate to "Storage".
Choose the "Clear Data" option.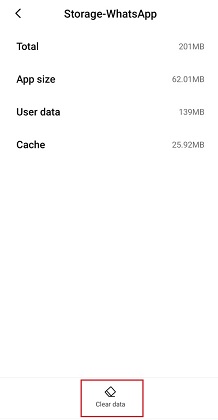 Way 8. Fix Whatsapp Stuck On "Looking For Backups Screen"
Encounter "WhatsApp stuck on looking for backups" issue? Well, this happens when don't grant the Contacts permission. In order to fix this error, you have to grant Contacts permission access on your Android device.
Open the "Settings" on your phone.
Go to "Apps">" WhatsApp".
Open "App Permissions" settings and turn on the "Contacts" option.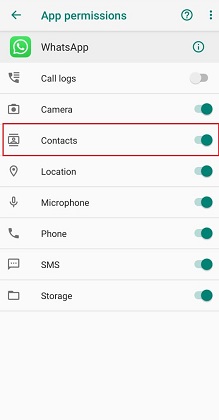 After granting the permission, you can install the WhatsApp again and retry to perform a backup.
Way 9. Fix Whatsapp Stuck On "Preparing Google Drive Backup" Screen
When you consider backing up WhatsApp to Google Drive, you could encounter "WhatsApp stuck on preparing Google Drive backup" message on your phone. To resolve this issue, you have two workarounds:
Solution 1. Reinstall WhatsApp:
Open "Settings">" Apps">" WhatsApp">" Uninstall". In a while, reinstall it again from Google Play Store.
Solution 2. Clean WhatsApp Cache:
Open "Settings">" Apps">" WhatsApp">" Storage">" Clear Data". This would wipe out temporary data from your device and refresh WhatsApp to operate smoothly on your phone.
Way 10. Fix WhatsApp Backup Stuck Android with Android System Repair Software
If the WhatsApp backing up messages stuck on Android due to system malfunction, a reliable Android system recovery software can fix it for you. UltFone Android Repair software helps to fix Android problems in a few clicks.
The "Repair Android System" feature supports to fix over 150 types of Android issues. The only downside is that this software is available on windwos computer and currently this feature supports Samsung devices only.
Download and run this software, then connect your device to computer. Select "Repair Android System" section from the main interface.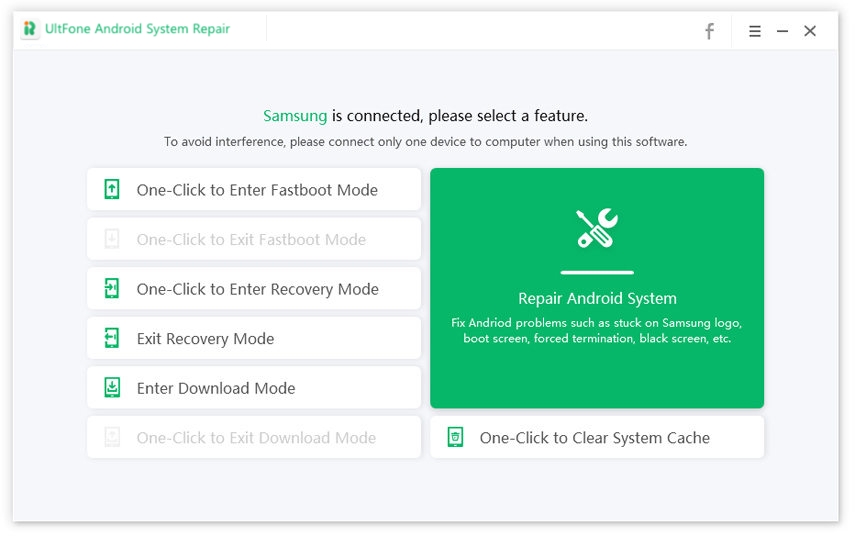 You need to select the device info to continue. This step is important as improper info could cause device to be bricked.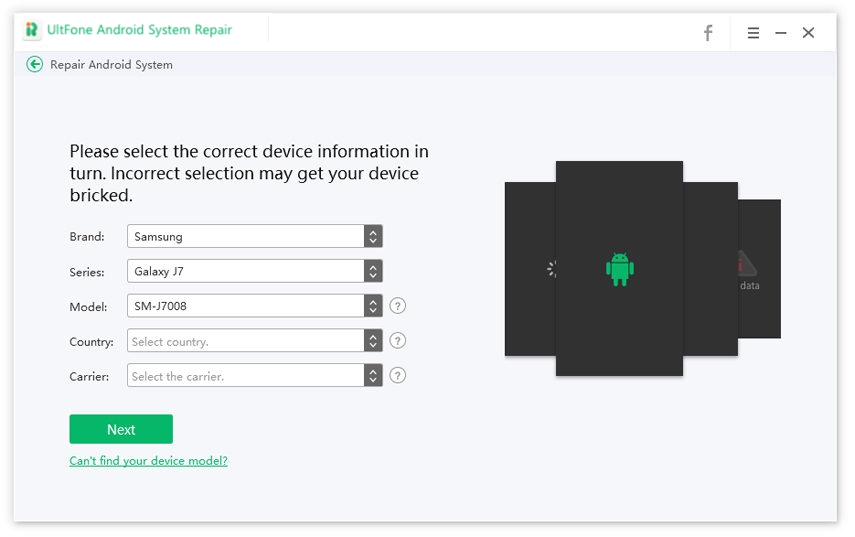 The next is to download a firmware package. This program will automatically download the firmware according to the device info you provided in the last step.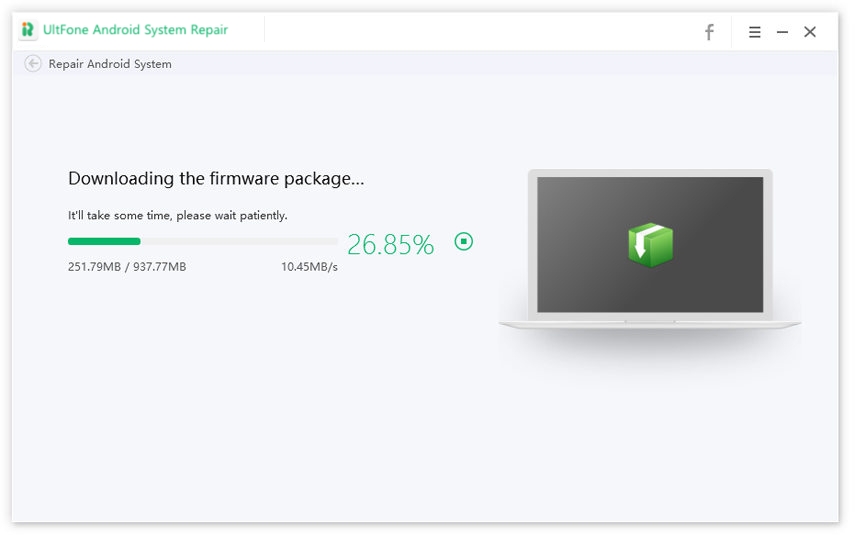 With the firmware is downloaded successfully, follow the onscreen instructions to start the repairing process. The whole process takes around 10 minutes. Please keep the device connected during the whole process.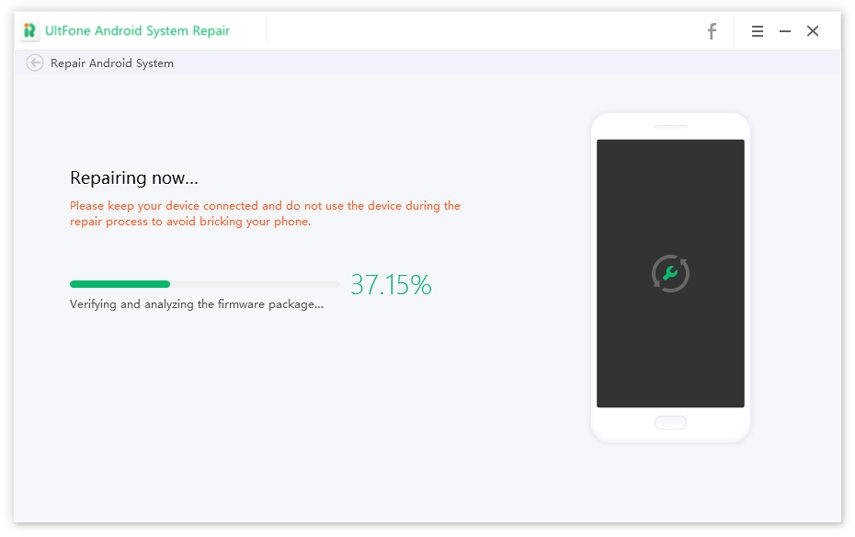 When the process completes, your device reboots and the system is refreshed. Check to see whether you can backup WhatsApp successfully now.
Alternative Way To Backup Whatsapp Without Stuck
Not able to resolve Whatsapp Google Drive backup failed? No worries!! Try UltFone Toolkit - WhatsApp Transfer, the best alternative way to backup WhatsApp data without stuck. This tool comes with a WhatsApp backup feature that supports backing up WhatsApp to a computer. On top of all, it is compatible with almost every Android device out there. Unlike other backup solutions, it poses no restrictions like internet or storage requirements.
Below is the quick guide on how to use UltFone Toolkit - WhatsApp Transfer to backup WhatsApp on Android to computer:
Step 1 Run the tool and connect your Android device to the computer. From the software's main window, click on the "WhatsApp" icon.

Step 2 On the next screen, click the "Backup" option from the sidebar and then pick your Android device from the drop-down list.

Step 3 The tool will suggest you create a backup in your device using the official way and then it will start getting WhatsApp data from your Android device.

Step 4 Enter your correct country code and phone number to obtain the verification code. Once receiving the code, enter it and tap "Verify".

Step 5 After the successful verification procedure, the tool will start creating a backup. Soon, the WhatsApp on your Android device will be backed up to your computer.
The Final Words
We hope that the common workarounds covered here have helped you resolve the WhatsApp chat backup stuck on the Android problem. Nevertheless, you can always turn to the better alternative WhatsApp backup option – UltFone Toolkit - WhatsApp Transfer. With its assistance, WhatsApp backup to the computer is carried out in no time and without any sort of stuck problem.