7 Ways to Fix WhatsApp Couldn't Restore Chat History Error on iPhone
My name is Stephen,Please i cannot restore my WhatApp from icloud, I can see the size of the backup but anytime i try it says "Couldn't restore chat history" please i need you help
It's no secret that all iOS users use iCloud to back up their WhatsApp conversations. Since iCloud is a reliable cloud storage, people know that they can recover the backed up conversation anytime they want. But, what if you cannot restore WhatsApp from iCloud?
Believe it or not, thousands of iPhone users have reported on the official Apple forum that they were unable to restore WhatsApp chats from iCloud backup. While the problem can occur due to several reasons, there are ways to fix it.
Part 1: 5 Ways to Fix iPhone WhatsApp "Couldn't Restore Chat History" Error
Way 1: Check Your Wi-Fi Network Connection
When WhatsApp restoring from iCloud is not working, the first thing that you need to do is check your Wi-Fi connection. In many cases, people have reported encountering the error when their smartphones couldn't connect with the network. So, before diving into advanced solutions, start by checking your Wi-Fi connection. In case the Wi-Fi is not working on any device, you can either restart the router or contact your Internet service provider for further assistance.
Way 2: Make Sure Your iPhone Have Enough Storage
While it may seem a bit surprising, a WhatsApp backup can have a considerably larger file size. This means if your iPhone doesn't have enough storage, iCloud is most likely to display the "couldn't restore WhatsApp error".
In this situation, you can check the available storage space on your iPhone by navigating to "Settings" > "General" > "Storage & iCloud Usage". In case the storage space is less than the size of WhatsApp backup, simply delete a few unnecessary files from your smartphones and you'll be good to go!
Way 3: Turn on iCloud Drive
In case iCloud Drive is disabled on your iPhone, you won't be able to restore the WhatsApp backup. Why? Because iCloud won't be backing up your WhatsApp conversations in the first place. iCloud Drive is a dedicated feature that allows different apps to store documents and data in iCloud storage. So, if you want to successfully restore WhatsApp backup in the future, make sure to enable iCloud Drive.
Way 4: Update Your iOS System and WhatsApp Version to the Latest
It's worth noting that you won't be able to restore WhatsApp backup from iCloud if you're running an outdated version of WhatsApp or iOS. So, if you haven't installed the latest iOS updates, make sure to do it as this will remove the compatibility issue. Apart from this, you should also install the latest version of WhatsApp to fix the WhatsApp not restoring from iCloud error.
Way 5: Use the Same Phone Number and Apple ID
WhatsApp restoring may also stop working if you have logged in with a new Apple ID. Since your WhatsApp backup is stored in your previous Apple ID, you'll have to use it to restore the backup. Similarly, you must be using the same phone number to sign in on WhatsApp so that it can successfully scan and restore the backup on your device.
Part 2: Other Ways to Restore WhatsApp on iPhone with/without iCloud
If you're still unable to restore WhatsApp backup on your smartphone, here are a few additional methods that'll help you restore WhatsApp.
Restore WhatsApp from iCloud with UltFone iOS Data Recovery
When you already have an iCloud backup or a local backup, you can use UltFone iOS data recovery software to restore WhatsApp on your iPhone. It's a professional data recovery tool for iOS that'll help you recover data with or without an iCloud backup.
Here are a few features that explain why you should choose UltFone iOS data recovery to restore WhatsApp on iPhone when you have an iCloud data backup.
Compatible with all iOS versions including the latest iOS 14.
Restore WhatsApp chat instantly without facing any interruptions.
Works with Windows as well as macOS.
You can even restore data even if you don't have a backup.
Step 1: In the main interface of UltFone, select "Recover Data From iCloud Backup". When prompted, log in with your iCloud credentials to continue with the process.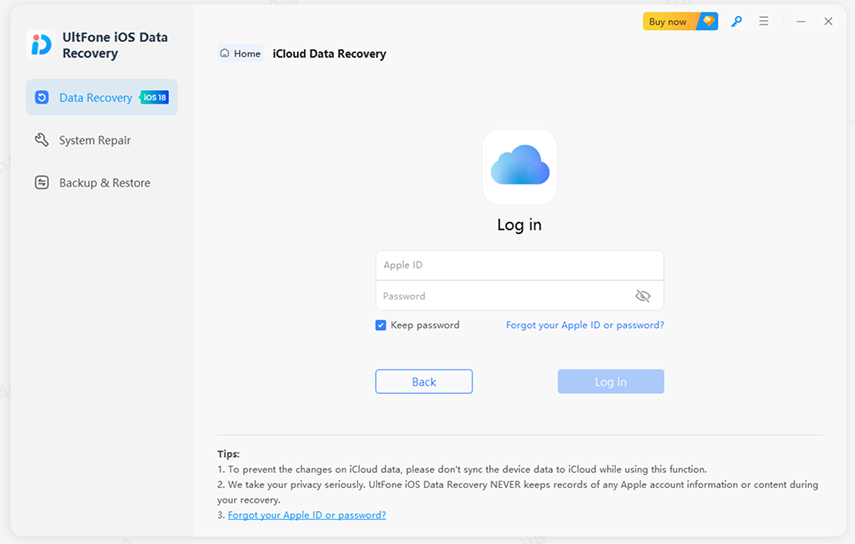 Step 2: Again select the iCloud backup and click "Next".
Step 3: The program will start scanning the backup. Wait for a few minutes and the scanning process will be completed and you can preview the results.
Step 4: Choose the files that you want to restore and click "Recover to PC".
When WhatsApp restoring from iCloud is not working, you can also extract WhatsApp from iTunes or recover data from iOS devices without backup using UltFone iOS Data Recovery.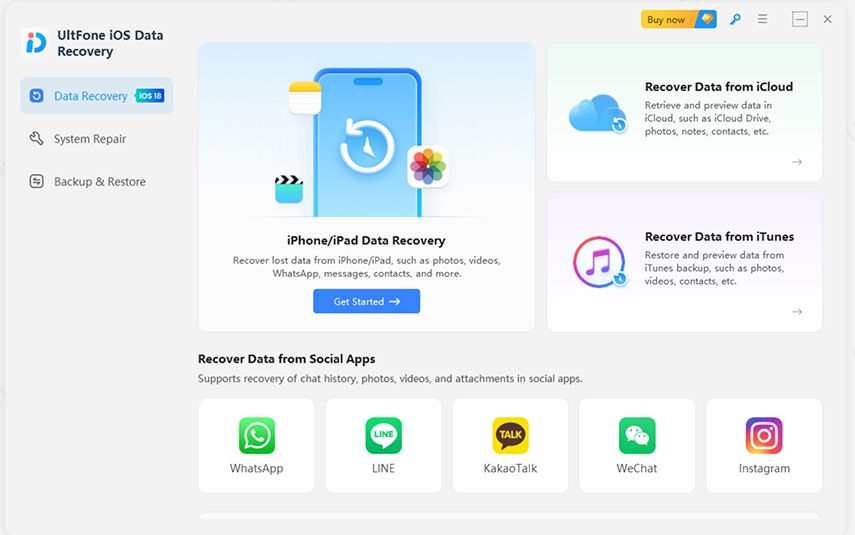 Restore WhatsApp Data Without iCloud
When you don't have an iCloud backup, you can use UltFone WhatsApp Transfer to restore WhatsApp on your iPhone. Like UltFone Data Recovery, it's a dedicated iOS software that's specifically designed to transfer WhatsApp and data from previous backup or old phones to your new iPhone.
In addition to this, you can also use this software to backup your chats from different messaging platforms like Viber, Line, Kik, Wechat and restore them whenever you want. UltFone WhatsApp Transfer boasts a wide variety of features. Some of them include:
Transfer WhatsApp to your new iPhone/Android instantly
Backup and restore WhatsApp chats with one click.
Restore WhatsApp even when you don't have an iCloud backup.
Can be used to restore WhatsApp on Android as well.
So, follow the below-mentioned instructions to restore WhatsApp chat without using an iCloud backup. This method will work when you're trying to transfer WhatsApp from your older iPhone to the new iPhone but you don't need a backup to do the job.
Step 1Install and launch UltFone WhatsApp Transfer on your PC and connect both the iPhone via USB. Once the software recognizes the source and target iPhones, click "Transfer".

Step 2You'll receive a warning message saying that all the WhatsApp data in the target device will be erased if you continue with the process. Simply, click "Continue".

Step 3Now, the software will automatically start backing up WhatsApp data on the source device so that it can be easily retrieved in case the process gets interrupted.

Step 4Before moving further, make sure to log-in to WhatsApp on the target device.

Step 5At this point, Ultfone WhatsApp Transfer will automatically start transferring WhatsApp to the new iPhone and you'll be notified when the process completes.
Conclusion
If you also cannot restore WhatsApp from iCloud, don't panic as it's a pretty common iOS issue that's faced by the majority of iOS users. Simply follow the above-mentioned tips and you'll be able to restore WhatsApp without any hassle.