The Must-Read Guide to Recover Deleted WhatsApp Messages from Android Phone
Deleted WhatsApp messages on your Android phone? Seeking for software to recover WhatsApp chats from your Samsung Galaxy or HTC One? We can catch up with friends about where they went, what they did and how they felt with WhatsApp on our smartphones. However, we could go mad when we lost important WhatsApp messages. In this article, you will learn the most effective way on how to recover WhatsApp messages on an Android smartphone and even on a tablet.
Through our texts, we found that UltFone Android Data Recovery is the best tool to get back deleted, lost WhatsApp conversations on Samsung Galaxy, Motorola Moto, LG G, Sony Xperia, HTC One and more Android phones or tables.
Part 1. Reasons Why You Lose WhatsApp Chat History on Android Phone/Tablet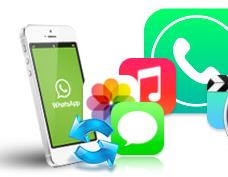 There are many factors that cause you to lose WhatsApp messages on your Android device. No matter how you lost your WhatsApp data on Android phone or tablet, this professional software UltFone Android Data Recovery Pro will help you recover all.
You update to new version of WhatsApp application and messages disappear.
Reinstalling WhatsApp can erase all your conversations.
You accidentally deleted WhatsApp chats.
Factory settings reset wiped off all contents including WhatsApp chat history.
Android OS update, like upgrade to Android 4.4.4 or Android L, could delete all conversations.
Firmware corruption, ROM flash, root, virus attack, etc can make your WhatsApp messages lost.
Part 2. Best Way to Retrieve WhatsApp Messages on Android Phone
With the advanced technology of data processing, UltFone Android Data Recovery Pro can find all lost photos, videos, audios, text messages, and other media files you received or sent with WhatsApp application.
Note: Android Data Recovery Pro is fully compatible with all Android OS, including the newest Android L (Lion), Android 4.4.4, Android 4.4.3/4.4.2/4.4, Android 3.0 to 4.4, Android 2.3 or earlier.
Here is how:
Step 1To start with, run the software on the computer and connect your Android device using USB cable then select "Recover WhatsApp Data" function on the upper toolbar.

Step 2Turn on the USB debugging option when you are connecting your Android phone to the computer by following the on-screen instruction.

Step 3Once detected by software, you can tap "Start" to recover WhatsApp on android, Prior to backup, please confirm that you have logged into the WhatsApp account on your android device, otherwise the process will be failed.

Step 4Now, it starts scanning for all your WhatsApp messages and the data within them; You will be showed with a screen that looks like the one given below, please keep device conneted the computer until the process is complete.

Step 5After it is done scanning, you will be able to preview the Whatsapp data including attachments, photos, and videos from Android. You can preview and select the data you want to recover. For example, you can tick off the Whatsapp Messages or Whatsapp Attachement category and click the Recover button.
Part 3. Recover Deleted WhatsApp Messages from Android via Google Drive (Require Reinstall WhatsApp)
Fortunately, WhatsApp has a built-in feature on Android devices and then it will be easy to recover WhatsApp chat on Android whenever you wish to, however, it requires uninstalling and reinstalling the app in order to restore the backup. Before trying this alternative method, do keep in mind that you have turned on the backup option on the Google Drive, otherwise you won't be able to recover any deleted WhatsApp messages on Android device. let's look on how to recover deleted WhatsApp message on Android using Google Drive.
Step 1: Assuming that you have created a backup on google drive, the first thing you should do is to uninstalling the WhatsApp in your android device.

Step 2: Here's the tricky part: you need to reinstalling WhatsApp and input the same phone number that you were using before and then you will get a verification code to permit the authorization. It sounds complicated, yes, such are the facts.

Step 3: Once the app is installed, you will get a prompt asking you to restore WhatsApp messages from Google Drive. Just tap Restore button and follow the prompt to get your messages back on your device.
Google Play services only available on Android 2.3.4 and later)
By default, the Google Drive backup will be overwritten by newly added data and there is no way to restore.
Part 4. WahtsApp Messages Recovery on All Android Phones
Android Data Recovery can help you recover WhatsApp messages on all Android phones , as well as Android tablets.
| | |
| --- | --- |
| Smartphones | Tablets |
| Samsung Galaxy Note 4, Samsung Galaxy Alpha, Samsung Galaxy S5, Samsung Galaxy S IV, Samsung Galaxy S III, Samsung Galaxy S II, Samsung Galaxy S, Samsung Galaxy Note 3, Samsung Galaxy Note II, HTC One, HTC One M8, HTC One Max, HTC Butterfly S, HTC Droid DNA, HTC One X+, HTC One Mini, HTC One XL, HTC One S, Motorola Moto G, Motorola Moto X, Motorola Moto E, Motorola Droid Maxx, Motorola Droid Ultra, Motorola Droid Mini, G3, LG G2, LG G Pro 2, LG G Flex, LG Optimus G, LG Optimus G Pro, Sony Xperia Z1 Compact, Sony Xperia Z2, Sony Xperia Z1, Sony Xperia Z, Sony Xperia ZL, and more. | Google Nexus 7, Google Nexus 10, Samsung Galaxy Tab S, Samsung Galaxy Tab Pro, Samsung Galaxy Tab 27.0, Samsung Galaxy Note Pro 12.2, Samsung Galaxy Note 10.1 2014, Samsung Galaxy Tab 2 10.1, Samsung Galaxy Note 8.0, LG G Pad 8.3, Google Play Edition, Evga Tegra Note 7, Asus Transformer Pad TF701T, Asus Transformer Pad Infinity TF700, Asus Fonepad, Asus Padfone 2, Amazon Kindle Fire, Tesco Hudl, Acer Iconia A1, Archos 80 Titanium, and more |