[Fixed] WhatsApp Messages Not Delivered/Sent
I sent a message on WhatsApp. It says sent, not delivered. Was it seen?
Is your WhatsApp putting you in the same situation above? If yes, then you are not alone in this! There are many Whatsapp users out there who face this issue one time or the other. Well, WhatsApp is the most widely used social media application that allows users to connect with people instantly. So, if any such issue occurs that does not allow you to send or deliver the messages, this can put you under stress. But luckily, you no longer need to get worried about it because we have got a handful of hit & try and quick fixes to WhatsApp messages not delivered problem.
Part 1. Why Are My WhatsApp Messages Not Delivering?
If your WhatsApp msg not delivered, there could be multiple reasons including apps, network, or device-related triggers that could cause WhatsApp messages not sending.
Apart from this, the other possible reasons behind this issue could involve:
Bad internet connectivity
The phone needs to be restarted or turned off and on.
The contact you are trying to message has blocked your number.
You have not completed the initial verification process successfully.
The number of the contact you are trying to message on WhatsApp has not been saved correctly on your phone.
Part 2. Troubleshooting Tips for WhatsApp Messages Not Delivered on Android or iPhone
Here's the list of most recommend troubleshooting tips to solve WhatsApp message sent but not delivered
1. Check the Network Connection
WhatsApp requires powerful internet connectivity to send and deliver messages. So, if your WhatsApp message not delivered but the person is online, then the problem can be with your network connection. Therefore, you need to ensure that you and the other user's phone are connected to a strong internet connection with your iPhone or Android.
2. Update WhatsApp
Like any other application, Whatsapp also releases frequent updates to keep the app functioning smoothly and flawlessly. So if you are in doubt regarding why are my whatsapp messages not delivering to one person, then the recent buggy version installed on your device can be the reason behind it, and you need to update it.
For this, all you need to do is to simply go the "Play Store" or "App Store" on your device and navigate to the "Updates" section. Here, click on the "Update" button right next to WhatsApp to update it.
3. Restart Your Phone
Restarting your phone can help you solve multiple issues. So, let's try fixing "why are messages not delivered on whatsapp" by performing a simple restart. To restart your device, you need to:
The steps to restart an iPhone vary due to different models. You can refer here to learn how to restart an iPhone.
To restart an Android phone, just press & hold the Power button on your device. Choose the "Restart" or "Reboot" option from the prompt options. Your phone will now restart automatically.
You can now check if a simple Restart has fixed the issue or not. If the problem still exists, then try fixing it out by the next method.
4. Leave WhatsApp Beta Program
If any of your WhatsApp messages is not sent, then there could be a possibility that you are a part of the Whatsapp Beta Program. So, if you have installed a build on the device, then it's time to leave the Beta Program and switch to a stable build from Play Store or App Store. You can leave the Whatsapp Beta Program by following the steps below!
On iPhone:
Go to the "TestFlight" app > "WhatsApp".
Here, select the "Leave Beta Program" option from the menu.
On Android:
Open "Play Store" and navigate to "WhatsApp".
After tapping on "Whatsapp," you will see an option to leave the Beta Program.
5. Turn on WhatsApp for Mobile Data (iPhone)
The iPhone allows users to restrict the use of Mobile Data for specific applications. So, if this option is disabled on your iOS device, it won't let you send or deliver messages on Whatsapp. So, to fix it out:
Go to Settings > Cellular or Settings > Mobile Data. Scroll down to find the WhatsApp app, and turn off the Mobile Data option for it.
6. Reset Network Settings
Resetting the network settings is another option to fix Whatsapp not delivering messages. Here's how to do it!
On iPhone: Go to Settings > General > Reset > Reset Network Settings.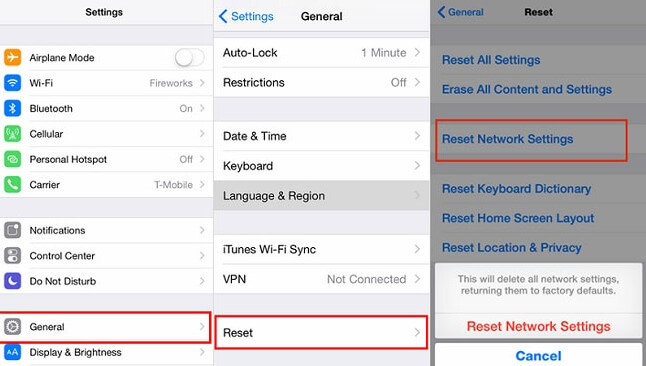 On Android: Go to Settings > Reset > Reset Wi-Fi, Mobile & Bluetooth or Reset Network Settings.
Now, your device will restart with its default network settings. Hope this could fix the issue of WhatsApp iPhone messages not delivered until turned on - text –iMessage.
7. Turn on Background Data
If resetting the network settings didn't fix the issue of "whatsapp msg not delivered," you can try fixing it out by turning on the background data. When you turn on the background data, you will be able to receive and send all the Whatsapp messages even when the application is not in use. For this, you need to follow certain steps mentioned below.
On iPhone: Go to Settings > WhatsApp. Here, turn on the Background App Refresh option to use data in the background.
On Android:
Long press the WhatsApp icon and go to "App Info".
Open the "Data Usage" menu and enable the "Background Data" option.
8. Toggle off Low Data Mode/Data Saver
The turned-on Data Saver or Low Data Mode on your iPhone or Android device can be the issue behind whatsapp messages not delivering. So, if you have enabled the Low Data Mode on your device, then it's time to toggle it OFF to fix the issue because it could otherwise prevent Whatsapp from fetching the latest messages.
On iPhone:
Go to Settings and tap Cellular.
Tap on Cellular Data Options, select Data Mode, then turn on Low Data Mode.
On Android:Navigate to Settings and tap on Network & Internet > Data Usages > Turn off Data Saver.
9. Turn off Battery Saver Mode
Sometimes you might turn on the Battery Saver Mode on your device to save your phone's battery from draining. So, if you are confused regarding "why are my WhatsApp messages not delivering?", you can try to fix this issue by turning off the battery saver mode (if ON). To turn off battery Saver Mode.
On iPhone:Go to the Settings app > Battery. Make sure the Low Power Mode is turned off.
On Android:
Go to "Settings"> "Battery"
Under the "Battery" option, click on the "Battery Saver Mode" to turn it OFF.
You can now check if you are able to send messages! If a whatsapp message is not delivered yet, then go to the next step to solve the issue.
10. Clear WhatsApp Cache
If your WhatsApp is not delivering messages, then you can try fixing it out by clearing the WhatsApp cache on your device. Clearing the cache will only delete the temporary files, and it will not make any other mess with your personal data. So, to clear the WhatsApp cache:
On iPhone:
Open the WhatsApp app and go to "Settings".
Navigate to "Data and Storage Usage">" Storage Usage".
It will display a list of threads and conversations along with the storage size of each conversation. Select the conversations on which you want to take action.
Scroll down and click on "Manage".
Click on the kinds of data you like to clear and click on "Clear".
On Android:
Long press the Whatsapp icon on your device and click on "App info."
Go to "Storage " and tap on the "Clear Cache" button.
11. Reinstall WhatsApp
If none of the above-mentioned fixes helped you to solve why WhatsApp messages sent but no delivered, then try fixing it by reinstalling the app again. For this, you need to:
Step 1: Uninstall the exiting Whatsapp on your device.
Step 2: Now, go to "Play Store" and "App Store" on your Android and iOS device, respectively, and enter whatsapp in the search box above.
Step 3: Here, select "WhatsApp" from the list and hit the "Install" button right next to it.
Wait for few minutes, and you will be successful in reinstall Whatsapp. You can now check if you are able to send and deliver messages and your issue of whatsapp message not sent is fixed or not.
12. Repair Android/iPhone System to Fix WhatsApp Message Not Delivered
Sometimes, it is not WhatsApp problem that causes the issue, it might also be an iOS or Android system malfunction. In this case, you can use Android system repair or iOS system repair software to fix the system back to normal.
UltFone is a software company dedicated to researching iOS and Android solutions. Its iOS and Android system repair tools can solve as many as 150 system problems and keep data from being lost.
You can download the system repair software for free trial and click this video guide to learn more about the two repair tools.
Part 3. Backup WhatsApp Regularly
It is important to backup WhatsApp regularly in case you lose important chats accidently, after an update, or switch to a new phone. In this part, I will introduce the possible methods on WhatsApp backup.
Method 1. Using In-Built Feature
To backup Whatsapp with its in-built feature, you need to:
On iPhone:
Step 1: Launch the WhatsApp app and then go to "Settings".
Step 2. Click on "Chats">" Chat Backup".

Step 3. Click "Back Up Now".
On Android:
Step 1: Open WhatsApp and tap on "More" (3 dots icon) > "Settings" > "Chats" > "Chat backup" > "Back Up" or "Back up to Google Drive".
Step 2: Now, select a backup frequency other than "Never."
Step 3: Select the Google account you'd like to back up your chat history to.

Step 4: Tap "Back up Over" to choose the network you want to use for backups.
Method 2. Using UltFone Free Whatsapp Backup Software
With UltFone Whatsapp Transfer, you can easily transfer and backup all the WhatsApp chat history within a couple of minutes. With this tool, losing the Whatsapp chat history is the last thing you will ever see. The primary WhatsApp backup method does not support cross-platform transfer, but UltFone Whatsapp Transfer has made this possible with its high-quality features. It's an excellent tool that can backup all the Whatsapp data on iOS and Android devices.
To know more about this tool, have a look at its features:
Directly transfer WhatsApp to new iOS and Android device.
Single-Click to backup or restore WhatsApp data.
View, restore, and backup WhatsApp data on iOS and Android.
Support iPhone 13 series, iOS 15, and Android OS 11.
Superfast speed.
No Storage Limit.
Download UltFone WhatsApp Transfer free to a computer, and connect your Android or iPhone to computer via a USB cable. It is free to backup WhatsApp on iPhone.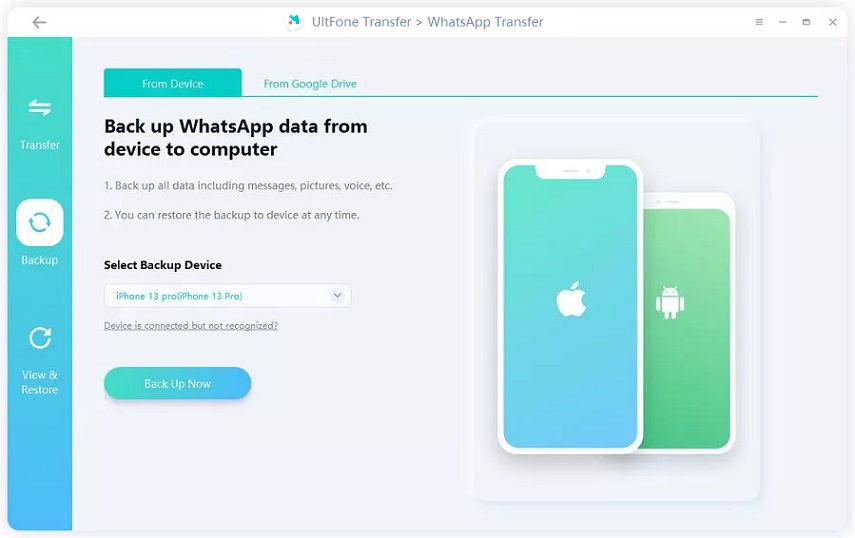 Click Back Up Now button, this program will start backup all WhatsApp (chats, media, attachments, etc.) to computer in a few minutes.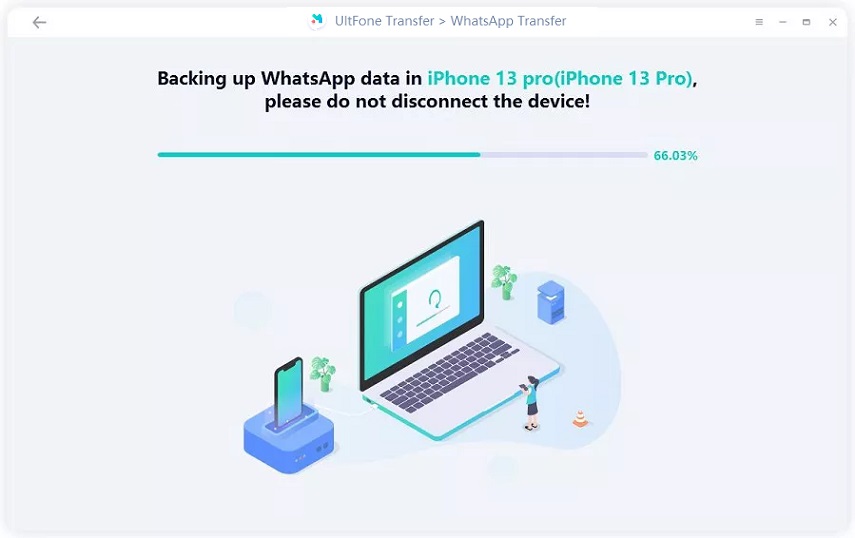 Read here to learn how to backup WhatsApp on Android.
The Bottom Line
WhatsApp being an instant messaging app, plays a very crucial role in everybody's life today, and hence it must function flawlessly to deliver excellent results. So, fix the issue of WhatsApp messages are not delivered to one contact by switching to any of the methods above, and you will get back on track again with your Whatsapp functioning ideally. Apart from fixing the issue, you must always keep in mind to backup Whatsapp data frequently by using UltFone Whatsapp Transfer so that you can have all your Whatsapp data backed up within no time and with extra security.