How to Fix WhatsApp Notifications Not Working (iPhone & Android)
This last weekend, I've noticed that WhatsApp notifications aren't coming through for some reason. There is no notification, no red app icon denoting an unread message, and only when I open WhatsApp do I see if any messages have been sent to me.
Social media has become a giant in communications technology, with WhatsApp probably at the top of that extensive list of available apps. It has become an integral part of our lives and has become the primary way we interact with one another. A single problem with such an app can negatively impact our lives, delay work projects, or miss important information such as WhatsApp Call Not Ringing, WhatsApp Notification Not Working. When you face WhatsApp notifications not working on Android/iPhone, we can understand how stressful it can be.
But there is no need to worry. Read on to find out why your WhatsApp is not showing notifications and how to fix the problem on Android/iPhone.
Part 1. 10 Fixes for WhatsApp Notifications Not Working on Android/Samsung
If you seek solutions for WhatsApp notifications not working on Samsung/LG/ Huawei or any other Android device, continue reading.
1. Update WhatsApp on Android
More often than not, applications start to malfunction if not updated regularly and frequently. So, if you wonder why WhatsApp notifications not working, it could be due to the outdated WhatsApp app.
To check if your application is up to date, follow these steps:
Step 1. On your Android device, open the "Google Play Store" app.
Step 2. Search for "WhatsApp".
Step 3. Click on the option "Update", if available.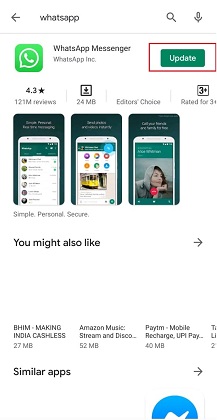 Your application should run smoothly, with the notification problem fixed! If not, read on.
Solution 2. Do Not Restrict Background Data
To rectify WhatsApp not showing notifications Android, you need to make sure that background data for your WhatsApp is enabled.
Step 1. Click on "Settings".
Step 2. Click on "Apps", and find WhatsApp from the list and click on "Data Usage".
Step 3. Here, ensure that the "Background data" is turned on.
Solution 3. Turn Off Do Not Disturb on Android
The 'Do Not Disturb' setting restricts all notifications—calls, texts, emails, etc. When you accidentally switch the 'DND' mode on, it disables WhatsApp notifications as well. You will find the DND option in the quick-setting panel. If it isn't found there, go to "Settings", click on "Sounds" from the list and turn off the "Do Not Disturb" option.
Solution 4. Restart Your Android Phone
As age-old as this may seem, turning off a device can help reset changes in the phone. Reboots allow the phone to refresh its memory and fix glitches. So, if WhatsApp not showing notifications on Android, restart the phone and try again.
Solution 5. Update Android System
Like everything else in the world, your phone also requires regular updates so it can cope with the work it does on your behalf. Make sure that your Android phone is updated to its latest version. That will help you solve the problem of the WhatsApp notification tone not working.
Step 1. Go to "Settings.
Step 2. Choose "System">" System Update".
Step 3. Click on "Check for updates". If there are any updates, download and install them.
Solution 6. Reset App Preferences on Android
Another reason why WhatsApp not showing notifications on Android is because of the saved preferences on your phone. You can fix that by simply resetting app preferences on your device.
Go to Settings > Apps > More > Choose the option "Reset App Preferences".
Solution 7. Enable Notifications within WhatsApp App
There are settings within applications that allow you to receive notifications. If this setting is disabled within the app itself, it stops giving you notifications. Ultimately, you can face errors like WhatsApp notifications not showing on lock screen on Android.
Step 1. Go to "Settings.
Step 2. Click on "Apps" and select the option to view all apps.
Step 3. Scroll down to click on WhatsApp.
Step 4. Click on "Notifications".
Step 5. A list with all notification options will appear for WhatsApp; find any setting that is disabled and enable it again!
Solution 8. Log Out of WhatsApp Web
Like many apps nowadays, you can access WhatsApp from your laptop or desktop computer too. To receive notifications on your Android, try logging out of WhatsApp Web on your computer.
Step 1. Open the "WhatsApp" app on your Android phone.
Step 2. Click on the three-dots icon and then click on "WhatsApp Web".
Step 3. Select the option "Log out from all devices".
Solution 9. Clear WhatsApp Cache
Too much data can make your phone malfunction. That is why it is important to clear the app cache for WhatsApp to run properly.
Step 1. Go to "Settings">" Apps".
Step 2. Click on WhatsApp > "Storage">" Clear Cache & Clear Data".
Step 3. Now, see if the problem is fixed or not.
Solution 10. Repair Android System
If none of the solutions works, it is recommended that you use software that repairs your Android system at home to fix the WhatsApp notification not working on Android. That software is none other than the UltFone Android System repair. It can repair your device's system, which will ultimately fix Whatsapp notifications not showing issue. What's more, the tool will not erase any data or settings from your device to resolve your problem.
Here's how to use the UltFone Android System repair to fix Android system issues:
Step 1 Launch UltFone Android System on your computer and connect your Android device with a USB cable and select "Repair Android System".

Step 2 Tap "Repair Now" button and enter your device's details. This software will download a firmware package according to the device info you provided.

Step 3 Once the software downloads the firmware, click on "Repair Now" and let the software fix your issue.
Part 2. How to Fix WhatsApp Not Showing Notifications on iPhone?
To fix WhatsApp notifications not working on iPhone, you can check out the below solutions.
Solution 1. Check Notification Settings
Ensure the notifications is enabled for WhatsApp on your iPhone. Follow these steps to fix the WhatsApp notification not working on iOS 15.
Click on Settings > WhatsApp > Notifications > Toggle on the "Allow Notification" option.
Solution 2. Update iPhone Software and WhatsApp
Make sure your iOS is updated, along with the WhatsApp application as well.
To check for software updates, go to Settings > General > Software Update.
To check if WhatsApp is updated, click on App Store, go to the Updates setion and look for WhatsApp app. Update it if available.
Solution 3. Turn on Background App Refresh
Your phone requires permission to run properly in the background and allow WhatsApp notification. To fix the problem of WhatsApp not showing notifications until opened, follow the below steps.
Click on Settings > General > Background App Refresh > Wi-Fi & Cellular Data.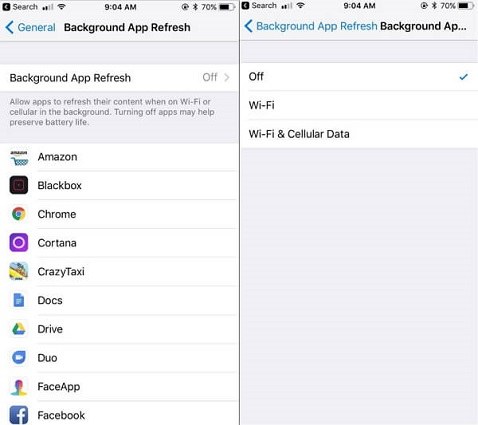 Solution 4. Disable Do Not Disturb on iPhone
If you have mistakenly turned on DND on your iPhone, you may not receive any WhatsApp notifications.
To disable DND on the iPhone to fix WhatsApp push notifications not working, follow the steps below:
Go to Settings app > scroll down to find Do Not Disturb. Make sure this option is turned off.
Solution 5. Turn Off Low Power Mode on iPhone
The iPhone's power saver mode is intended to conserve battery life, but it can occasionally interfere with other features. It restricts the functionality of some context applications. When using low power mode, you are possibley to experience WhatsApp notifications not showing on home screen. To disable Battery Saver mode, follow these steps:
Open Settings app on iPhone > Battery to turn off Low Power Mode.
Solution 6. Reset All Settings on iPhone
Finally, there might be an issue with your iPhone's settings that is preventing you from receiving WhatsApp notifications. You can reset your device to fix this issue. Go to Settings > General > Reset > Reset All Settings.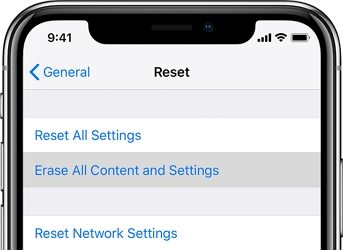 Solution 7. Repair iOS to Fix WhatsApp Notification Not Working on iPhone
If above methods didn't help you fix the problem of WhatsApp notifications not functioning on iPhone, it's time to get your hands on UltFone iOS System Repair. It can help you repair your iOS in order to fix WhatsApp not giving notifications issue.
Here's how to use the UltFone iOS System Repair to fix over 150 iOS related issues without data loss.
Step 1 Run the software, connect your device to the computer and click on the Start button.

Step 2 Choose the Standard Repair option on the next screen. This repair mode will keep data intact after iOS recovery.

Step 3 Before system recovery, please download the up to date iOS firmware package that is matched with your device. Click on the Download button to get it online.

Step 4 With the firmware package is downloaded successfully, click on Start Standard Repair to start the iOS repairing process. Please keep the device conntected the whole process.
When the iOS system repairing is completed, your device will restart. Check again to see whether WhatsApp notification is working correctly now.
The Bottom Line
That's all. After reading this guide, you can quickly fix WhatsApp notifications not working on Android or iPhone. We recommend you try the common troubleshooting tips before using the professional Android or iPhone repair software to solve this problem.