Grindr Unable to Refresh? Fix It Right Now [2023 Updated]
I have using Grindr since months and never got any issue. However, since this morning, Grindr won't refresh whenever I try to. Any suggestions? Please help!
Are you also facing the "unable to refresh" error while using Grindr? There are several steps associated with it and you need to follow them in order to fix the error. We are here to help you out to fix the Grindr down problem, so let's start with the guide. Make sure you don't miss out on any of these steps as it can result in failed attempt to fix the issue.
Part 1: 2 Ways to Fix Grindr Unable to Refresh
There are 2 ways to fix Grindr Unable to Refresh issue. Let's introduce them in details.
Way 1: Force Stop Grindr
Force stopping the application can help you to fix the "Grindr unable to refresh" issue or anything that leads to Grindr down problem and here are the steps that you need to follow :
1. Go to the settings of your mobile phone. You can find it in your notification center or you can search for settings in your apps.
2. Find "Application Manager" from the settings tab and click on it.
3. Find Grindr or search for it and open the application settings.
4. Tap on "Force Stop" button and wait.
5. Clear Cache from the app page.
6. Close Grindr from recent apps and try to restart the Grindr application.
This will surely help you to fix the issue with you app and if this doesn't work for your device, you can move on to the next troubleshoot procedure.
Way 2: Reinstall Grindr
Before you reinstall the application package of Grindr, you should look out for new updates. Sometimes the previous version of app starts to crash and that is why you need to update your application. Go to the app store before uninstalling it and check if there are any updates available, update if there are and if you are still facing the Grindr won't refresh issue, then follow these steps:
1. Find the application from the home screen and click on the app icon.
2. Hold it for a few seconds and you an 'x' will appear. Tap on it followed by "Delete" to uninstall Grindr from your device. If you are using Android, simply long tap the Grindr icon and drag the icon to the "Uninstall" on the top of the screen.
3. Restart your device once you have uninstalled the application successfully.
4. Open Play Store or App Store and search for the Grindr app.
5. Install and enjoy using it to meet new people around you.
We hope these tips help you to fix the issue successfully.
Way 3: Repair Phone System
Sometimes it is due to the phone system malfunction that causing the Grindr not refreshing. In this case, you can repair the phone system to solve this problem. For Android phone, you can use UltFone Android System Repair to repair Android system; For iPhone users, you can use iOS System Repair.
Download the phone system repair to a computer, and then connect your device to computer with a USB cable.
Step 1 Click on Start button on the main interface, and then select "Standard Repair" option. This mode won't cause data loss.

Step 2 Once the program detects your device, it will display the latest firmware package for downloading. You can click Download button to start downloading it online.

Step 3 When the firmware package is downloaded, click Start Repair to repair the system.
Part 2: Grindr Unable to Refresh Due to Fake GPS? Change Grindr Location on iPhone Safely without Being Detected
There are people who fake their device's GPS for better experience of location-based apps. And unintentionally they end up downloading unauthorized or bad app that can lead to Grindr unable to load issue. Hence, if you are one of those whose Grindr is unable to refresh due to fake gps, you should install a professional and safe GPS location changer. UltFone iOS Location Changer lets you change your location to wherever you want without worrying about questions like Grindr down today. It is pretty easy to use and the features are highly compatible with all versions.
Key Features:
Fake Location on Social Media – You can easily fake your location on Snapchat, Facebook, Instagram and many other social media apps. Try on a prank on your friends with this cool feature.
Change Location on Dating Apps – What else do you need when you run out of matches? Well, this app will help you to connect to people of different cities without actually traveling to the city including Grindr, Skout.
Hide Location – Well, with changing locations, this app also enables a user to hide their location from their friends on social media. We respect your privacy and this will surely help you out without Grindr account suspended with this app.
Here are the steps you need to follow in order to change your location on Grindr and social media websites. Let's start with the guide to change location without facing Grindr not working issue.
Step 1: Go to the official website of UltFone and look out for a preferred version as per your system requirements. Install it on your PC and launch the application on your system to proceed with the next step. Click "Enter" to proceed.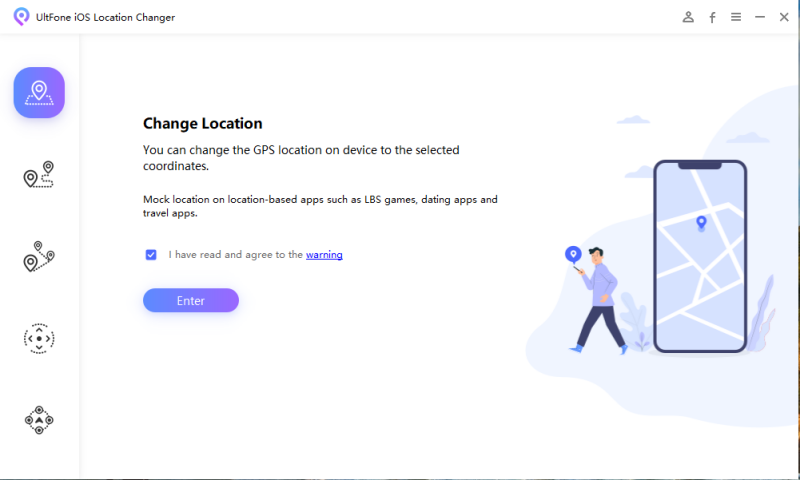 Step 2: After installing the program successfully, you have to connect your iPhone with your PC. Make sure you are using original apple cable for this. Unlock your device and add your PC to the trusted list of devices.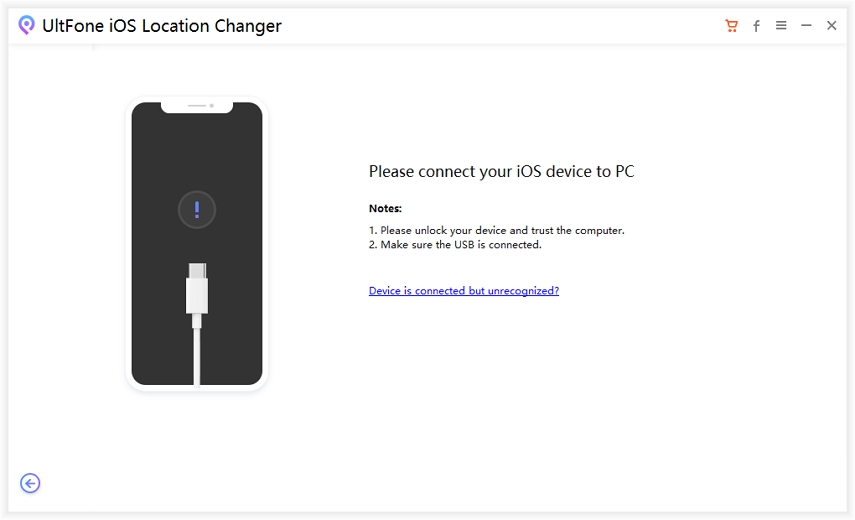 Step 3: After connecting your iPhone to the PC, a map will appear on the screen as show in the pictures. Click on the map and search for the location you want to put in your GPS. Click 'start to modify' and this will help you change location while sitting at your couch.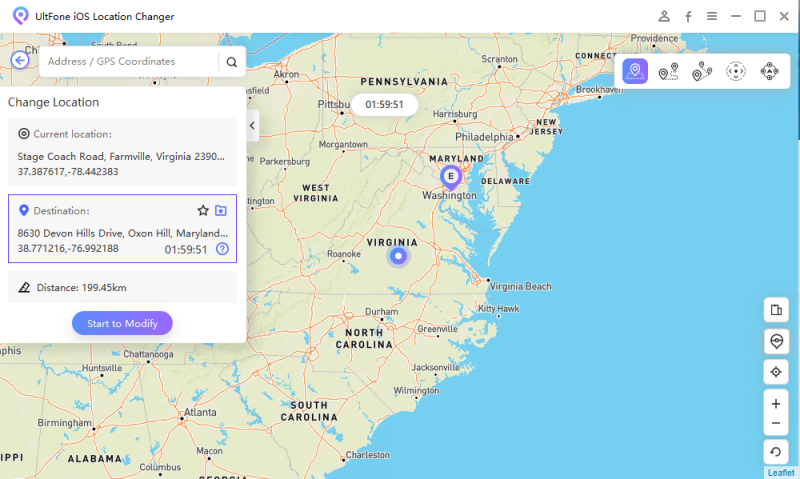 Part 3: Grindr Account Suspended on Android? Use a Better Way to Mock Location
If unfortunately your Grindr account is suspended on Android mobile phones, there are so many ways to do that and changing your location. You can take help of a desktop emulator. An emulator like Bluestacks will help you to use the android apps like Grindr on your PC. Here's how you can fake your location using bluestacks on the PC.
Step 1: Go to the official website of bluestacks and download it on your system. Check for the right type of file as per your system requirements.
Step 2: Now that you have installed bluestack, you just have to search for play store and go on to install the Grindr application on your PC. Search for Grindr in the play store as we do in our mobile phone and click on install to get it on your emulator.
Step 3: Before you open your Grindr application, checkout the mock location tab on the top left of your emulator. Select the location you want to show in your dating app and meet some amazing people around the world.
Conclusion
As a whole, these are all the ways to fix the issue of Grindr unable to load and if you are using a fake gps app, then we have mentioned the solution for both Android and iOS. We hope these fixes and tips help you run Grindr without any other issues. Make sure you have gone through all the steps to prevent Grindr won't refresh issue and use them as they are mentioned. Enjoy dating people from around the world with these gps location changer application we wish you luck for your dating.