How Do I Find out If My iPhone is Unlocked or Not? Find the Answer Here
This is going to be an amazing article for you because here we are going to answer the questions you've been asking us a lot, that is, "how do I find out if my iPhone is unlocked or not?". There are many ways through which you can find if your phone is locked or not. So here we have talked about every detail of the situation and how you can unlock your iPhone.
Part 1: What's the Different Between Locked iPhone and Unlocked iPhone?
1. What is a Locked iPhone?
A locked iPhone basically means that it works with only the career from where you have purchased it. Your device won't work with any other career apart from the one you've got it from. Moreover, in case your iPhone is second hand, you can get it unlocked only when duration of the phone gets completed.
2. What is an Unlocked iPhone?
If we talk about an unlocked iPhone, unlike a locked phone it does work with any carrier. Unlocked iPhones are not required to be unlocked again and thus you can use any sim of a different cellular provider. These phones are available at a slightly higher price compare to the locked one, and even you are selling the one you can charge a couple of dollars extra for it as you are giving them an advantage to just get a phone to insert a sim and rock and roll.
Part 2: What's the Different Between Locked iPhone and Unlocked iPhone?
Here, we are going to tell you a method through which you can get to know if your phone is unlocked or not via Settings of your iPhone. However, please note that the result of this method is not perfectly accurate. Follow the steps given below:
1. Open your iPhone and go to the "Settings".
2. Scroll a bit to find an option saying "Mobile Data". Tap on it.

3. After you've entered in by tapping "Mobile Data", you can see the option saying "Mobile data options". Tap on it.

4. This is the last step that will tell you whether your phone is locked or not. So, once you've entered in after tapping "Mobile Data option", you can see an option saying "Mobile Data Network". If this option is visible to you that means your iPhone is unlocked. In case the option is not visible to you, it can be the possibility that your phone is still locked.
Note: Do not rely on this result blindly, test other methods as well.
Part 3: What's the Different Between Locked iPhone and Unlocked iPhone?
You can also check the lock condition of your iPhone with the help of SIM card. Follow the method given below to know how this works:
1. Firstly, you need to turn your iPhone off.
2. Now you need to pull the old sim out from the SIM tray.

3. After that put a new SIM into the tray. Now, push the SIM tray back into the iPhone gently. Turn on your iPhone using the Power button.

4. The last step is to make a call once your iPhone is on. Try to call anyone, and in case the call is successfully connected, Voila!! You can assume (you cannot be 100% sure with this method as well) the iPhone is unlocked. If the call does not connect that means your phone is still in the locked position.
Part 4: Check if iPhone is Locked or Unlocked without SIM Card
1. Using IMEI Number
Using this method, you can actually get to know if your phone is locked or not. This method uses your IMEI number to determine your phone status and you do not need any SIM for this method. Using the IMEI number, there are online services that will tell you the status of your phone. Some services are paid but as you know there is always an alternative, so here it is.
1. You need to go on the dial pad, and press *#06# to get your IMEI number. Note this number as this is going to help us in the following steps.

2. Now head towards your browser and search for the IMEI24.com website.

3. Once you will enter this website, you can see a box to type your IMEI number. Type your IMEI number and hit on the "Check" button.
4. On the next screen, you will be able to see the status of your phone. In case it is not visible or clear. You can search for a similar website to check the status of your iPhone.
2. Find out the answer directly on iOS 14 or iPad OS 14
With iOS 14, you get a feature that will help you directly check the lock status of your iPhone. Here is how:
1. Head to "Settings" and choose "General".
2. Go to "About" and select "Carrier Lock".

3. If NO SIM restrictions are showing, your iPhone is unlocked.
FAQ about Locked and Unlocked iPhone
1. How to Unlock iPhone Screen Passcode?
UltFone iOS System Repair for IOS is a tool that contains the feature of "factory reset iPhone". Using this tool, you can reset your phone and unlock screen without any hassle. Let's see how we do it:
Step 1 Firstly, install the tool and run it. Click "Reset Device" on first screen.

Step 2 On the next screen, select the "Factory Reset" option. Once you will click on it you will enter the firmware download page.

Step 3 Now before starting the resetting process you need to download the firmware package that matches your iPhone version. You can also manually import the firmware package for this process.

Step 4 After the firmware package is downloaded you can proceed with the resetting process. So, once the resetting process is done you can find your phone as the new device.
2. How to Unlock iCloud Activation Locked iPhone?
If you're worrying about iCloud activation lock, we've got you covered as well. Use a pro tool called UltFone Activation Unlocker. This is designed to remove the iCloud Activation lock and that too without knowing the password of your iPhone. Follow the steps carefully to know how it works.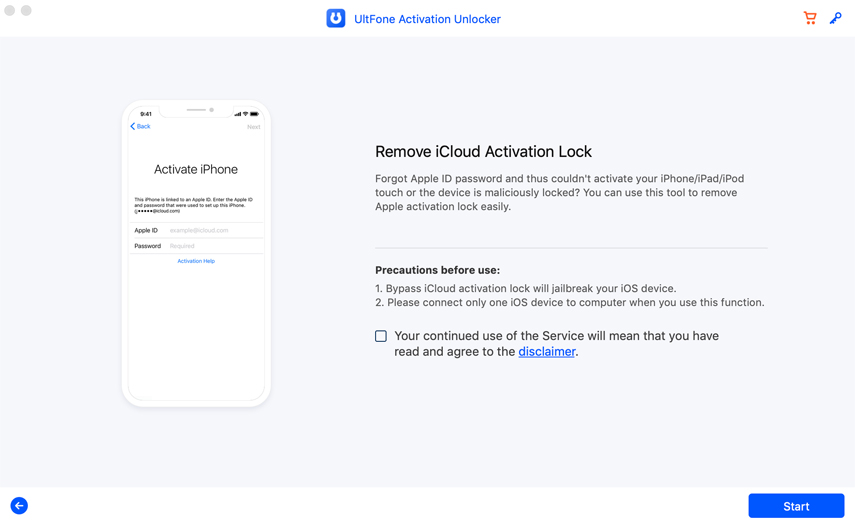 Step 1

Firstly, install and run the tool. You can see the "Start" button click on it.

Step 2

On the next page, you can see the agreement, read it and click on the "next" button.

Step 3

You need to connect your iPhone with your computer using a USB cable.

Step 4

Once you will connect your phone the software will automatically download the Jailbreak tool.

Step 5

Once the Tool is downloaded, get a blank USB flash drive and burn the jailbreak environment to it.

Step 6

Now, you can see the blue "Start" button, click on it to proceed.

Step 7

Next, wait until the tool is successfully installed on the USB flash drive.

Step 8

Once it is done. You can see 3 steps to Jailbreak your device. Follow each step carefully.

Step 9

The process will not take much time, wait until it is done.

Step 10

On the next screen you can see the iCloud activation lock from your device is removed, VOILA!! Now you can log in with a new ID and proceed like you've bought a new phone.
Conclusion
We hope this article helped you in some way or another. In this article, we have answered the question "How do I find out if my iPhone is unlocked". So, we have given you every method and remedy to find it out. For more such topics, stay tuned with us.