6 Methods: How to Remove iCloud Activation Lock without Password
At first, understanding the iCloud Activation Lock feature can be quite complicated, especially for the people who switched to Apple devices recently. People often buy second-hand iPhone and iPad. However, in most cases, the owner forgets to remove iPhone from iCloud, which keeps the sold device connected to the previous owner. It can cause several issues for the new owner, especially if he/she isn't any more available to communicate with the new owner. Hence, this guide will focus on how to remove iCloud lock without password from iPhone/iPad. Let's explore the plausible ways to remove Activation Lock without Apple ID and activate your device entirely.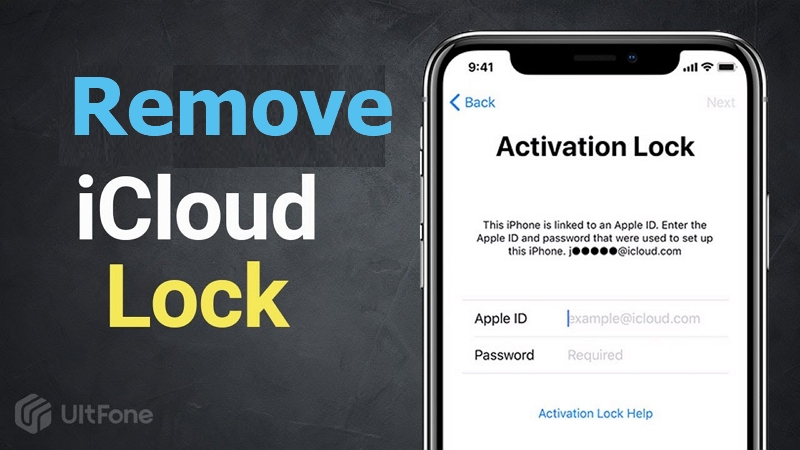 Part 1. Why Do You Have to Remove iCloud Activation Lock?
In case you don't know this, iCloud Activation Lock is a security feature that protects Apple devices and data from theft. It means that you can't even set up the device as new if you don't have the owner's details, i.e., Apple ID and password.
And there are many different scenarios when you might need to remove iPhone from the iCloud database and unlink the device. Sometimes, even the owners make this mistake and got left with an unactivated iPhone/iPad. It includes erasing device data without signing out of iCloud first or even performs device restore. As a result, the device will get locked and ask you to enter the iCloud ID and password to access it. And if you've forgotten your account password, then the situation will only get worse.
Hence, in all these scenarios, you are going to need help to remove iCloud Activation Lock without password. And that's why we have gathered some methods that will resolve such issues with a moderate chance of success.
Part 2. How to Remove iCloud Activation Lock Without Password Free [60% Success]
Take a look at these methods and pick the one that seems viable in your case.
Method 1. Ask Apple to Help Remove iCloud Lock if You Are the Owner
If you own the Apple device and got locked out by the iCloud Activation lock, then it gets much easier to unlock the device. However, the situation will get averted if you forgot the password to the iCloud account. Still, you can find out how to remove Apple ID from iPhone without password with the help of Apple Care.
In this case, you will need proof of purchase, such as a bill and packaging box, to let the service know that you are the original owner of the iPhone. During the verification, Apple will also check if the device s reported stolen or lost. And if you can't prove that you are the rightful owner of the iPhone/iPad, they will refuse to help right away. So, before you ask Apple for assistance in this matter, ensure that you have everything you might need for verification.
Method 2. Remove Apple ID from iPhone If the Owner is Nearby
There is another way that you can figure out how to remove iCloud from iPhone and activate it. But this method is only va lid until the real owner is nearby. In some cases, you will be able to contact the owner and get his/her help on the matter. As long as the owner remembers the password, the task will be easy to achieve. Here are the steps to remove Apple ID from an unactivated iPhone.
Step 1: As the Activation Lock screen appears on the screen, ask the owner to enter the Apple ID & password to unlock the device.

Step 2. Once the device is unlocked, sign out from the iCloud account in the Settings menu, and now you can log in using a new ID. You can also ask the owner to reset the device completely to set it up as a new one.
Method 3. Ask the Previous Owner to Remotely Remove iPhone from iCloud
The next method that can be used if you want to know how to remove Find My iPhone Activation Lock without Apple ID or password is to ask the owner for remote removal. Yes, the owner can remove the iPhone from the iCloud account by using the website.
The steps are explained here:
Step 1: Open icloud.com/find and ask the owner to sign in with the Apple ID and passcode logged in to the device.

Step 2: Select the "Find My iPhone" option > All Devices list > choose the right device > Select Erase iPhone/iPad option.

Step 3: After erasing device data and settings, click on the "Remove from Account" button. Confirm the removal by pressing the "Remove" button, and the account will be deleted from the target device.
Now, you can set up the iPhone/iPad with a new Apple ID.
Part 3. The Superlative Way to Remove Find My iPhone Activation Lock without Apple ID on iPhone/iPad [100% Success]
While other methods only offer around 50-60% chances of success, we present you with a solution that delivers 99% guaranteed solution. UltFone Activation Unlocker is a software application designed to remove iCloud lock without password. With this, you can bypass the activation lock and remove the previous Apple account from your device without any hassle. Bypassing the activation lock without a password is the primary feature of this tool.
Several advantages of using UltFone given below will help you decide if it's the right tool for you.
It supports iCloud activation lock bypass from iPhone 5s to iPhone X.
Support iOS 12 to iOS 14.1 (iOS 14 activation lock bypass for iPhone 6s/6s Plus/SE 1st/iPad 5th/iPad Mini 4/iPad Pro 1).
The success rate is 99% which is way higher than any other method.
Process of unlocking is handled by the software automatically where you need to click only a few times.
A detailed guide of the process is provided to ensure that the user makes no mistake.
The instant you get your hands on the software, launch it, and follow the steps here:
Step 1 Launch this program. Click on Start button on the main interface, and then connect your iOS device to computer with a lightning USB cable.

Step 2 Once your device is detected. The software will prompt you to download the jailbreak tool. Yes, your iOS device needs to be jailbroken for iCloud lock bypass.

Step 3 With the jailbreak tool is downloaded. Follow the onscreen instructions to start jailbreaking your device.

Step 3 Once the jailbreak process complete, you just need to click Start Remove button to start removing iCloud activation lock on the device.
Wait patiently, and once the lock is removed, you can log in using your iCloud ID. But remember not to log in a new Apple ID using the Settings app or even performing a factory reset after that; otherwise, the device will get locked once more. The software will itself provide you the login screen where you can enter your iCloud ID and password that will be available for use in the device.
Part 4. Other Methods That May Help to Remove iCloud Lock without Password [70% Success]
Apart from the solutions discussed above, there are few other options to remove Activation lock on iPad without Apple ID or password.
1. iCloud Activation Lock Removal Online
Online iCloud Activation Lock Removal services often come in handy in such circumstances. It will help you to remove Apple ID from iPhone without password, but you will have to pay for the service. If you search for such online methods, a bunch of services and tools will appear in the results.
Most such services offer Lock Removal services based on the IMEI number and device model. The service price will be around $20 to $50, depending on your location and model. However, you must be aware of such services even though you see hundreds and thousands of positive reviews. If you fall prey to a service that is not reliable, you will only be wasting your money and risk your device as well.
Unless you are in contact with a user who has previously taken their help, avoid such online services without any guarantee of solution or money-back policies.
2. Remove Activation Lock on iPhone/iPad without Password using DNS
If you want to learn to remove iCloud Activation lock without password for free, then using DNS might help. It involves using an online server and a little bit of HTML knowledge. The steps involved are here:
1. Restart device > Set up > Choose Wi-Fi network > More Wi-Fi Settings > Tap "i" symbol > Select Configure DNS manual option.
2. Click +Add Server, and a blank server menu will appear.
3. Enter the server address as per location, such as USA (104.154.51.7), Asia (104.155.220.58), and so one for other locations.
4. Save the server and go back to enable the "Ask to Join Networks" option.
5. Enter the network password if prompted and join.

6. Now when the iPhone activates screen appears, press the back button, and you will be directed to the setup screen like usual.
Remember that this method may or may not work for the new models and iOS versions. Furthermore, it's only applicable for a couple of minutes, and if you are unable to unlock the device, then all your struggles will be in vain.
Final Words and Tips
Reading this guide, you will gain a detailed insight into the methods feasible to remove Apple ID from iPhone without password to get rid of iCloud Activation Lock entirely. We are optimistic that this guide helps you out and unlock your device so that you can use all features. If not, then UltFone iCloud Activation Unlocker is always here to oblige.