5 Ways: How to Hack iPad/iPad mini Activation Lock
Activation Lock or iCloud Lock is a feature that helps to prevent anyone else from using your iOS device; it's ever stolen or lost. Once locked, it's almost impossible to use the iDevice without an authorized Apple ID and passcode. The device can't be reset, erased, or otherwise modified in order to make it work. This can be a big hassle if you somehow find yourself with an Activation Locked device. There could be many reasons, but with most common is you've purchased or inherited an iPad that came locked and the previous owner didn't unlock it for you.
While performing an iPad activation lock bypass can be challenging, it's not impossible. This post will explain what it really means when an iPad is iCloud locked, and how to remove an activation lock on your iPad in five different ways.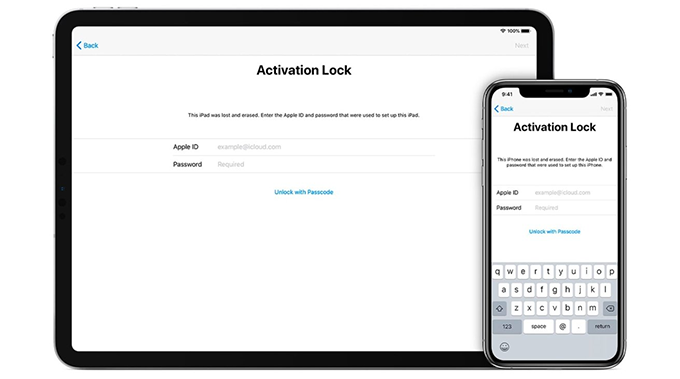 Part 1. What Does It Mean When an iPad is iCloud locked?
When you see the message "iCloud is locked" on an iPad, it simply means one of the following:
You forgot the passcode to log out of your iCloud account.
You bought a secondhand iPad from someone, but the previous owner didn't log out of his or her iCloud account from the device.
Someone with access to your passcode has reset your iCloud passcode to a new one.
The previous owner of the iDevice locked the iDevice from his or her iCloud account.
In all the cases, you won't be able to use your iPad to do anything until you unlock the iCloud lock. Fortunately, there are several ways to help you remove iCloud activation lock without password on iPad as well. So, continue reading to explore them.
Part 2. 5 Ways to Bypass Activation Lock On iPad
You're not alone!! Lots of iOS users deal with an Activation Lock. If your iPad is locked with Activation Lock and you can't recover the passcode, you should give a try to Activation Lock removal tools available out there to bypass Activation Lock on iPad.
| Solutions | Suitable for | Ease of Use | Time Required | Success Rate |
| --- | --- | --- | --- | --- |
| UltFone iPad Activation Unlocker | All iDevices and iOS versions | Simple | Short | High |
| AppleiPhoneUnlock.uk | All iDevices and iOS versions | Simple | Long | Low |
| iCloud | Secondhand iPad, with access to the original owner | Medium | Short, if access to the original owner | Low |
| Ask Apple | All iDevices and iOS versions | Complex | Long | Low |
| Doulci Activator | Secondhand iPad | Complex | Long | Low |
Below we're going to walk you through all of the above-mentioned ways in-depth.
Solution 1: The Best iPad Activation Lock Bypass Tool - UltFone Activation Unlocker
If you're looking for the quickest way to remove activation lock on your iPad, look no further from UltFone iPad Activation Unlocker. This is a professional tool that comes in very handy when you can't activate your iOS device without passcode or you're encountering an activation error. It will remove the activation lock with ease and help you enter the device and use it again.
The key features of the software include:
Remove activation lock when you forgot passcode.
Bypass activation lock without a previous owner.
Gives you quick access to your device after removing the activation lock.
Let you use a new Apple ID after bypassing the activation lock.
Protect your device from tracking or locking remotely by the previous owner.
Pros:
Easy to use, no technical skills are required.
Support for all iOS devices - iPhone, iPad, and iPod touch.
Support new iOS version iOS 13.5.1.
Cons:
After removing the activation lock, the function of cellular, calls, and iCloud login from Settings app is disabled.
Your device will be jailbroken after removing activation lock on iPad Pro/Air/Mini.
Below is how to bypass iPad activation lock using UltFone Activation Unlocker:
Step 1 Run the software after installing it and connect your iPad that you would like to remove the activation lock to the computer. Click on "Start" to proceed.

Step 2 Once you hit the "Start" button, the software will start downloading the jailbreak tool. Follow onscreen instructions to jailbreak your iPad with the downloaded package.

Step 3 Upon the completion of the jailbreak process, hit on the "Next" button.

Step 4 The software will begin bypassing the activation lock on your iPad. Let the software do his job and soon, you will be able to use your iPad and sign-in to a new Apple ID.
Here is a video guide of how to remove activation lock on iPad
Solution 2: Bypass iPad Activation Lock with AppleiPhoneUnlock.uk
You can take advantage of the AppleiPhoneUnlock.uk service that claims to remove the activation lock. AppleiPhoneUnlock takes a few days to perform unlock. Their charges are around USD 40, but the actual cost varies with the device model you need to be unlocked.
So, let's learn how to perform iPad Mini activation lock bypass using AppleiPhoneUnlock.uk:
1. Visit AppleiPhoneUnlock.uk and choose the model of the iPad from the drop-down menu and type the IMEI number.

You can locate your IMEI code through one of the following ways:

For most iDevices, the IMEI is labeled on the SIM tray. So, pop it out with the help of a paperclip or using the SIM removal tool.
If your iDevice is not activated, then there'll be a little "i" button on your device's screen, click it and you'll see the IMEI.
On some models, IMEI is labeled on the back of the iDevice, so flip it over and you'll notice it near the bottom.

2. Tap the "Unlock Now/Remove Activation Lock" button.
3. You'll receive the secure checkout. Enter your email id to get yourself up-to-date with the process.

4. Hit the "Continue" button and enter your payment details and that's it.
If they think that they can unlock the activation lock on your iPad, you'll get confirmation of your placed order and a payment request of the completion fee. So, sit back and let them do their own. Once complete, you can set up your iPad with your new iCloud account and enter the device to use it normally.
Solution 3: How to Bypass iPad Activation Lock Using iCloud
If you have bought a secondhand iPad with an iCloud account locked, then you can ask the previous owner to remove it. The removal of activation lock can be performed remotely, thus they don't need the device access itself to it.
Below is how to bypass iPad activation lock through iCloud:
1. Visit https://www.icloud.com/.
2. Enter your Apple ID and passcode.
3. Click on "Settings".
4. Choose the device you would like to remove from your iCloud account found under "My Devices".
5. Tap the small "X" opposite the iDevice name in order to remove it.
6. You'll be asked to confirm the removal, so click "Remove" and that's it.
Solution 4: Ask Apple to Remove Activation Lock on iPad without Previous Owner
If you're wondering how to remove activation lock on iPad without previous owner, then you can take the assistance of Apple. Apple will unlock the iCloud activation lock on the iPad in some cases. In order to do that, you have to prove:
You're the owner of the iDevice, show your receipt.
Ownership has been given to you by the original owner.
Apple will inspect if the iPad has been reported stolen. If the inspection shows it has, then they will not help you out with the activation lock.
And if your device is not reported stolen or missing, then they might still refuse to offer you help. For instance, if they are not convinced that you can adequately prove that you're the rightful owner. Apple rates privacy and security extremely high, so unless they're 100 percent sure the iPad is yours, then they'll not unlock it.
Solution 5: Doulci Activator for iPad Activation Lock Bypass
Another desktop application that is free to bypass the activation lock on the iPad is Doulci Activator. It works on almost every Apple device like iPhone, iPad, or iPod touch. The process is easy, but it may even depend on the complexity of the issue.
Below is how to perform iPad activation lock bypass code using Doulci Activator:
Download, install, and run the software on your device. Next, open the Doulci Server Activator and select the right device and iOS version.
Connect your iPad with the help of a USB cable to the computer. After the status of the iDevice changes to "temporarily unlocked, you can proceed further.

Now, you need to get the authentication code. So, from the homepage, tap the "Authorize Device" option and the software will provide the activation code. Enter it and your activation lock will be removed.
FAQs about iPad Activation Lock
1. What to do if I forgot my Apple ID password and security questions, so how can I activate my iPad?
If you forget your Apple ID password, then you can reset your passcode from any trusted iPhone/iPad/iPod touch or Mac. If you cannot change or reset the password, then you can answer the Security questions to activate your iPad.
But, in case, you even forget the answers to your security questions, then you need to verify your identity to reset your security questions. You can do that visiting iforgot.apple.com, enter your Apple ID here, and select the option "I need to reset my security questions". Follow the on-screen instructions to get the job done.
2. How do you check if an iPhone is iCloud locked?
If you see a message that says Activation Lock, then the device is iCloud locked and requires the original Apple ID and passcode you used to set up the device to unlock it.
3. Will a hard reset remove iCloud lock?
No, hard reset won't remove iCloud lock. Even you factory reset your iPad or restore iPad in iTunes, the activation lock still could not be removed. You have to use professional iCloud activation unlock tool like UltFone activation unlocker or contact Apple.
A Last Word
That's all on how to bypass Activation Lock on iPad. Even though it's quite frustrating to come across such problems on your iPad, there are several ways out there to help you get rid of the activation lock. We have covered here all reliable and simple ways, and our best recommendation for you is to try UltFone Activation Unlocker