How to Fix Quick Notes Not Working on iPad
Quick Note is a floating editor for notes. This is recently available in the iPadOS 15. It is present on the home screen of the iPad. Related to Quick Notes, there are a lot of common glitches released to iPadOS 15 quick notes not working. In this, we will discuss all issues and all reliable solutions to fix iPadOS 15 quick notes. Read this carefully to see how to fix Quick Notes Not Working on iPad.
Part 1. Apple Introduce Quick Note on iPadOS 15
After a few months of beta testing, the Apple organization officially released iPadOS 15 alongside iOS 15. This is completely new for all users and is also available as a pre-installed for all new users. New Quick Note on iPodOS 15 was introduced as a new feature for all users.
With this, you can call a simple notepad on your best iPad at any time, quickly jot down any little bit of valuable information, save links, and even add text and images from Safari. But how do you use quick notes? Don't worry, it's easier than you think. Users need to swipe up with the help of a finger or use an Apple pencil in the bottom right corner of the screen.
How to Use Quick Note on iPad?
1. Using Apple Pencil, stylus, or finger, swipe in from the bottom right corner of the iPad screen. You will see a small gray box start to appear-make sure it is fully expanded and opaque before releasing the pen tip.
2. After expanding Quick Note, you can use the stylus or your fingers to write or sketch in the box, or switch to the keyboard for input. You can use the buttons in the lower right corner to change the drawing tools, just like in regular notes. After you finish your quick note, tap Done to save it, or you can just swipe it-it will be saved automatically.
Part 2. Quick Notes Not Working Problems
Apple introduces a new Quick Notes feature on iPadOS 15. All these features are related to the floating quick note window. There are lots of problems related to the Quick Notes features not working. Listing a few common problems blow. These issues are reported on Reddit, twitter, macrumors, etc.
After the update of iPadOS 15, users cannot open the floating quick note window from the bottom right corner of the screen.
The gesture location is not working properly for the Quick Notes.
Not able to bring Quick Note interface by tapping with Apple Pencil or dragging up with the help of finger.
Swiping up the home screen, then Quick Notes appear on the iPadOS 15 interfaces.
These all are the basic problems faced by many users related to the Quick Notes on iPad after a new update of iOS 15. In the below section, you can read a complete guide to check and fix all the Quick Note Not Working issues on iPadOS 15.
Part 3. How to Fix Quick Note Not Working on iPadOS 15?
1. Restart iPad
Now, the user needs to reboot the iPad for minor glitches. You can resolve these types of glitches by just restarting your iPadOS 15. It will take a few seconds after that your iPad wakes up.
2. Force Restart iPad
If you cannot restart iPadOS 15, you can choose the force restart iPad option. For that, you can follow these steps that are given below. You can choose this option if your iPad is not working properly after updating it to iPadOS 15.
iPad having Home button- The user needs to press and hold the top button and the home button of the iPad simultaneously. Release both buttons when the Apple logo appears on the screen.
On the other iPad models (Don't have a home button)- The user needs to press quickly and release the volume up button and press quickly and release the volume down button. And hold the top button for that instance that Apple logo appears on the screen.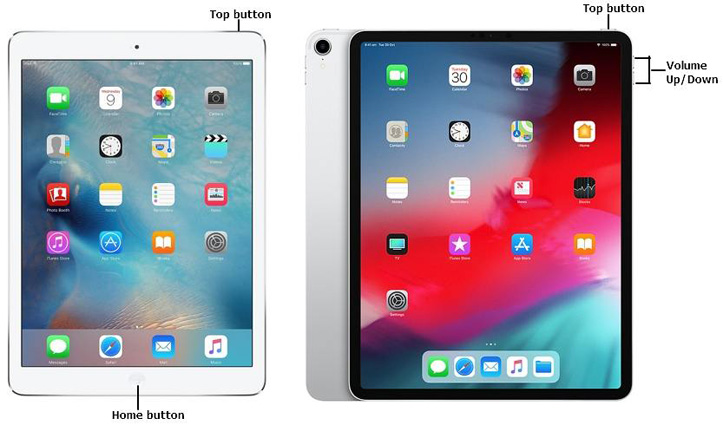 Close the Notes App
After doing all these above methods cannot fix the same glitch, the user needs to close the notes application that is currently running on the phone. For that user needs to follow all the steps that are given below.
To close or quit the Notes application, Open the Quick Notes application.
After that, open the app switcher and then swipe up the Quick Notes application.
By the above mentioned steps, you can easily close the Quick Notes running application.
4. Check for iPadOS Update
If your issue or glitch is still not fixed, we need to check the iPadOS version. Maybe you are using an old version for which you need to download and install the new version. You can check updates of iPadOS by navigating to Settings app > General > Software Update.
The current version name is available on the screen. If you are not using the current version of iPadOS, then you will get an updated version. Over there, you need to download and install the current version.
5. Disable Quick Note on iPad
After updating iPadOS, you still need to face the same glitch so, you need to move towards the next step, how to disable quick note on iPadOS 15? For that follow all the steps that are given below.
Step 1. Open Settings application present in the iPhone.
Step 2. After scrolling down the screen, Select Apple Pencil. Select the drop-down next to Right Corner Swipe and toggle it off.
Step 3. Under Pencil Gestures, tap on the right corner and swipe up.
Step 4. Now open Quick Note and disable quick notes from there.
6. Repair iPad System
After using all these methods still, your glitch is not resolved, then you need to go for a repair of the iPad system with the help of the Ultfone iPad System Repair. This is third-party software that will repair your iPadOS 15 quick note not working glitch in a very short time. Check out the complete guide with detailed steps.
Step 1 Need to download and (install) launch UltFone iOS System Repair on your PC or Mac. After that, you need to connect your iPad with the USB cable and then click on the Start Button to proceed to the future.

Step 2 Now click on the Standard Repair option to repair the iPad device. This repair mode can solve iPad quick note not working without data loss.

Step 3 Click on the Download option. That is visible on the screen. So, after that, a complete firmware package related to your iPad has been downloaded.

Step 4 Now that the matched firmware has been successfully installed, click on the Start Standard Repair button to continue the repairing process.

Step 5

Once iPad system repair is completed, at that time your iPhone will automatically reboot, and your Quick Notes-related issue will be fixed within a short time.
7. Restore iPad to Factory Settings
The last resort to solve iPad quick notes issue is to restore it to factory settings. This will solve most of the system problems though all the data and settings will be erased. It is not suggested to perform a default reset unless you've tried all other methods.
Just go to Settings > General > Reset. Tap on "Erase All Content and Settings". This will wipe out the device totally.
The Bottom Line
Quick Notes Not working on iPad after iPadOS 15 update could happen unexpectedly. To overcome or to fix this issue, various methods have been discussed, but UltFone iPad System Repair is a reliable iOS and iPadOS system recovery software that can resolve over 150+ iPhone issues without causing data loss. There is no need to go through all these above processes to fix the iPadOS 15 quick note issue. This is a totally time-saving method with the help of a professional system repair software.