iPad Could Not Be Activated? Here's How to Fix
My iPad 2 was working just fine until yesterday. When I switched it off. And my screen said: "Your iPad could not be activated because the activation server cannot be reached. Try connecting your iPad to iTunes to activate it, or try again in a couple of minutes." So what do I do to fix it?
"Could not activate iPad" error is quite frustrating, and occurs when you try to set up a new device or update the old one to a new iOS version. The issue may appear for various reasons, and the most typical reasons include a slower internet connection, unsupported sim carrier, or an enabled activation lock. In this guide, we're gonna introduce to you the top 9 fixes to the error "Your iPad could not be activated because the activation server cannot be reached" on your iPad. Now let's discover what we can do.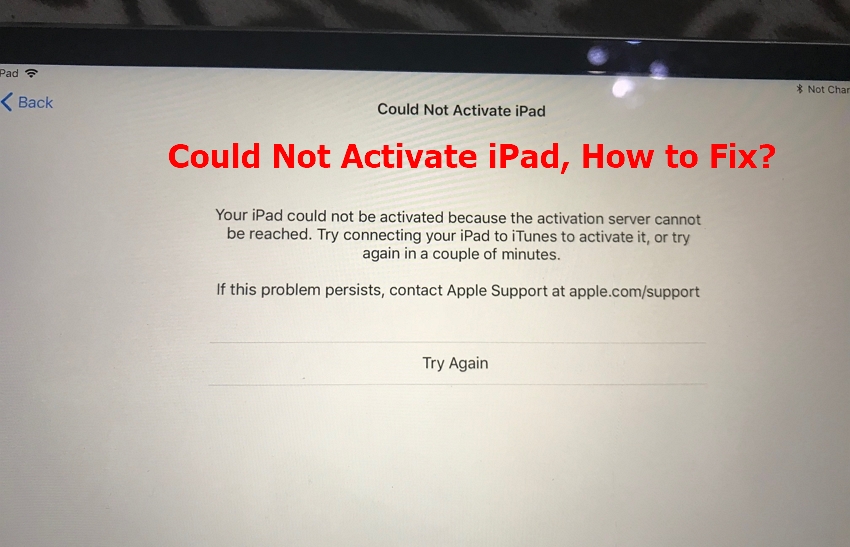 Part 1. Quick Fixes to Your iPad Could Not Be Activated Because the Activation Server Cannot Be Reached Error
Fix 1. Wait for a while
Sometimes, the Apple servers won't be responsive when a vast number of users try to activate their iOS devices simultaneously. Therefore, it is recommended to wait for a few minutes and then try again.
Fix 2. Check Apple's System Status Page
The error also arises when the Apple servers go under the maintenance. Typically, the server maintenance lasts for a few minutes. The good thing is that you can check whether the server is under maintenance or not. To check it, go to the Apple System Status page. In this page, you can view a list of recent outages and updates from Apple. If the icon next to "iOS Device Activation" isn't green, then it indicates that the server is now under maintenance and all you need to do is wait patiently until it turns green.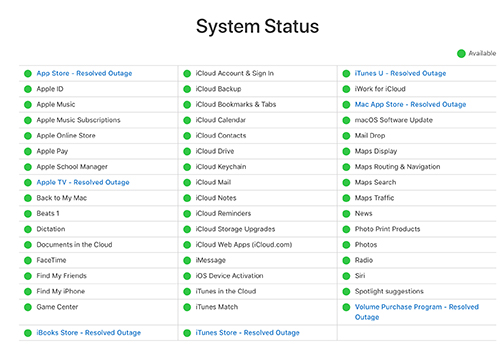 Fix 3. Connect to A Reliable Wi-Fi Network
The iPad activation process will only work if your device has a stable internet connection. You can disconnect the network and reconnect it after a few minutes or connect your iPad to another network that is stable and reliable. If it is the network that is causing trouble, then the problem will surely be fixed.
Fix 4. Perform a Restart or Hard Reset
If the error still continues, then the next resort is to perform a hard reset. Hard resetting the iPad would resolve all the issues on your iPad, including the software & network glitches. Follow the steps below to perform a hard reset on your iPad.
Press & hold the home & sleep/wake button simultaneously.
Release the buttons when the Apple logo appears on the screen.
Fix 5. Take Out the SIM Card
Sometimes, a malfunctioning sim card may cause the activation server cannot be reached. It is widely reported that removing and reinserting the sim card solves the iPad activation errors. You can take the assistance of a paperclip to pull the sim card from the iPad. If the technique works, then consider purchasing a new sim card.
Part 2. Advanced Fixes to Your iPad Could Not Be Activated Because the Activation Server Cannot Be Reached Error
Fix 6. Activate your iPad Using iTunes
If your iPad is still stuck on the your iPad could not be activated because the activation server cannot be reached error, you can take the help of iTunes to activate it. Before commencing, ensure that you have updated iTunes to the latest version to avoid any unknown problems. Follow the steps below to activate the iPad using iTunes.
Step 1. Launch iTunes on your computer, then connect the iPad to the computer.
Step 2. Wait for iTunes to detect and activate your iPad.
Step 3. If iTunes displays the message "Set up as New" or "Restore from Backup", it indicates that iTunes has activated your iPad successfully.
Fix 7. Remove the Activation Lock via iCloud
Activation lock is a pretty handy feature that prevents your iOS devices from being wiped or restored without your permission. You will be required to remove the activation lock before setting up a new account. Before starting, make sure to power off your device. Here's the step-by-step guide to remove the activation lock via iCloud. 
Step 1. Go to icloud.com, then log in with your Apple ID.
Step 2. Click "All Devices" and then select the iPad from the list that needs to be activated.
Step 3. Next, select "Remove from Account".

Step 4. That's it. Now power on your iPad and try to activate it again.
Fix 8. Restore Your iPadOS to A Stable Version
One of the most likely reasons for iPad activation error is that it might be running iOS beta software. The iOS beta software isn't stable as the other officially released versions of iOS. Therefore, it's recommended to restore your iPad to a stable iOS version. All you need to do is log in to your developer account and ensure that the correct UDID is registered for your device. If the problem is because of the iOS beta version, then restore your iPad to the latest stable version by using iTunes.
Bonus Tip: How to Remove iPad Activation Lock Without Apple ID and Password
You can use UltFone Activation Unlocker to remove the Activation lock on your iPad even without Apple ID or Password. The tool offers a simple and click-through process. Furthermore, it allows you to sign in with a new Apple ID on your iPad Apple Store after removing the activation lock. Another perk of Ultfone Activation Unlocker is its wide compatibility range. This software supports iPad 5-7/iPad Mini 4/iPad Air 2/iPad Pro 1/Pro 2 and iPod touch 7.
Here is the step-by-step guide for UltFone Activation Unlocker: 
Step 1Download and install UltFone Activation Unlocker, then launch it on your Mac/PC. From the main interface, click the "Start" button.

Step 2Agree to the agreement and click "Next" to proceed.

Step 3Now, connect your iPad to the Mac/PC with the help of a USB cable. After your iPad is recognized, UltFone Activation Unlocker will start downloading the jailbreak tool. For Windows users, you need to follow the on-screen instructions and download the jialbreak tool manually.

Step 4 Once the jailbreak tool is downloaded, follow the guidelines to jailbreak the iPad.

Step 5 When the jailbreak process completes, click the "Next" button to proceed. 

Step 6 On the following screen, the program will display the device info, confirm it and click the "Start Remove" button to start removing the iCloud activation lock on iPad.
Conclusion
In this article, we've recommended several methods to resolve your ipad could not be activated because the activation server cannot be reached. Most of the ways have some restrictions and drawbacks. However, if you want an all-in-one method, then we highly recommend you to give a try to UltFone Activation Unlocker. The tool has been trusted by many media sites, including MacWorld and TechRadar and I hope it is helpful for you. If you have any further questions, please feel free to leave your comment below, we'll be thrilled to help you.