How to Fix iPhone/iPad Locked Up after Software Update (iOS 16 Support)
I purchased a new iPad and it worked fine all day yesterday until I updated it. Now it will not unlock after I enter my passcode. It will not allow me to use touch access without first using the passcode. I do not get a disabled warning, it just remains locked. Any suggestions?
Apple has finally revealed the latest iOS 16 and many users have already started installing it on their devices. While the new iOS 16 comes with a plethora of new features, there are a few users who have repeatedly encountered different technical errors after updating their iPhone/iPad. One such error is the iPad getting locked after the update and asking for passcode. Of course, if you remember the passcode, it'll only take a few seconds to unlock the device or reset the passcode. But, if you've accidentally forgotten it, you'll need to perform different solutions to fix the problem.
In this article, we'll take a look at all the working solutions to troubleshoot the "iPad locked after update" error.
Why is my iPad asking for a passcode after update?
The truth is taht there is no specific reason behind iPhone/iPad asking for the passcode after software update. Experts believe that this is usually a technical glitch that people encounter while installing the beta versions of a new software update.
How do I unlock my iPad after update?
So, here are a few working solutions that'll help you unlock your iPad or iPhone, even if you don't remember the screen passcode.
Fix 1. Try Default Passcode for iPhone/iPad First
The easiest way to unlock your locked iPad/iPhone is to use the default passcode. The default passcode is usually set by the manufacturer himself. So, even if you haven't set your own passcode, your phone will automatically apply the default passcode and lock the screen after a software update. In this case, all you have to do is enter "0000" or "1234" to unlock the device. In case your device is asking for a six-digit passcode, you can enter "000000" or "123456" to unlock it.
Fix 2. Perform a Force Restart
If your default code doesn't unlock the device, the next step would be to force restart it. This will terminate all the temporary processes and you won't see the passcode screen anymore. Here's how you can perform a force restart on iPad.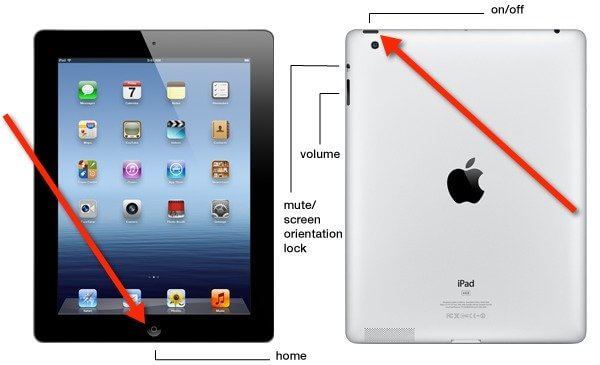 On your iPad, simultaneously press and hold the "Home" and "Power" buttons. Wait for a few seconds and you'll see the Apple logo flashing on your screen. Once the logo appears, release both the keys and your device will restart automatically.
Fix 3. Restore iPad/iPhone with iTunes
Another way to fix the iPhone/iPad locked after the update error is to restore the device. But, since you're unable to access the device directly, you'll have to use iTunes to get the job done. Follow these steps to restore your iPhone/iPad using iTunes.
Step 1. Start by installing the latest version of iTunes on your system. Then, launch the application to get started.
Step 2. Before to proceed further, make sure to put your device in Recovery Mode. Then, connect it to the system and wait for iTunes to automatically detect it.

Step 3. iTunes will automatically detect that the device is in recovery mode and ask you to restore it. Simply tap the "OK" button to initiate the process.

Step 4. This process will only take a few seconds to complete. After the device is restored, you'll be prompted to the welcome screen where you can follow the on-screen instructions to set up the device.

Note that this method will reset your iPhone to factory settings and erase all your data so you'd better make a backup of your data in advance.
Fix 4. Restore iPhone/iPad without iTunes
Now, it's worth noting that the previous solution will only work if you remember your iTunes credentials. In case you have forgotten the iTunes password, you'll have to look for an alternative to do the job. Here we recommend using UltFone iOS System Repair.
It's a feature-packed system repair tool for iPhone/iPad and also tailored to fix a wide variety of system errors on an iDevice. In fact, you can resolve 150+ system issues including black screen, Apple logo, and stuck in recovery mode. The tool doesn't ask for your iCloud or iTunes credentials, which makes it one of the most reliable tools to restore an iPhone/iPad without iTunes.
Besides, in case you are not happy with the latest iOS 16 update, you can also use UltFone System Repair to downgrade your device.
Some of the key features of UltFone System Repair include:
Resolve 150+ system issues on iPhone/iPad/iPod.
One-click solution to enter and exit recovery mode.
Downgrade from the latest iOS 16 Beta without iTunes.
Reset iPhone/iPad/iPod without passcode.
Compatible with all iPhone models and iOS versions.
So, here's the detailed step-by-step process to fix the iPad asking for passcode after update error.
Note: Before proceeding further, make sure to create a backup for your iPhone/iPad as the process may result in data loss as well.
Step 1 Download and install UltFone System Repair on your Mac or Windows system. Launch the application and connect your iDevice to the system. Once the device gets recognized, click Reset on the main interface.

Step 2 On the next screen, click Factory Reset.

Step 3 Now, click the Download button to download the supported firmware package for your device. During this process, your device must stay connected to a stable Internet connection.

Step 4 After the downloading process completes, UltFone iOS System Repair will automatically initiate the repair process by installing the downloaded firmware package. Do not disconnect your device during this process.

Step 5

Once UltFone has repaired your device, you'll see a confirmation message on your screen. Disconnect the device from the system and you'll be able to access your iPad without any interruption.
Conclusion
All the above fixes have elaborated on what to do after you've been locked out of iPad after the update. Keep in mind that it's a minor technical glitch that anyone can encounter, even if they haven't ever set a passcode on their device. But, thanks to tools like UltFone iOS System Repair, you'll be able to troubleshoot the error and unlock your device all by yourself.