The Best iCloud Removal Services in 2022
An iCloud activation lock is introduced for keeping your device and its data safe in scenario your iDevice, Apple Watch, or Mac is ever stolen or lost. It turns on automatically when you enable Find My [Device] feature on your device. Whether you wiped out your own device or purchased one from someone else, you can disable the activation lock by simply entering the correct iCloud account ID and passcode. Thus, if you don't know the right credentials, then you need the iCloud activation lock removal service.
With lots of options out there, determining which iCloud removal service is trustworthy is definitely challenging. Fortunately, you're in the right place. Continue reading and learn the legit and trusted iCloud removal services of 2020.
Part 1: What Is A iCloud Activation Lock Removal Service?
An iCloud lock removal service helps you remove the security feature (activation lock) provided by the iCloud account. With the assistance of the iCloud lock removal service, you can remove the iCloud activation lock that guards your device in a scenario of stolen or lost. And sometimes you end up misplacing or forgetting your iCloud account passcode. This will stop you from accessing your own device. Using the trusted iCloud removal service, you remove the iCloud account from your device.
Almost every iCloud removal service works in a similar fashion. They just need your device's information such as the device model and IMEI number to initiate the removal process. These removal services ask for a small fee to help you gain access to your iCloud locked device.
Part 2: Trusted iCloud Removal Service That We Recommend
Well, iCloud lock removal services we're going to discuss below can help you completely get rid of the iCloud activation lock from your device. However, you have to ensure that your device's iCloud Status is Clean before performing iCloud unlock.
We highly suggest you check the iCloud status (blacklisted or clean) before using any of the following methods. Since the only way to entirely unlock the blacklisted device is to request the original owner to remove. And we all know that it's quite challenging to get access to the previous owner. Therefore, check the iCloud status first using a reliable iPhone blacklist checker.
Nevertheless, after checking the iCloud status of your iPhone and if it is not blacklisted, you can then proceed with the below methods:
1. IMEIUnlockSIM
If you're looking for an iPad, Apple Watch or iPhone iCloud unlock service, look no further from IMEIUnlockSIM. With the help of this removal service, you can remove the activation lock permanently. This removal service has been indeed verified by lots of users for iCloud activation lock removal.
The key features of this service include:
Suitable for any iPad, iPhone and Watch's model.
Remove the lock via SN/IMEI Number.
Wipe out the old, existing iCloud ID from the device and then let you add a new ID.
How Does IMEIUnlockSIM Work?
The service IMEIUnlockSIM has a simple process to help you gain full access to your device. All you have to do is go to its official page of iCloud removal service and enter the following details:
Your device's model.
Your device's IMEI Number/Serial Number.
After entering the details, you can click on the "Unlock Now" button.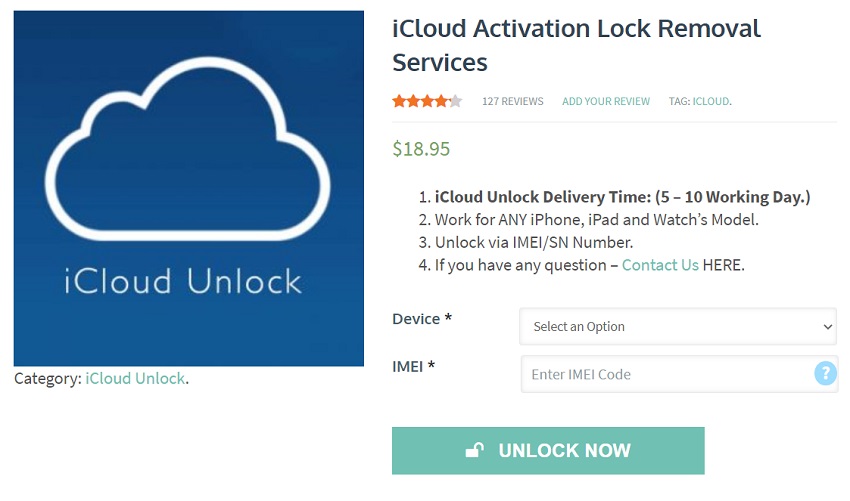 In the checkout page, you have to enter your basic info such as email, name, address, and phone number. This info is required to contact you when your device can be iCloud unlocked. After going through the payment process, you'll get a confirmation message that the iCloud activation removal process has been initiated. For that, it would take 1 to 5 working days. You'll be contacted through your email when the removal is completed. And then you'll have an iCloud activation unlocked device.
Is IMEIUnlockSIM Legal?
Yes, IMEIUnlockSIM is legal to use and this iPhone, iPad, and Apple Watch iCloud removal service break no laws. So, you can use it without any worries.
2. AppleiPhoneUnlock
If you're looking for iCloud unlock near me, look no further from AppleiPhoneUnlock. It is another trusted IMEI-based removal service. It offers two kinds of services - iCloud Unlock and Unlock iPhone. Founded in 2011, this removal service has gotten many reviews and testimonials from users worldwide. It has an easy, simple, and quick removal process, just like IMEIUnlockSIM.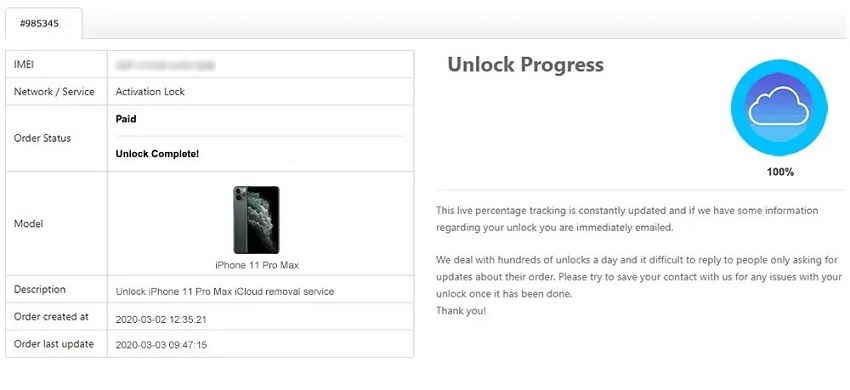 The key features of this removal service include:
Removes the device from the original or previous owner's iCloud account permanently.
Lets you activate a device when forgot the passcode.
Works with all iPads/iPhones/Watches models.
3. DirectUnlocks
DirectUnlocks is also an iCloud account removal service that removes iCloud activation lock through IMEI. With the assistance of this removal service, you'll be able to remove the activation lock from your device within 24 hours, so it is indeed one of the fastest iCloud removal services.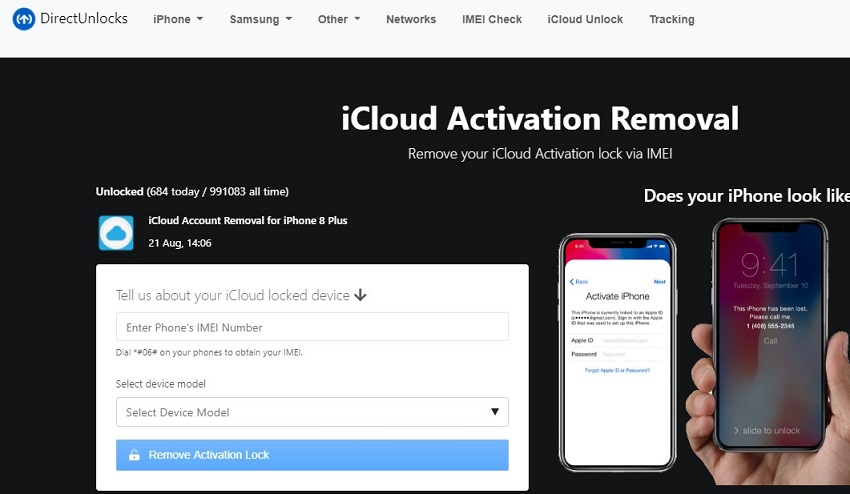 The Key features of this removal service are:
Works for iPhone, iPad, Watch, and Mac.
Able to do the job in 24 hours.
Just require your device's IMEI and model info to begin the process.
Part 3: Which Service Should I Choose for iCloud Activation Removal?
If you're having trouble deciding which one of the above is the best iCloud removal service, go through the below quick comparison of these three services.
| | Delivery Time | Price | Is it Legal? |
| --- | --- | --- | --- |
| IMEIUnlockSIM | 5-10 Working Days | $18.99 | Yes |
| AppleiPhoneUnlock | Within 72 Hours | Starts from $39.00 | Yes |
| DirectUnlocks | Within 24 Hours | Not A Universal Pricing Structure | Yes |
Part 4: People Also Ask about iCloud Unlock Removal
1. Is there a free iCloud activation lock removal service?
Yes, there are free iCloud activation lock removal services out there. But, we don't recommend going with iCloud removal service free online. Their goal is just to gather your personal info for fraud purposes in the future.
2. Can restoring iPhone remove activation lock?
Unfortunately, No!! Restoring iCloud locked device will simply upgrade the iOS to the latest version available and wipes out all the content and settings from the device. And it doesn't remove the activation lock.
3. How do I remove the previous owner's Apple ID from an iPhone?
Well, if you can contact the previous owner, then you can ask them to remove it.
And if it's nearby, all you have to do is to:
Ask the previous owner to enter the Apple ID and passcode on the activation lock screen.
Move to "Settings">" [Your Name]">" Sign Out".
Enter the Apple ID and passcode and click "Turn Off".
Else, follow the below steps:
Ask the previous owner to visit iCloud.com and log in with their Apple ID.
After sign in, select the "Find iPhone" option.
Tap on All Devices, and then select the iCloud locked device.
Tap on Remove from Account and that's it.
If you aren't able to contact the previous owner, then you need to rely on the iCloud activation removal service to get access to the iCloud locked device.
4. Is there any third-party software to bypass the iCloud activation lock?
Yes, there are many and our top recommendation is UltFone Activation Unlocker. With the assistance of this tool, you can remove iCloud lock after jailbreaking iPhone/iPad. What makes it best is that it helps to get the job done in one-click and in no time.
The key features of the software include:
Remove the activation lock when you forget the passcode.
Bypass activation lock without access to the previous owner.
Prevent remote locking or tracking of the device by the previous owner.
100% success.
Support iPhone 5s to iPhone X, and iOS 13.6.
Below is how to use UltFone Activation Unlocker:
Step 1: Run the software after downloading and installing it from its official website. Then, click on the Start button.

Step 2. Connect your iCloud locked device to the computer and let the software download the jailbreak tool to initiate the removal process.

Step 3: Finally, confirm your device's info and hit on the "Start Remove" button. In a while, the activation lock will be removed from the device.
Last Words
So, you can either rely on iCloud removal service or iCloud removal software to remove the activation lock on your iPhone/iPad. If you can't wait for even one day to remove the activation lock, then go with UltFone Activation Unlocker. This tool can help you get the job done in no time.