2023 Solution: How to Bypass iCloud Activation with IMEI
Do you wish to know all about iPhone IMEI iCloud Unlock methods? Well, the iCloud Activation Lock feature for iOS devices has always been a matter of concern for users. And the frustration only grows when the device gets stuck due to the activation lock. So, we compiled this guide to help out the users who are facing troubles due to the iCloud Activation lock. We will help you out to understand how the IMEI number of your device can help remove the activation lock. Let's get to the details without any delay.
Part 1. FAQs about IMEI iCloud Unlock
1.1 What Is an IMEI Number?
IMEI is the abbreviation for International Mobile Equipment Identity. It is a unique number that is provided to all electronic devices for identification. The standard IMEI number is 14 digits and one extra digit that is crucial to verify the entire 14-digit string.
However, you might come across IMEI numbers that have 16 digits. These numbers are slightly different as they consist of the software version of that device, and known as IMEISV number, where SV stands for software version. In simple words, we can say that the IMEI number will distinguish your device from others, and it can also be used to track and block your device. The network providers use this number when a device is stolen or needs to be blocked.
1.2 How to Find the IMEI Number on iPhone/iPad/iPod Touch
Now that we know what an IMEI number is, it becomes important that we also know how IMEI activation lock work, how to find it, and how to use it for IMEI iCloud activation lock removal. Here, we are providing you three methods to help you find the correct number.
Method 1: Find IMEI Number from About Info
The About section of your device contains all the information that you want to extract. The IMEI number is also listed there. So, before we learn to bypass iCloud activation with IMEI free, we need to extract the correct number.
In the Settings app, click on the "General" option. As the General menu appears, tap on "About," and you will find the IMEI number there.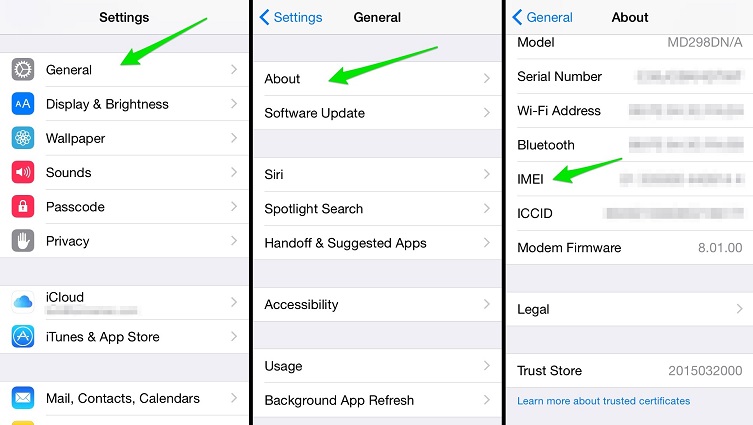 Method 2: Use Dial Code- *#06#*
The second method to use is a dial number. You can dial *#06#* from your iPhone, and the IMEI code will appear on the screen. In case the iPhone is not activated, you will see the "i" icon on the right-bottom of the screen. Click on it, and the IMEI number will appear on the screen.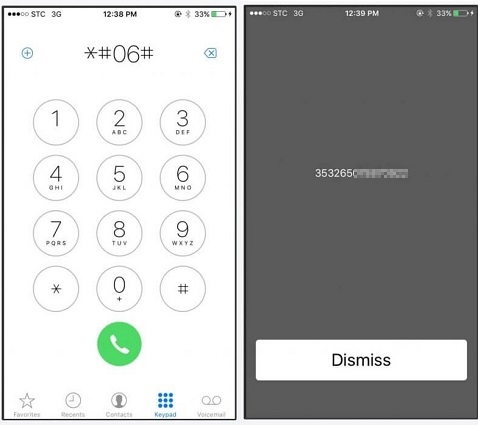 Method 3: Check with iTunes
We can also use iTunes to find the IMEI number of your iPhone. We are going to use the IMEI iCloud Unlock service on a computer as well, so it will be easy for you.
Launch iTunes and connect your iPhone with it. As iTunes detect your device, go to the General tab and click on the Summary option to see this information. Under the device name or model, you will see the IMEI number usually listed below the capacity of the device.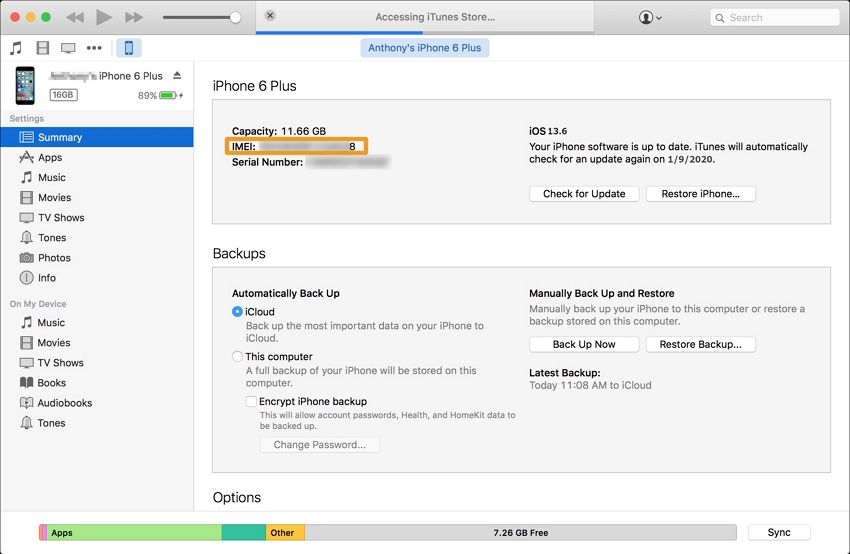 2.3 Is IMEI iCloud unlock free?
Many users look for iPhone IMEI iCloud Unlock free tools online. Even though there are many tools available on the internet, most of them fail to give results. But you don't need to mull over it as we have listed the tools that are useful and effective for the task without any charges.
Part 2. How Does iCloud IMEI Unlock Work?
Like we mentioned above, there are several iCloud IMEI Unlock services available. Here are two of them that you can use to remove the iCloud Activation lock.
#1 IMEIUnlcok SIM
IMEIUnlockSIM is one of the most popular iCloud IMEI unlock services. With a reputation to ensue, this service works for all iOS devices. Prior to unlocking, the service recommends that the user confirms that the iCloud Lock is active in the Apple database. It entirely removes the iCloud Activation Lock without leaving any trace of the previous account.
Features:
iCloud Unlock within a week
Works for all iPhone, iPad, and watch models
Permanent unlock via IMEI number
Price: $18.95
How to use IMEIUnlcok SIM to unlock iCloud activation lock
Step 1: Visit the official page and provide your basic information, including name, email, address, and contact number. This information will be used to contact you personally.

Step 2: Make the payment, and you will get confirmation that the Unlock process has begun. Typically, the process will take from 1 to 5 working days, and the staff will notify you via email that the unlocking process is complete.
As soon as the old iCloud account is removed, you will be ready to add your new one and activate the iPhone successfully.
#2 Apple iPhone Unlock
Another service on which you can rely upon for iCloud lock removal using IMEI is Apple iPhone Unlock. This service has been unlocking iCloud Activation Lock for a long time. The highly skilled tech team works around the clock to unlock your device within 24 hours. Furthermore, they assure that the iPhone is safe throughout the process.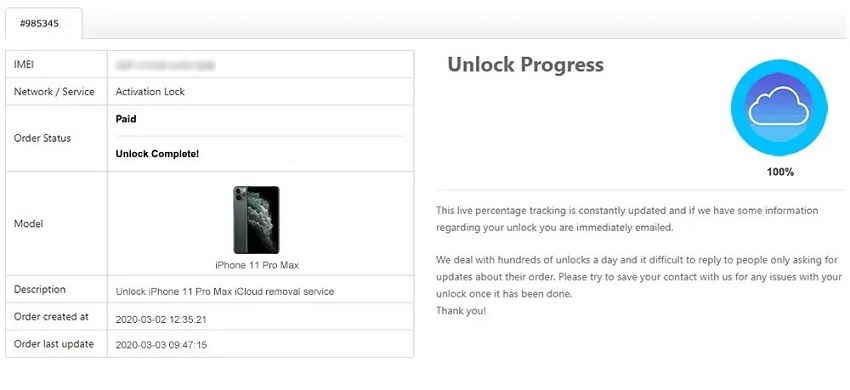 Features:
Unlock iCloud Activation Lock
Unlock feature for any SIM card
Support for all latest and older models
Price: Around $28 to $ 30
How to use Apple iPhone Unlock Service to unlock iCloud activation lock
If you choose to unlock your iPhone using this service, then here's what you need to do.
Step 1: Provide your device details such as model number and network provider along with IMEI/Serial number.
Step 2: The moment you make the payment, the unlocking process will initiate, and you will be able to track the progress.
Step 3: You will get an email that your iPhone unlock is complete now, and you can freely use your device without any restrictions.
Even though both these methods seem reliable, the time taken by both services is long. So, we will use an alternative to these services, which is an Unlocking Software.
Part 3. Another Choice to Bypass iCloud Activation Lock Easily
Apart from the above Apple IMEI iCloud Unlock tools, we want to introduce you to UltFone Activation Unlocker software. It is one of the best software in the market that can bypass iCloud Activation lock without any hassle. The primary feature of this software is to remove the lock without using Apple ID or password. With this, you will have the following advantages:
Remove activation lock without using your Apple ID or password
The previous owner won't be able to track the device
You will be able to sign in with a new Apple ID from App Store to download apps via Wi-Fi
Activate your iPhone without Apple ID
To get all this, you need to download, install, and set up the software on your system. After that, just follow the guide below, and the lock will be removed.
Step 1 Run UltFone and hit the "Start" button to initiate the process. The software will notify you that to bypass the lock, jailbreak is needed. So, you only need to proceed if you don't mind using a Jailbroken iPhone.

Step 2 Agree with the terms of use and connect your iPhone with the PC. The software will prompt you to download the jailbreak tool. Download it and precede to jailbreak your device. Remember to check your device information before you confirm the jailbreak.

Step 3 The moment jailbreak finishes, the software will prepare the iCloud Activation lock removal automatically. Hit the "Start Remove" button, and UltFone will bypass the activation lock and notify you.
After removal, be sure not to factory reset your device or flash firmware; otherwise, it will get locked again.
The Bottom Line
In the end, we can merely say that no matter what other services claim, IMEI iCloud removal for free is a very unlikely scenario. In most cases, you will end up paying. Therefore, we can only suggest that you rely on a trustworthy service that provides a guaranteed solution. Hence, the best solution is UltFone Activation Unlocker.