iCloud Unlock Mtool 2023 Download, Review and Alternatives
Despite the fact that iCloud Activation Lock is such a fantastic security feature, users also suffer because of it. This happens when the owner of the iPhone sells it to someone else and leaves their iCloud account logged in. As a result, the new owner won't be able to activate the device. And that's where tools like Unlock Mtool come into play.
So, in this article, we will explore the good and bad side of Unlock Mtool and consider alternatives for iCloud unlock tools.
Part 1. What is Unlock Mtool?
Also known as Gray Key Unlock Mtool 2019, Unlock Mtool is a tool that can successfully remove the iCloud Activation lock. Apart from this, it serves other purposes, too, such as restoring iOS devices, removing IMEI locks, and carrier locks.
Even though Unlock Mtool has worked for many people, there have been some discussions around its legitimacy.
Part 2. Unlock Mtool 2023 Download
Like we mentioned earlier, there are many cracked versions available of Unlock Mtool on the internet. So, if you come across any file that says unlock Mtool 2019.exe, don't directly hit the download button. Before you download the execution file, verify that it's the official software. Otherwise, you'll be putting your system and device at risk and make them vulnerable to viruses, malware, and hackers.
Part 3. How Does Unlock Mtool Work?
To move forward with our research on Unlock Mtool 2019/2020, we must explore how the tool works. One point we want you to remember is that there are many pirated and cracked version available of this tool on the internet. So, ensure that you get your hands on the official tool. Here's how you can use it.
Step 1: Start by jailbreaking your device if you haven't done it already. Download and setup the tool on your system and connect your iPhone with it.

Step 2: Hit the "Start" button as soon as Mtool detects the iPhone, and the unlocking process will initiate. After finishing unlock, your iPhone will reboot, and you will be able to sign in to the iCloud with another account.
The process is short and easy. However, there are downsides to using this tool as well.
Part 4. Is Unlock Mtool Really Able to Remove iCloud Activation Lock?
In case your primary concern is whether the software work or not, then we are disappointed to tell you that it does not. Gray Key Unlock Mtool 2019 claims to be useful when it comes to unlocking iCloud Activation Lock. Unlike the things it claims, there is no way we would suggest our readers to use this tool.
Part 5. Why We Don't Recommend Unlock Mtool?
The reliability of software like Unlock Mtool 2019 entirely depends on its functions. When the only thing user asks for is to unlock the device, and the tool fails to live up to its claims, then the answer becomes quite clear.
The reason why we don't recommend using this tool is that you will face enough challenges while jailbreaking your device. And even after all your troubles, you won't be able to unlock the iCloud Activation Lock. Furthermore, there is no official download link available for the tool. Overall, you will feel disappointed if you choose to rely on Mtool.
Part 6. Some Alternatives to Unlock Mtool
Now that we know that looking for the Unlock Mtool alternative is the best, we have two suggestions that actually work.
#1 UltFone Activation Unlocker
Currently, the most popular and reliable software in the market is UltFone Activation Unlocker. It is one of the software applications that provide a 100% guarantee of bypassing the iCloud Activation Lock. Regardless of the situation you are stuck in, UltFone will assist you and help you activate your iOS devices.
Here is a systematic guide that will let you bypass the lock quickly. You can also check the video guide directly. One more benefit of UltFone Activation Unlocker is that it jailbreak the device itself without you having to perform any task.
Step 1 Run UltFone on your system and connect your iPhone with it. Agree with the terms of use and start the lock removal process.

Step 2 The software will prompt you to download the jailbreak tool. When the tool download finishes, start the jailbreak and follow the on-screen instructions carefully to ensure success.

Step 3 Once the preparation for lock removal finishes, confirm your device information, and the iCloud Lock Removal process will start.
You will get a notification that the lock is successfully removed. The software will also notify you that you shouldn't try to factory reset the device or flash firmware after the lock removal. Alongside this, don't log in to the iCloud account from the Settings app.
#2 IMEIUnlockSIM
The second alternative for Unlock Mtool 2019 is IMEI Unlock SIM. It is a service that removes iCloud lock remotely and offers other services as well. It is an affordable service that provides safety and security, as well. However, the process might take five to ten days sometimes. So, use this only when you are not in a hurry to unlock the iCloud lock.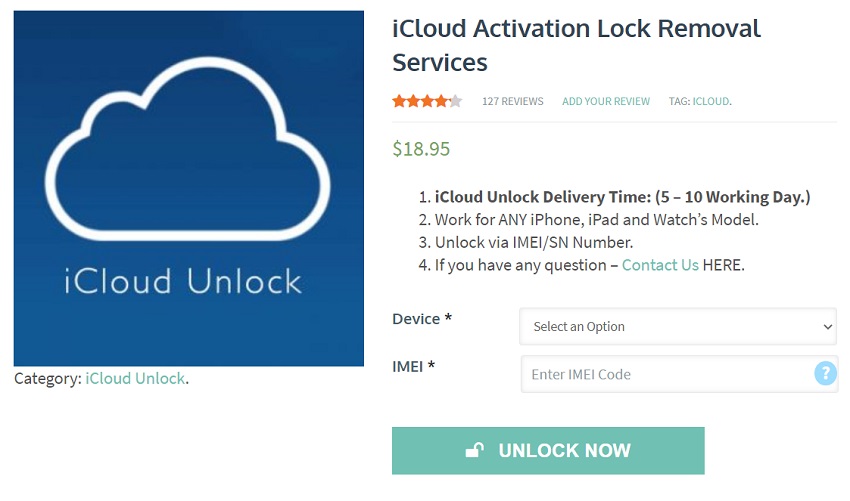 You need to contact the service and provide your personal and device details. The developers of the service will ask you about the situation and start working on the unlocking process. Within 5-10 days, the device will be unlocked, and you will receive an email regarding the unlock process completion and success.
Wrap It Up
After reviewing Unlock Mtool 2020 download and Unlock tool crack, we concluded that the success of Mtool is mostly a rumor. Hence, we recommend our readers to choose UltFone Activation Unlocker for a guaranteed solution.