How to Enter and Use Android Recovery Mode
All Android phones go with a built-in recovery mode which separates from the original operating system. Android Recovery Mode is a feature of Android devices used to access different features of the phone without accessing the phone's OS. You don't need to install any program on your phone or connect to other devices. The main function of booting in Android recovery mode is to fix the phone while staying away from the faulty OS of the phone.
Download free Android recovery mode tool
What is Recovery Mode?
Recovery Mode is a special bootable partition available on most modern electronic devices, including smartphones, tablets, and computers. This mode is designed to help users troubleshoot and fix various problems. The way to enter recovery mode varies from phone to phone, and there are a variety of recovery mode options you can choose from to troubleshoot your phone woes. Read on and find your answer!
Boot Android into Recovery Mode on Different Phones
The process to get Android phone into recovery mode can vary from device to device. Generally, shut down Android and make sure it unplugged to the charge. Then make your Android Power off and access this mode via keys combination. The following shows how to enter recovery mode of several popular Android phone series.
1. How to Ener Samsung Recovery Mode
Samsung has several series and not all models come with a Home button, thus the steps are slightly different.You can read this post to learn more about Samsung recovery mode how to enter and exit it.
For example, you can boot Samsung into recovery mode with Power, Home and Volume buttons.
Turn off the phone.
Press and hold Power+ Home+ Volume Up buttons at once for 5-7 seconds.
Keep holding until device logo shows up and phone restarts again, you should enter recovery mode.
2. How to Enter Nexus Recovery Mode
Here are the steps to boot Nexus into Recovery Mode:
Turn off the phone.
Press and hold Power+ Volume Up +Volume Down buttons.
Navigate to Recovery mode option and press Power button.Keep holding until you see a menu with "Recovery mode" option.
3. How to Enter LG Recovery Mode
Here's how to boot LG phone into android recovery mode.
Turn off the phone.
Press and hold Power+ Volume down key until you see LG logo, and the menu to enter your phone recovery mode will show up.
Just Navigate to "Recovery mode" option and press Power button.
4. How to Enter HTC Recovery Mode
Here's how to boot HTC phone into recovery mode.
First disable Fastboot by going to Settings > Battery and disabling Fastboot.
Turn off the phone
Press and hold Power+ Volume down key until you see a menu where you can navigate to "Recovery mode" and enter with Power button.
5. How to Enter Motorola Recovery Mode
Here's how to enter Motorola's android recovery screen.
Turn off the phone.
Press and hold Power+ Home buttons.
The phone will turn on and menu to enter recovery mode will show up.
Navigate to "Recovery mode" option and press Power Button.
One Click to Enter Recovery Mode on Any Android Devicec Totally Free!
It is not easy for a technical novice to enter into recovery mode by using key combinations. What is more, improper operation may cause device to be bricked. Then, is there an easiser way to get into Android recovery mode? Yes, there is. UltFone Free Android Recovery Mode Tool offers one click way to enter Android recovery mode, no matter it is an Samsung model or LG/HTC/Sony phone. Keep on reading and find out how to enter recovery mode android using pc.
How to Enter Android Recovery Mode By One Click
All you need is to download and install this program to a Windows computer, and then connect your Android device to computer.
This program will detect your device model and prompt the instructions to guide you how to enable USB debugging option on your phone.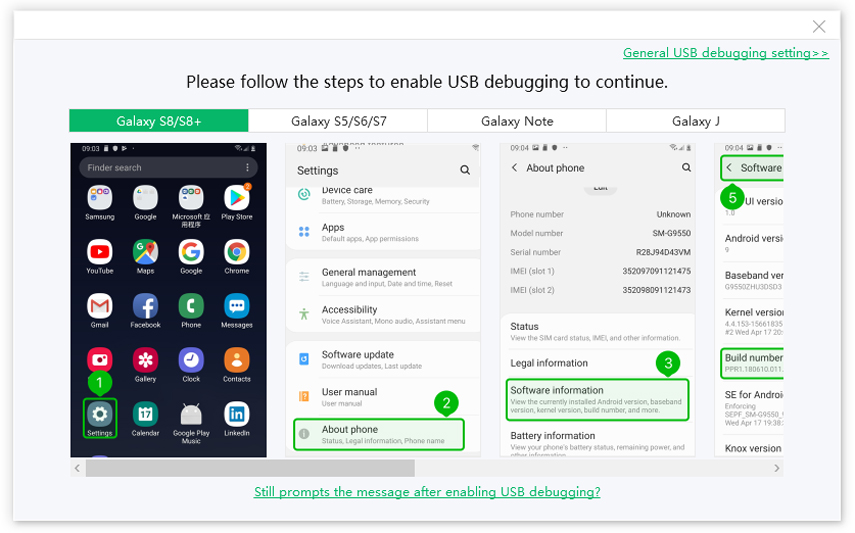 Once the program detects your device, click the "One-Click to Enter Recovery Mode" on the program interface.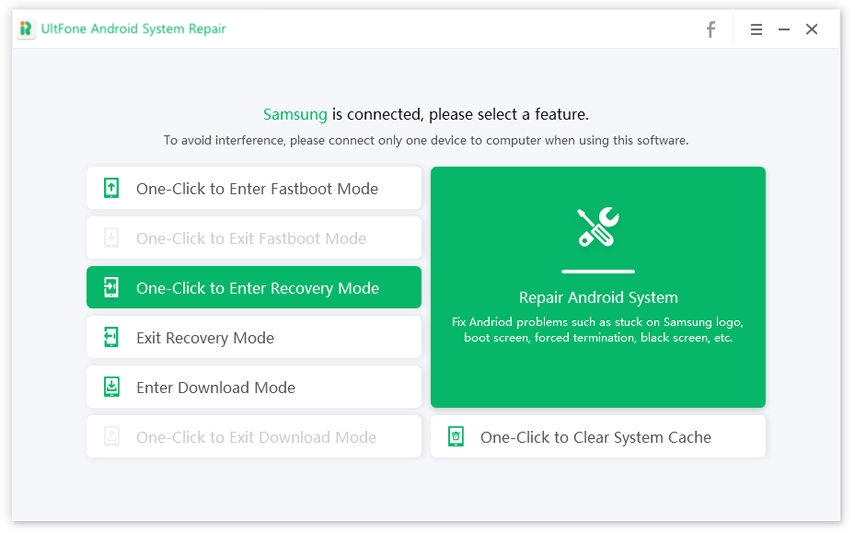 That is it. Wait for the program to boot your Android into recovery mode.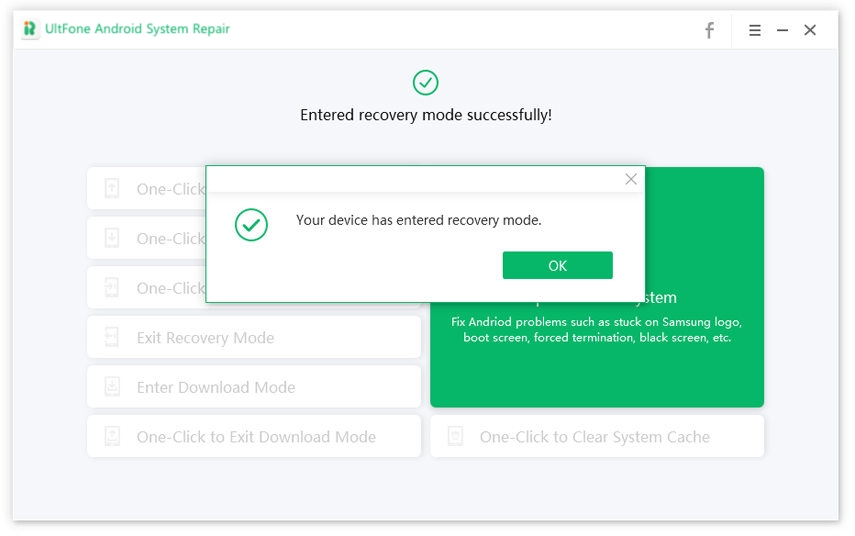 Is it quite easy to enter recovery mode on Android smartphones using this freeware? This program contains several other free features like exit recovery mode, enter and exit Android download mode and fastboot mode. What is more, you can upgrade to pro version to solve 150+ types of Android system issues and clear system cache.
Android Recovery Mode Options Explained
When you enter android recovery screen of Android mobile phone, the vloumn up/down button can control movement as you can see.
The options available in android recovery mode include reboot system now, apply update from ADB, apply update from external storage, wipe data/factory reset, wipe cache partition, apply update from cache, reboot to bootloader, mount /system, view recovery logs and power off.
1. Reboot System Now
This is a plain reboot. Your Android will power off and then reboot into the commend interface. When you have completed the recovery mode, you can select it.
2. Apply Update from ADB
Using Android Debug Bridge (ADB), you can connect your phone to PC and provide commands right from your PC. ADB Reboot Recovery is mostly used by developers to fix bugs in applications. Of course you can use computer to send and install update onto your phone by connecting Android and computer. This could be pretty rarely used for person but if you ever need to use this tool you can often find step-by-step instructions by performing a quick search online.
3. Apply Update from External Storage
Using phone memory card can be the bridge of computer and Android phone. You can download something you want to and reinsert the memory card to mobile phone. But how to update information of your memory card to enable Android device to detected the new content of it? This time you can use this function-apply update from external storage. When you click this option, Android phone will discover the new data.
4. Wipe Data/Factory Reset
When you want to sell or throw away your old phone, wipe data/factory reset can clear up all the data in your phone and it'll be secret and safe. If your phone are locked out or can't access the OS, you can use this function to reset your phone and start over. But this action will delete all your data, so make sure your phone data is backed up before you reset it. You can refer to UltFone Android Data Recovery to retrieve your data if you lost your phone file occasionally.
5. Wipe Cache Partition
Android cache we used can tend to pile up, and some of these that can add up over time run in the background of the device and we don't even know it! These are temporary files used in application installation mostly. Performing a wipe cache partition clears out some of this temporary data can help prevent troublesome issues because they can sometime make the phone not work properly. Hence you can wipe them from "Recovery mode" and it won't remove or erase any personal information or user data from the device.
6. Apply Update from Cache
Applying update from cache will download the update file to your phone. The update file can be downloaded using an internet connection provided by either your mobile data or a Wi-Fi connection. After the update file is in your cache folder, you should shut off your phone, boot into the Android Recovery Mode screen, highlight and select the "apply update from cache" option. By the way, you may have to manually select the update file you want to apply, once selected the update should begin.
7. Reboot to Bootloader
A bootloader is a program that runs every time your phone is turned up. It tells your OS what to load and in what order. When you reboot into the bootloader, your Android phone will enter download mode to perform low-level tasks, such as flashing firmware, installing custom ROMs and unlocking the bootloader.
8. Mount /System
What does mount system mean in android? Android recovery mode mount system allows you to mount the system partition and access core files that are normally inaccessible. This is the option you need to use if you want to change the core system/files of your device.
9. View Recovery Logs
To view recovery logs is to access and review log files generated by the recovery mode of a device.
10. Power Off
When you select this option, your phone will be turned off.
How to Get Out of Android Recovery Mode?
To get out of the recovery mode, you can either select Reboot system now to reboot the device, or choose Power off to directly shut down the device.
The Bottom Line
As you can see, Android recovery mode shows you these fabulous functions which you may not go into. Enter recovery mode on rooted, locked Android devices and perform your phone better!