Review of iCloud Unlock Deluxe and Alternative [2023]
iPhone releases new products annually, which excites iPhone users and enthusiasts all over the world. As new releases are the most expensive smartphones, most people prefer buying an affordable second-hand model. However, what if the previous owner of your second-hand model forgot to remove their iCloud account from the phone? Or, what if you're selling your iPhone and you don't remember the iCloud ID or Apple account password? Some people will suggest iCloud Unlock Deluxe.
Part 1: What is iCloud Unlock Deluxe?
iCloud Unlock Deluxe is an amazing bypass tool that helps you unlock your iCloud-locked device. With this software, you can bypass or remove the iCloud account from your iPhone and regain full functionality of your device. But it still have advantages and disadvantages.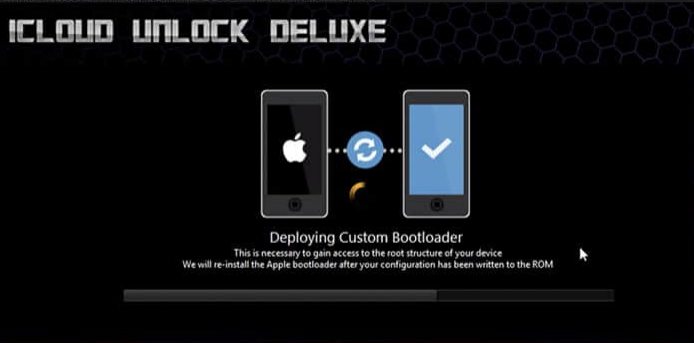 Pros:
You can remove the iCloud lock of your iPhone, iPad or iPod touch via IMEI.
This tool can help you unlock your iPhone, iPad or iPod touch using a USB connection as well.
Cons:
It does not give 100% assurance of unlocking iCloud successfully.
It is impossible to find the software to download.
There are chances of your privacy being compromised when this software is used.
How to Use iCloud Unlock Deluxe?
To determine its functionality, we installed iCloud Unlock Deluxe download for pc and tested the software on an iPhone 6 (iOS 11.3) and an iPhone X (iOS 12.1.4). However, iCloud Unlock Deluxe failed to unlock either device. You can still try it out on models other than the models we tried. The software is similar to iBoxTool 2019 and Unlock Mtool 2019, which were not reliable. Well, if you still want a try, follow the steps below to go on.
1. Click on the iCloud Unlock Deluxe download link and install it on your computer.
2. Once the download is complete, right-click on the software icon and select "Run as Administrator".
3. An iCloud Unlock Deluxe Setup window will open. To proceed click on the "Next" button.

4. Complete all the steps required to launch the software and open the software. Once you open the program, you'll see multiple options such as:

Connect via USB
Enter IMEI
Restore from Image
Knowledge Base
USB Configuration
Contact Support

5. Since you wish to unlock your iPhone, choose "Connect via USB". Connect your iPhone to your computer or laptop using a USB cable.

6. After selecting that option, your phone will reboot and a custom bootloader will have access to your iPhone.

7. Your iPhone information will be displayed. Check all the information and click on the "Continue with Unlock Procedure" button. The next step will give you different options such as:

Refresh Serial Number: It takes your serial number off the Apple servers, but also nullifies any warranties and Apple Care.
Allocate new IMEI: This option helps to unlock the SIM.
Renew IMSI to match IMEI: This option also helps to unlock the SIM.
Custom Setup.ipa: It will permanently remove iCloud. The iPhone will never be able to be iCloud-locked again even if you try to update or reset.
Block Apple ID Verification Servers: It will remove the activation lock imposed by iCloud. However, it will also remove iCloud notes, contacts, photos etc.

8. Select the option specific to your device and choose the Install option.
9. During the unlocking process, the phone will reboot several times.
10. Once the phone is unlocked, the iCloud Lock Status will show as 'Clean' and other other details of your iPhone will also be displayed. You can now easily access your iCloud account.
Part 2. 2020 Updated-Where to Download iCloud Unlock Deluxe Free?
The truth is you cannot get the iCloud Unlock Deluxe download anywhere. The iCloud Unlock Deluxe claims that iPhone users can download the software from their blog. However, this is not true.
All they have provided is scams. The iCloud Unlock Deluxe requires users to subscribe to their YouTube channel. They'll ask for your email ID so that they can send the iCloud Unlock Deluxe download link to you.
They'll send you several links that don't let you download iCloud Unlock Deluxe exe and instead enable you to install other apps or extensions. Such apps and extensions will pop-up unwanted advertisements and might even change certain settings on your computer.
Some users have to complete lengthy steps to use the software, upon which they'll receive an iCloud unlock deluxe zip download file. People even had to pay to use the software. However, they were unable to use iCloud Unlock Deluxe even after paying.
Part 3. Trusted Alternative to iCloud Unlock Deluxe
Although you cannot download iCloud Unlock Deluxe. Don't worry, you can still access your iCloud account. UltFone Activation Unlocker is a simpler option to unlock iCloud on your device. This tool offers bypassing activation lock when you forget your password, removing activation lock without contacting the previous owner and supports new iOS 13.6 iPhone models.
How to Bypass iCloud Activation Lock with UltFone Activation Unlocker:
UltFone Actviation Unlocker Tool 20% Coupon Code: AU-ART-20OFF
Step 1Visit UltFone official website and download the program on your computer and launch it.

Step 2This program will jailbreak into your device, so connect the device which needs bypass activation lock to your computer. Click on Start to proceed. You'll be asked to read and accept an agreement. Go to the Next option if you agree with all the terms and conditions.

Step 3Then, connect your iPhone to the computer via a USB cable. Once the program recognizes your phone, UltFone Activation Unlocker software will download the jailbreak tool.

Step 4Once the jailbreak tool is downloaded, select the Start button to start jailbreaking your iPhone. The program shows a set of instructions to follow when jailbreaking starts. Follow all the necessary steps and take precautions to avoid any unexpected failure.

Step 5Once jailbreaking is finished, click on the Next button. The software will show information about your device. Confirm all the information and click on the Start Remove button to remove the iCloud activation lock.

Step 6Within a few minutes, UltFone Activation Unlocker will remove the activation lock. You can then use a new Apple ID.

Wrapping it up

If you are still looking for iCloud Unlock Deluxe, we may suggest you to give up as it is nowhere to download and if you download from unsafe sites, it will be harmful to your computer. While UltFone Activation Unlocker is a fantastic iCloud removal solution and is far simpler than the cumbersome iCloud Unlock Deluxe.