2 Steps to Backup WhatsApp to Google Drive on iPhone
The presence of Google Drive in the iPhone is a good step towards technology and data backup. The big question is, how can I backup my WhatsApp data from iPhone to Google Drive? We will answer to this as well as many other questions that can come in your mind about WhatsApp backup from iPhone to Google Drive.
Can I Backup WhatsApp on iPhone to Google Drive Directly?
The answer is no. It seems very simple that here is a tool and can backup on one click, but there are many complexities while dealing with it. One thing that makes it very difficult is it can't directly backup WhatsApp on iPhone to Google Drive as Apple has its own default backup tool iCloud to store all the information your iPhone. While Google Drive belongs to a different company and has different technology to handle data storage. So, one has to think of an alternative way to avoid this loss.
How to Backup WhatsApp from iPhone to Google Drive?
Since you can back up WhatsApp on iCloud but not Google Drive directly, the steps to backup WhatsApp on iPhone to Google Drive will be more complex, check the following steps:
Step 1: Transfer WhatsApp from iPhone to Android
As you know that Google Drive is the default WhatsApp backup tool of Android. Transferring WhatsApp from iPhone to Android will make the whole process clear and simple. Here in this step you will need one Android phone and a program to do the transfer. UltFone WhatsApp Transfer is a tool that makes the transfer of data from WhatsApp to a new Android device, i.e., iPhone, in an easier way. It contains many salient features which are described below:
Move WhatsApp to the new phone, either it is Android or iPhone.
Compatible with iOS 14/iPadOS and Android OS 10.
WhatsApp and WhatsApp Business can be backed up and restore through it.
Supports to back up and restore data of Apps like Viber, Kik, WeChat, or Line on iPhone. (Mac Only)
1. After downloading UltFone WhatsApp Transfer and install, launch it on your computer and select" WhatsApp" or "Business WhatsApp" from the menu. Click the transfer button after connecting the iPhone, which contains previous data to Android Phone (new device).
2. Soon after this step, a notification will be pop up on the screen, which will narrate that the data of WhatsApp will be overwritten in the Android phone so make sure that you have backed up your Android phone in advance. Click on the 'Yes' option if you want to continue the process. Immediately after, this tool will back up the data of WhatsApp on iPhone.
3. Here backup is almost done. The next step is to verify the target account, which leads to logging in to the target Android phone. To fulfill this requirement, the user has to enter the country code and contact number that is in your use currently. On completion of all these formalities, select the verify button to proceed further.
The screen will be blink with a verification code. Type the code in the given box correctly. The tool will justify it, and with the correct code, the process will continuously take place. But, if the tool clarifies it incorrectly, then try again on clicking resend the code option.
If the code doesn't receive on the first try, then click on the call me button and wait for sometimes for the arrival of the correct code. It may take a few seconds. Keep in mind that there are only three chances to get the right code in a day.
4. Right after this step, this tool will produce data on source iPhone that can immediately shift to the Android device.
5. During the transferring of data, don't unplug the device or do any other activity, which may create some problems or barriers during the process. The data transferring should be done in streamline flow so that data will be transferred safely.
6. Wait a while for the completion of transferring the data successfully. Further, the user should be log into the WhatsApp of the target device. For more, please follow the steps according to the tool, which is shown at your screen.
Step 2: Backup WhatsApp on Android to Google Drive
Right after the transfer of WhatsApp messages, it is necessary to shift the overall WhatsApp backup from Android phone to Google Drive for future usage. For better protection of the data and the total content, Google Drive is really a good choice.
1. Open WhatsApp on Android phone and go to the settings which are present on the top right side of the phone's screen.
2. Then click on the option contains "Chats" which leads into "Chat Backup."
3. After this, the chat backup page will appear. Click on" Backup" present in a light green box just located above the "Google Drive Settings." From the settings you can choose the backup account and backup network. Also, please don't forget to include WhatsApp videos you need.
Bonus Tip: Backup WhatsApp from iPhone to PC for Free
Google Drive is definitely good for backup and facilitate restoring. But it has only 15GB free storage. While some people may have been using WhatsApp for years, thus the storage will be more than this. UltFone WhatsApp Transfer is regarded as one of the most reliable and authentic tools which deal with the same thing, backup and restore, but no storage limitations of data. This tool can backup WhatsApp from iPhone to PC in a free version. Download and install the program, and the following steps can take place for completion of the process:
1. Connect the PC with iPhone with the help of a data cable or USB cable. Then select WhatsApp or Business WhatsApp, and then click Backup from the menu present on the left.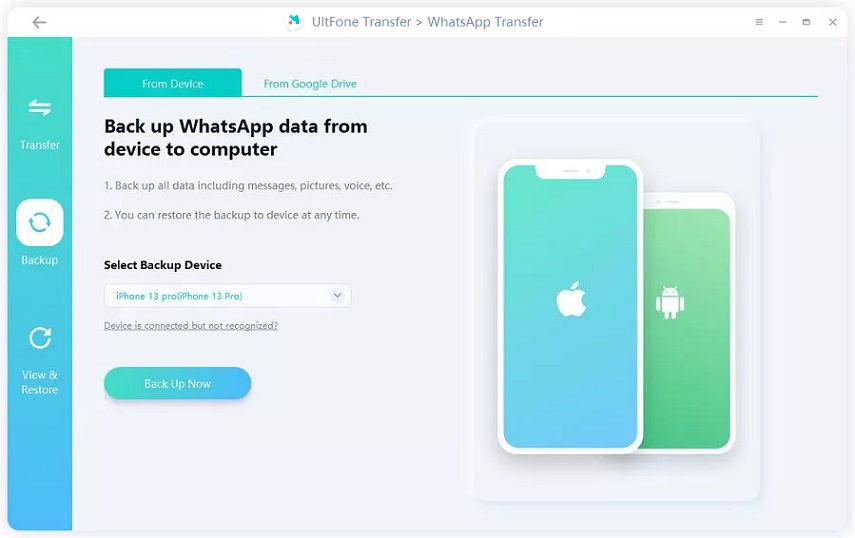 2. The backup will take place. Do not disconnect the device to avoid losing data during transferring.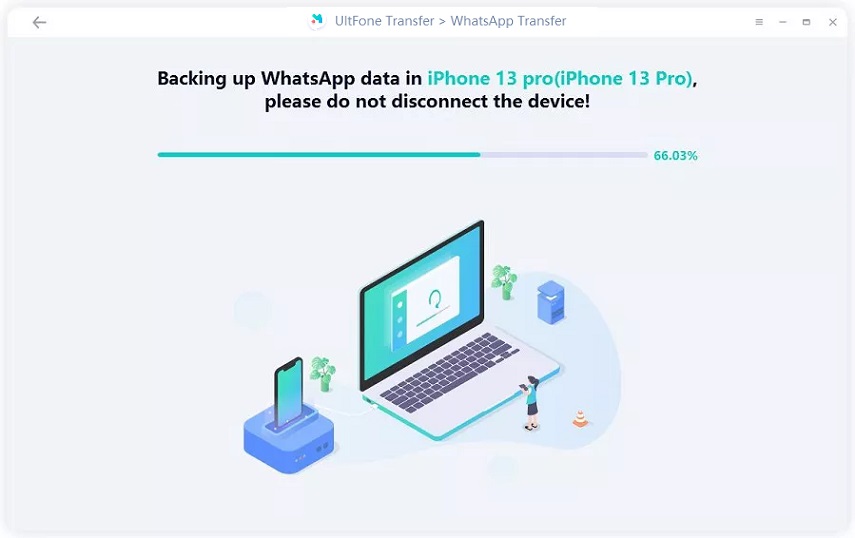 3. Wait for a while and WhatsApp backup is completed. You can restore
4. If you want to restore imediately after backing up, click Restore Backup. If you want to restore previous backup, click View & Restore from the left bar.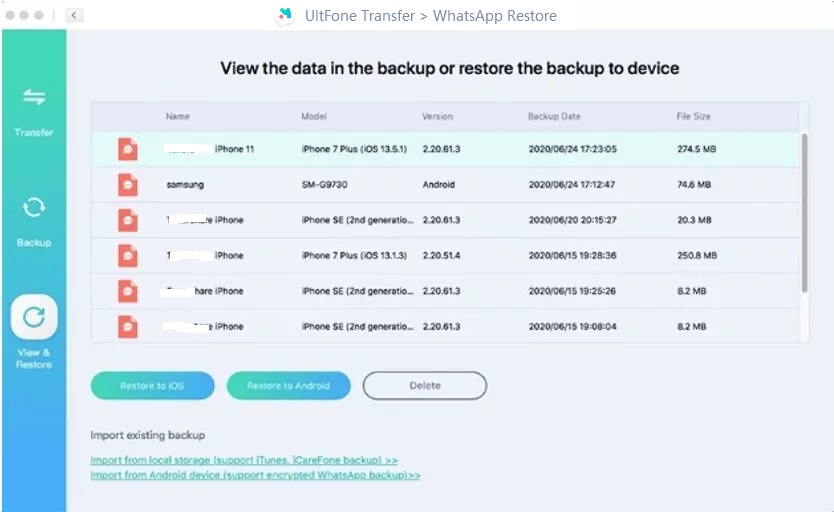 Final Words
Google Drive's inclusion on the iPhone provides a powerful step towards technology and data backup and restore. In this article, we addressed this as well as several other questions about backup WhatsApp from iPhone to Google Drive that may come to your mind. We hope this article will be helpful to you. Thanks for reading! If you have any questions, leave your comments below.