How to Backup WhatsApp on iPhone without iCloud/WiFi
Is your WhatsApp backup stuck on iCloud because your iPhone doesn't have Wi-Fi? Sometimes, cellular data is not enough to backup WhatsApp to iCloud. What do we do in such situations, especially when we need to backup important WhatsApp data? Is there any other way to initiate WhatsApp backup without iCloud? Fortunately, there are different ways to backup WhatsApp on iPhone without wifi. Let's know about these methods in details.
Part 1: Backup WhatsApp on iPhone without iCloud for Free
This method enables you to backup WhatsApp without iCloud for free with the assistance of UltFone iOS Data Manager. It will easily backup Whatsapp chats and attachments on iPhone without iCloud to your computer.
What Can UltFone iOS Data Manager Do?
Backup WhatsApp and other 22 file types including photos, videos on iPhone without network for free.
Easily manage your iPhone data by importing, exporting, deleting, and merging.
Fully or selectively restore backup without iTunes.
One click to export photos to your computer.
How to Backup WhatsApp without iCloud on iPhone with UltFone iOS Data Manager?
This application helps to backup WhatsApp data from iPhone to computer with just one click. Both Windows and Mac version are available.
Step 1Download UltFone iOS Data Manager on your computer.

Step 2Once downloaded, run and install the software. Then, connect your iPhone to computer via USB cable.

Step 3Open the application and the main interface will appear. Choose Backup & Restore from the tabs on the top.

Step 4From the backup interface, choose the file types you want to back up and here we select WhatsApp & Attachments. And then click Backup button to continue.

Step 5The backup process will take some time and just wait for several minutes. The process will be completed.

Step 6Choose View Backup Data and you can select what you want from WhatsApp and export to computer. Now the selected WhatApp is backed up to computer.
Note: While UltFone iOS Data Manager is backing up the data, do not disconnect your iPhone from the computer. Or else you may lose your data.
How long the application takes to backup your WhatsApp data entirely depends on how large your WhatsApp data is. If the data is huge, it'll take longer.
Once the process is completed, the application interface will show "Backup Successfully". This means your WhatsApp backup without Wifi has been done.
Here is a video guide to show how to backup whatsapp to PC for free.
How to Restore WhatsApp Backup to iPhone with UltFone iOS Data Manager?
This application also helps you to restore WhatsApp backup data to a new iPhone. Follow the below-mentioned instructions to restore WhatsApp backup.
1.As the software is downloaded in your computer, simply open the application. As you want to restore WhatsApp backup to your new iPhone, here select Backup & Restore again. Find "To view or restore previous backup files" on the interface.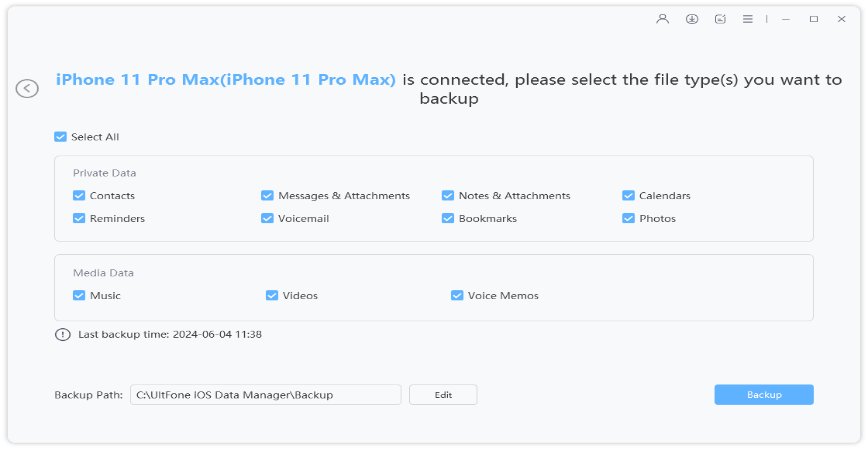 2. Once you select this option, you'll be able to see all the data that you've previously backed up using this software and also iTunes backup files on this computer. Choose the backup file you want to restore and then click View button.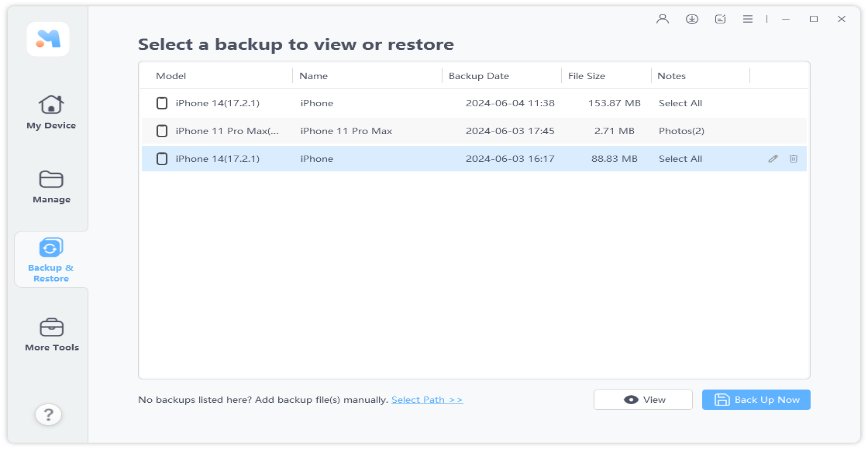 3. After you select the backup file, you'll see all the files in the backup and select what you want and then Click the Restore to Device button to start restoring data on your iPhone.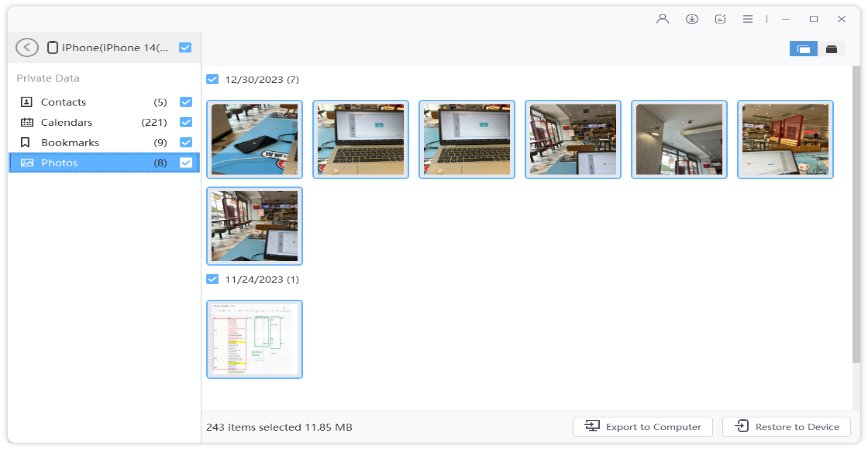 Part 2: WhatsApp Dhat Backup iPhone with iTunes
You can also backup WhatsApp chat on your computer using iTunes. iTunes has the backup of all your iPhone's data, including settings and WhatsApp data.
But, you cannot access WhatsApp chats from the iTunes backup. If you wish to go through the WhatsApp chats from the iTunes backup, you'll have to restore your iPhone from the whole backup. So, if your phone has already been set up, you'll have all your data overwritten and the new data on iPhone will get lost. So please be careful when you plan to restore. What's more, this method to back up your iPhone will take about one hour and if you have large storage of files on iPhone, it will take longer time.
You can initiate WhatsApp chat backup on iPhone without iCloud using iTunes by following the below-mentioned steps:
1. Connect your iPhone to a computer via a USB cable. If you haven't installed iTunes, you have to do so.
2. If it is installed, iTunes will open automatically. Please unlock your iPhone for the computer to access your phone. If your iPhone is locked, you'll have to enter your iPhone passcode to proceed.
3. Once the iTunes application is launched, go to the "Device" section and select "Summary".
4. In the summary page, under the Backups section, choose the option of "Automatically Back up on The Computer".
5. Click on the 'Backup Now' button to initiate a Whatsapp backup.
6. All your WhatsApp chat is backed up with iTunes and is encrypted on the computer.
Part 3: Backup iPhone WhatsApp without iCloud via Email
Another alternative to backup Whatsapp chats iPhone without iCloud is by emailing the WhatsApp chats to yourself. WhatsApp offers this feature to email chats to oneself or anyone else. This method works best when you have to back up a small number of WhatsApp chats as you can export only one chat at a time. Since this method will require sending email so if you don't have cellular data or WiFi, it will not work.
Let's see how you can backup Whatsapp without iCloud via Email:
1. Open WhatsApp app on your iPhone.
2. Select the chat or group chat you'd like to back up.
3. On the top of the screen tap on the person's name and it will take you to the contact details interface.
4. Select the option of 'Export Chat'.
5. You'll receive a pop-up window, asking whether you want to 'Attach Media', or send WhatsApp chat backup email 'Without Media'.
6. Choose your preferred option.
7. Choose the option of Email. Type the email address in the new email draft and hit "Send".
8. Go to your Mail application and refresh your inbox. You'll be able to view the chat backup in your email.
Bonus tip: How to Fix iCloud Backing up WhatsApp No Storage
Most of the time your WhatsApp auto backup fails because your iCloud storage is full. WhatsApp chat backup takes up a huge chunk of iCloud space. You can free up some space in your iCloud by turning off the auto backup option and then deleting the WhatsApp backup in your iCloud.
Turn off auto backup to iCloud
There are two ways to turn off auto backup of WhatsApp chat.
The first way is by turning off auto backup in the WhatsApp application.
1. Open your WhatsApp and go to Settings.
2. Go to Chats option and then go to Chat Backup.
3. You'll see the option of Auto Backup. You'll get options of Daily, Weekly, Monthly and Off. Select the Off option.
The second way is by turning off auto backup of WhatsApp chats in iCloud.
1.Open Settings application in your iPhone. Go to the first setting option which shows Apple ID, iCloud, iTunes and App Store.
2. Select the iCloud option and then click on the WhatsApp button.
3. By clicking on the button, you'll turn off auto backup of WhatsApp data on iCloud.
Delete WhatsApp Backup on iCloud
You can backup Whatsapp without iCloud using iTunes or UltFone iOS Data Manager application. Then you can wipe out all the WhatsApp backup on iCloud storage.
1. Go to your iPhone's Settings. Go to the first setting option which shows Apple ID, iCloud, iTunes and App Store.
2. Select Manage Storage and then choose WhatsApp Messenger among all the apps that are backed up to iCloud.
3. Select Delete Data. A confirmation pop-up window will appear. Choose Delete again.
4. Your WhatsApp backup in iCloud will be deleted.
Conclusion
Now you don't have to worry if your iCloud storage is full as you can backup WhatsApp chats on iPhone without iCloud. There are multiple ways mentioned in this article. Choose your preferred method to make it. And the most recommended way is UltFone iOS Data Manager.