How to Transfer WhatsApp from iPhone to Huawei Mate 40 Pro/P30/40 Pro
If you want to ditch your iPhone and shift to the Android OS enabled smartphone like Huawei P30/40 pro, this is a great decision that you have made. However, iPhone can seem superior to you, but Huawei Mate 40 Pro, Huawei P30/P40 pro has no match. As you are changing your phone, there is a problem coming in your way- transfer WhatsApp from iPhone to Huawei. All your WhatsApp media and chats can move to your Huawei P30/40 pro, but this gets tricky due to the difference of OS. For our readers, we have simplified the process of transferring WhatsApp from iPhone to Huawei with 6 useful ways.
Method 1: How to Transfer WhatsApp from iPhone to Huawei P30/40 Directly
You will face difficulty to transfer WhatsApp messages from iPhone to Huawei P30/40 pro directly if you are not using a third-party application. One of the effective and reliable solution is UltFone WhatsApp Transfer. To business people, some old WhatsApp chats carry a lot of importance. UltFone WhatsApp transfer permits effortless transmission of WhatsApp chats between iPhone and Android devices and vice versa. All the chats and attachments can also be exported to the PC for later use.
Check what UltFone WhatsApp Transfer also includes:
Compatible with more than 5000 Android phones including Huawei P20 Pro, Huawei Mate 20 Pro, Huawei P10, Nova 5t, y6, P30, P40, and all iPhone models.
It can transfer individual as well as group chat history, including messages, photo/video/audio/document attachements and stickers.
It offers one-click backup option on WhatsApp, Kik, WeChat, and Line on Mac.
Supports both WhatsApp individual and business WhatsApp transfer between iOS and Android.
How to transfer WhatsApp from iPhone to Huawei with UltFone WhatsApp Transfer?
Step 1Download UltFone WhatsApp Transfer software from its official site. Run it after installation and connect your iPhone and Huawei P30/P40 pro to the PC. Click on "Transfer" to start iPhone to Huawei WhatsApp transfer. Make sure that you have selected iPhone as the source and it remains connected.

Step 2If you transfer to an old Huawei P30/40 pro phone, take a backup of your device because the application can overwrite the stored data.

Step 3Before transferring, this tool requires to backup the source phone first.

Step 4Log in to your WhatsApp account with the same number on target Huawei phone. Type the verification sent to your number and verified your account.

Step 5Then the WhatsApp restoration of the chat will initiate. The amount of time it will take to finish depends on the size of the data.
Method 2: Transfer WhatsApp from iPhone to Huawei for Free
The most cost-free approach that you can perform for learning how to transfer WhatsApp data from iPhone to Huawei is by backing up the WhatsApp chat history to the iCloud. Let us find out the methods to do so.
Step 1: Sign in to your WhatsApp account on iPhone. Open "Settings" > "Chat Backup"> "Backup Now". To backup videos also, turn on the "include videos" feature before backing up.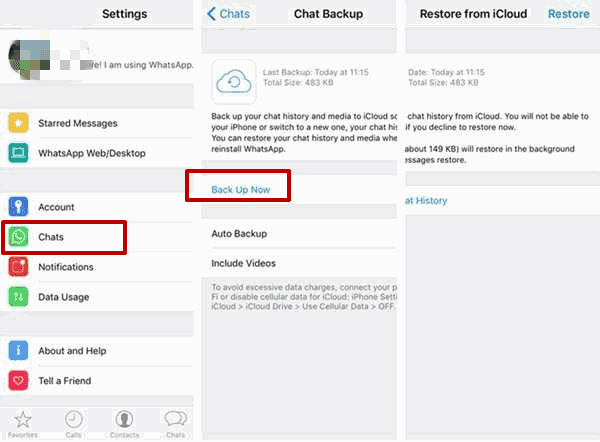 Step 2: Log in to your WhatsApp account on Huawei P30/40 and when prompted to restore from a backup file, tap on "Restore".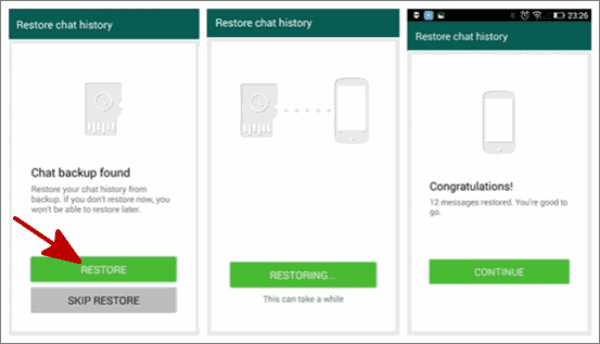 The downsides of this method is the lack of storage space on iCloud. Keep adequate space on iCloud so that the chats can be backed up there. And backing up WhatsApp on iCloud will take a long time if you have been using WhatsApp for years and there are lot of data to back up. Also during backup, make sure that your network connection is stable.
Method 3: Transfer WhatsApp Data from iPhone to Huawei via Huawei Phone Clone
Phone Clone is a specially designed application for Huawei users. It helps to transmit data between any iOS and Android device. This program is mainly for transferring documents, contacts, messages, etc. but users face problem to transfer WhatsApp from iPhone to Huawei. But you can have a try if it works with the following steps.
Step 1: Before anything, you have to install the Phone Clone application on your iPhone and Huawei P30/40 device. Choose Huawei as the receiving device and iPhone as the sender.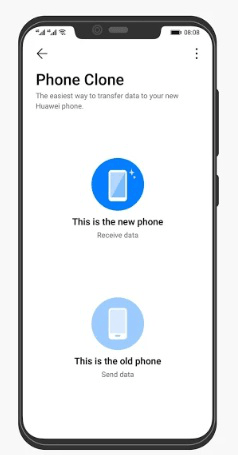 Step 2: Turn on the Wi-Fi on both devices. Keep them close and then use iPhone to scan the QR code displayed on your new Huawei P30/40 screen. This will connect them.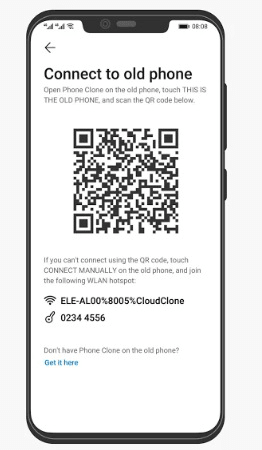 Step 3: Go to "Apps and Data" and choose "WhatsApp" on the source phone to transfer all WhatsApp chats and media at once. Tap on "Transfer". Wait for some minutes until the process completes.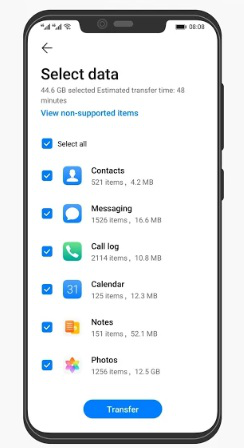 Huawei users complained that this method can only transfer internal file types like contacts, messages, photos, videos and phone calls but not WhatsApp. However, it is still worth a try.
WhatsApp Transfer from iPhone to Huawei Via Email Chat
If you want to keep some selected chats of WhatsApp, it is better to go for emailing them to yourself. This will not let you transfer WhatsApp messages from iPhone to Huawei, but you will get access to them externally. Prefer this method only when you have enough time, and the number of chats you want to get access is less.
Step 1: Open WhatsApp on your iPhone and select the chat that you want to save. Swipe it for more options.
Step 2: From the given options, press on "Email Chat" feature.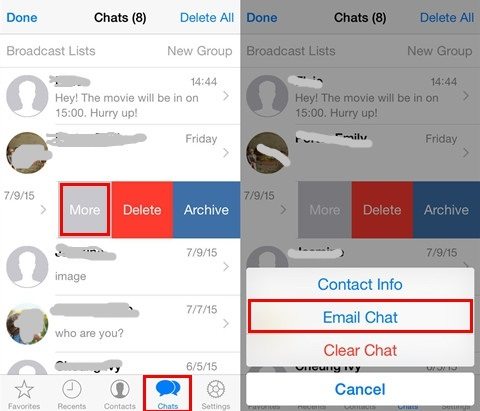 Step 3: Decide what you want to do with the attached media files.
Step 4: A draft window will appear where you have provided your email ID of yourself. Now, you can view the selected chats whenever you want.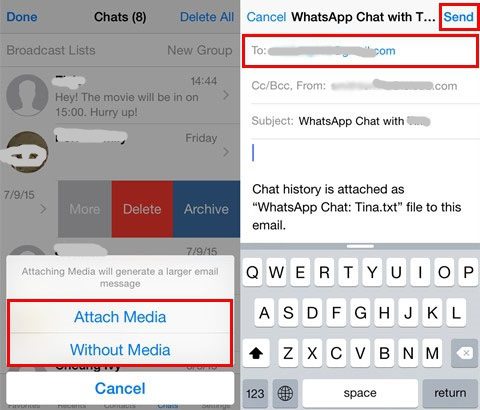 If you want attachments to be transferred along with the chats, this process is not a good option because email servers have the maximum capacity of sending file size of 25 MB. So, you may find it difficult if the size of your attachments is beyond that.You cannot send chats altogether. This method is only useful if you want a chat or two to be transferred.
Transfer WhatsApp Chats from iPhone to Huawei with Wi-Fi and Airmore
AirMore is a wonderful application that allows the users to switch from one device to another. This makes the process of iPhone WhatsApp transfer to Huawei easier. No matter what OS your device is running on, it is offering the perfect way of transferring data.
Steps to transfer WhatsApp data from iPhone to Huawei with Airmore:
Step 1: On your Huawei P30/40 Pro and iPhone, install AirMore application and ensure that both are connected with each other on Wi-Fi. Next, run the app on both phone after connecting them.
Step 2: Tap on "More" > "Phone Transfer" and then the app will start searching the devices connected on the same network.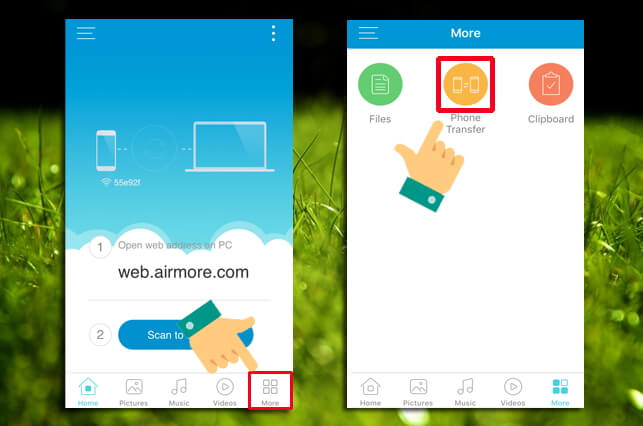 Step 3: Press on the "name of your Huawei device" > "Accept". Now, you are ready to transfer WhatsApp data from iPhone to Huawei. Select the file you want to transfer. Tap on "Send" button present at the bottom.
It always requires a strong and stable internet connection. Multiple files can't be transferred without it. The app can't perform the complete transfer of WhatsApp data, it can transfer some messages and files.
iPhone WhatsApp Transfer to Huawei with Backup & Restore on Mac
Let's try another method on how to transfer WhatsApp chat from iPhone to Huawei. UltFone WhatsApp Transfer for Mac delivers one of the quickest ways to transfer WhatsApp from iPhone to Huawei mate 20 pro. Download the program and go through the methods given below:
Step 1: The efficient way of backing up your iPhone is to download UltFone WhatsApp Transfer for Mac software. Connect your iPhone and tap on "Trust" when prompted to trust the PC. Click on the "WhatsApp" icon.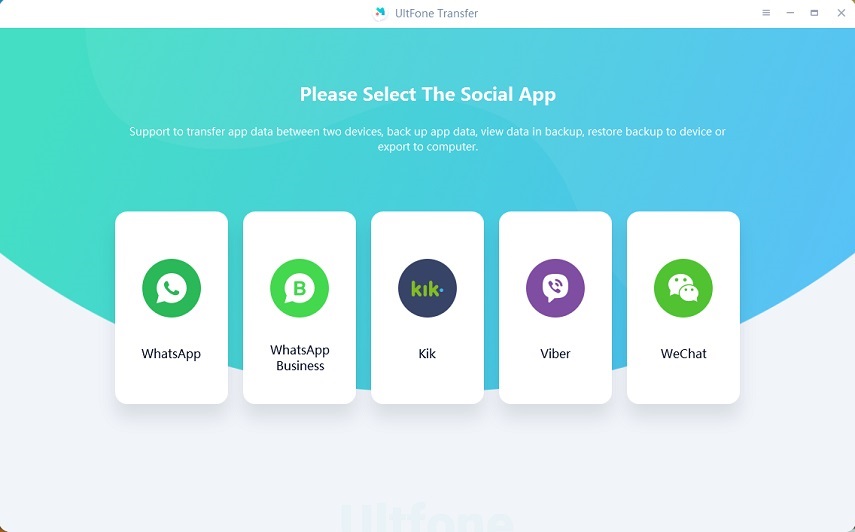 Step 2: Click on "Back up" icon and choose the device that you have to backup. After selecting, click on "Back up Now" to start.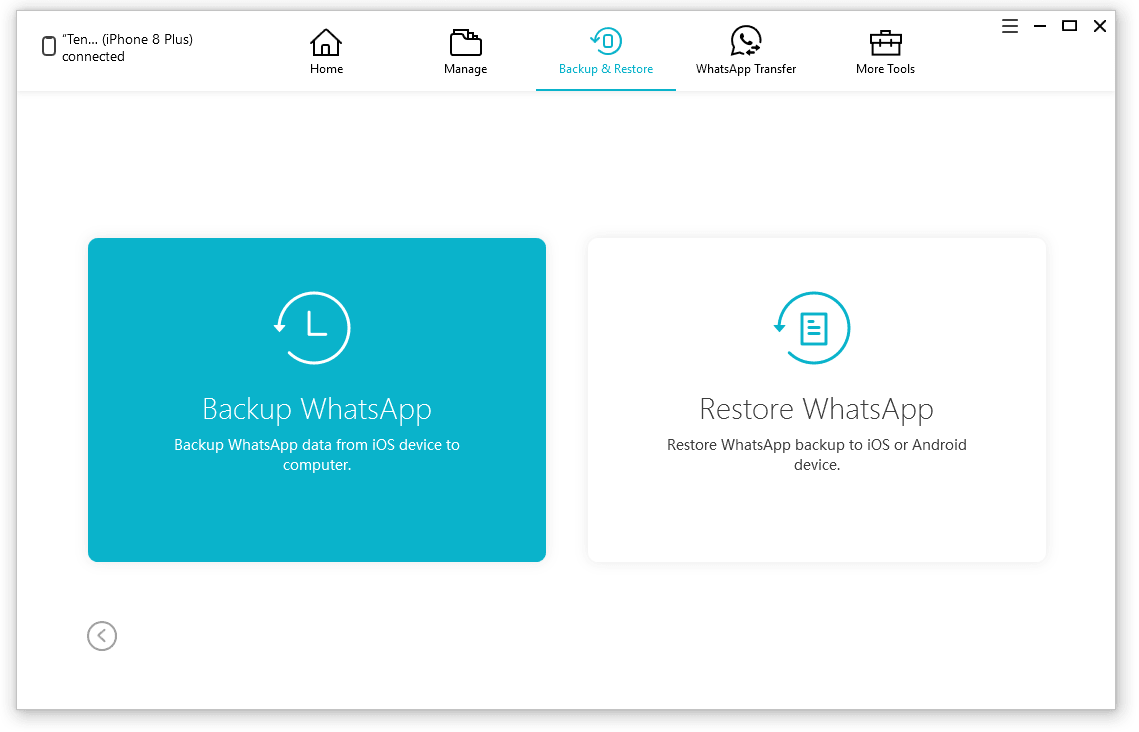 Step 3: The application will initiate the process of backing up WhatsApp data. Now, select the correct file from the backup list and click on "Restore to Android". Congrats, you have finished on transferring iPhone WhatsApp to Huawei.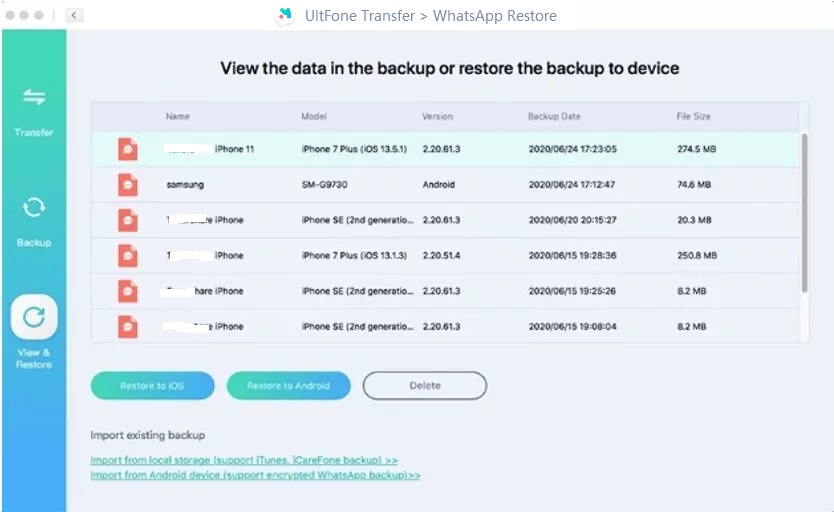 Conclusion
Huawei P20/30/40 has emerged as a favorite device for many Android lovers. Although switching from iPhone to Huawei and transferring WhatsApp data is not easy, go through our guide will not only teach how to transfer WhatsApp from iPhone to Huawei p20, but it will also help you in many ways.