How to Transfer WhatsApp Photos from iPhone to PC
Are you a person who takes the perfect pictures, and edit them through a computer? Or are you a businessman that manages everything between the phone and a PC? Well, if you are someone who often needs to transfer WhatsApp media from iPhone to PC, You would be certainly concerned about the best methods of the transfer. Here we bring you a detailed guide that answers your question "how to transfer WhatsApp media from iPhone to PC" and provides you with multiple ways to solve the query.
1-Click Solution to Transfer Whatsapp Media from iPhone 12/11/XR/XS/X to PC/Mac
After coming across multiple methods and techniques, we were finally able to filter the best way to transfer WhatsApp media from iPhone to PC/Mac and then to your Android phone or any other outlet.UltFone iOS Data Manager is by far the easiest, quickest and most efficient method of transferring pictures/audio from iPhone to PC. It is your one-click solution to the unsettling confusion of "How to transfer media from WhatsApp from iPhone to PC".
Not only can the software export photos from iPhone/iPad/iPod Touch to computer with only 1 click, but it also allows you to the following features:
Import, export, and delete files, manage your data in an easier way.
Backup and restore 30+ files from all iOS devices without network.
View previous backup and selectively restore backup to iPhone/iPad.
Supports iPhone 12/12 Pro(Max), iPhone 11/11 Pro(Max), iPhone XR/XS/X and all other iOS devices.
Perfectly compatible with iOS 14, iPadOS 14 and earlier.
Here's how UltFone iOS Data Manager works:
Step 1 Connect your iPhone to computer with a USB cable and select the third option in the main interface.

The first step isn't technically a step but a set-up procedure. You would need a working USB-cable that connects your iPhone to the PC. This is the only requisite alongside the application that shall allow you to transfer WhatsApp from iPhone 4 and later to PC effortlessly.

Step 2 Start exporting.

Once you choose the "One-click to Export Photos to PC", it would automatically start to export photos to your computer.

Step 3Successfully transfer photos to computer.

When the exporting process completes, the destination folder will pop up. If not, you can click on "Open Folder" to view exported photos.
Manual and Complex Solutions to Transfer Whatsapp Photos from iPhone to PC/Mac
While the above solution was the easiest and quickest method for the transfer, you may want to look broader into the topic and figure out other ways. Thus, we bought to you several different ways which shall you assist you in iPhone WhatsApp picture transfer to PC.
Method 1.Transfer WhatsApp Photos from iPhone to PC/Mac via iCloud
This is a straightforward method to transfer WhatsApp pictures from iPhone to PC. However, this method is quite tedious and may require a lot of time; thus if you are in a hurry, you should look for the one-click solution stated above. Nevertheless, this method has been tried numerous times and have bought good results each time.
Step 1. Go to the WhatsApp settings on your iPhone.

Step 2. From main settings, head to Chat settings.

Step 3. Click on the backup option, tap on "Backup Now".
Step 4. Once the backup is ready, you may access it through your Mac or PC.
Although this method is slow, it shall put an end to your struggle.
Method 2. Transfer WhatsApp Photos from iPhone to Computer via iTunes
While the problem might have already been solved, we have still got several ways for you that shall definitely work out, Incase, the previous ones didn't work for you. This method requires you to have the PC with the latest driver, an updated version of iTunes and a working USB cable.
Step 1. Connect your computer to the iPhone with a USB cable.
Step 2. Open iTunes and head to the "Summary" option.
Step 3. Under the backup option, look for a backup.

Step 4. Restore a backup of the data on your computer.
It's worth noting the iTunes doesn't support to preview and selectively recover data. If you don't want to recover all the content from the iTunes backup,UltFone iOS Data Recovery can do you a favour. It can directly recover data from your device even without a back. Moreover, it supports to free preview the scanned out files and selectively restore exactly what you want to restore.
Method 3. Transfer WhatsApp Photos from iPhone to PC/Mac via Email
Unlike the above ways that need you to connect your iPhone to the PC/Mac, this way of transferring WhatsApp media file from iPhone to computer is quite different. Although this method might not be the best when you need to transfer a significant amount of files, but it can come in handy if the picture/audio or file occupies lesser storage. You would need a stable Internet connection and an email account that supports multi-media transfer.
Step 1. Slide a conversation at will.
Step 2. Tap on the "More" option.
Step 3. Select the "Email Conversations" option.

Step 4. Tap on "Attach Media" and add the photos you want to transfer.
Method 4. Transfer WhatsApp Photos from iPhone to PC via USB Connection
When nothing else works out, this is a simple method that does not have many requisites.
Apart from a USB cable and a computer with the latest driver installed on it. Even though the primary process is simple, it requires a good amount of time to make things work out. All you have to do is make sure that WhatsApp Auto-Save Photos feature is turned on. You can check it by heading to Settings > WhatsApp > Chat > Backup Now > Auto Backup and then you can choose to backup daily, weekly or monthly.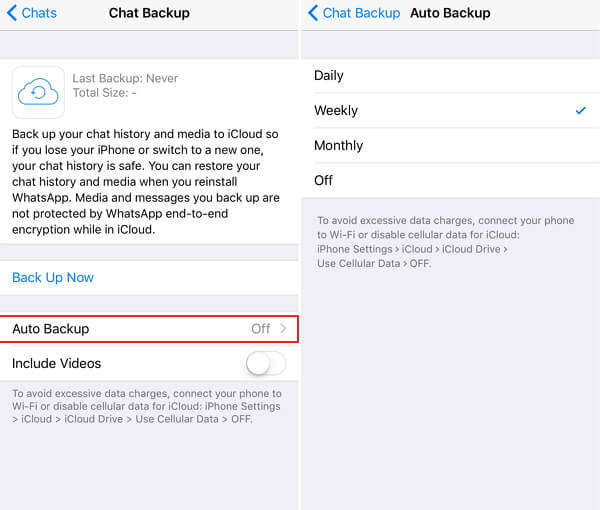 Then, you can follow the steps below to transfer photos from iPhone to computer.
Step 1. Connect the device to the computer.
Step 2. Open File Explorer on your computer, choose and copy the data you want to transfer.
Step 3. Paste it at your desired location.
Final Analysis
Whatsapp stores most of the important and private data that you might need at specific occasions. Using an iPhone shall prevent you from directly transferring the data over Bluetooth. Hence, you might be confused about your next step. We have listed a detailed guide of methods that would have eased your way in transferring the WhatsApp files from iPhone to PC. Despite the fact that all of the above methods are tried and tested several times, some of them might appear tedious and complicated to you, then you can switch or choose the one-click solution-UltFone iOS Data Manager, which allows you to transfer data from your iPhone to PC/android/any other iPhone with just only a few clicks.