How to Change Location on Tinder without Paying?Here's Free Solution
"Is there any way I can change my location on Tinder to explore my possible matches in some other city or even country? I am really curious about this." - A user wrote on Reddit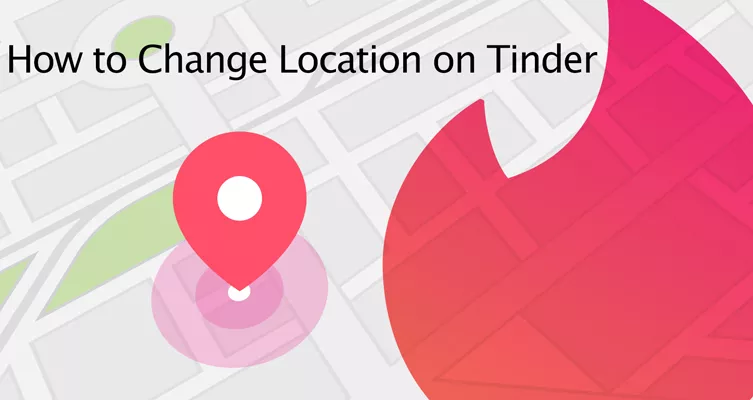 When it comes to online dating, Tinder is the first platform that comes to the mind. The app makes it easy for people to find dates based on their location.
But sometimes, you are tired of getting matches in your vicinity or maybe, you want to meet people in other parts of the world. Whatever the reason, changing location on Tinder is easy and possible in 2023.
In this article, we are going to share with you a few simple yet efficient ways to change Tinder location. And yes, you don't have to pay a penny for it.
Part 1. Change Tinder Location Free by Changing Facebook Location
Have you logged in to Tinder using your Facebook account? If yes, then simply change your Facebook location to automatically set that location as your Tinder location. This is probably the quickest way for Tinder location change free that you can use even in 2023.
This method works only when you have already signed into Tinder using your Facebook account.
Just follow the below steps to Tinder location change via Facebook location:
Step 1. Login to your Facebook account on a desktop web browser.
Step 2. Click on your profile photo at the top-right corner and hit "About".
Step 3. Edit the "Current City" option to add any new location where you want to move.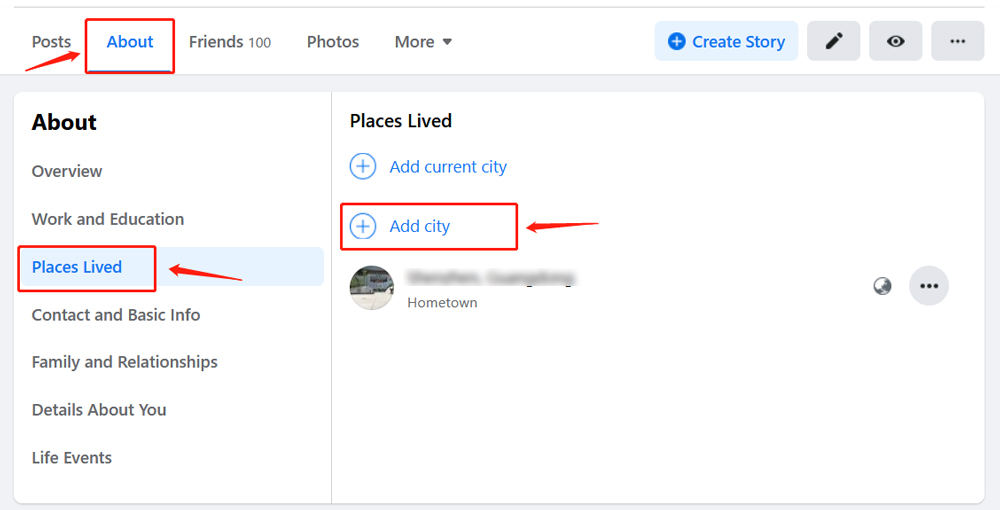 Step 4. Click on Save and exit the app.
And that's it. Now, launch Tinder and it will show the new location as your current location.
Pros:
The process is easy and straightforward.
Doesn't cost you anything.
Cons:
All your friend list on Facebook can see your new location unless you have customized the settings.
Each time you wish to change location, you need to do it manually through Facebook. This is irritating and time-taking.
Part 2. Change Your Tinder Location via GPS Location Spoofer [Free Trial]
The easiest way to change Tinder location on any iPhone is using a professional GPS spoofer like UltFone iOS Location Changer. This feature-rich program provides a one-click procedure to spoof your Tinder location to your favorite city.The program works in stealth mode which minimizes the chances of getting detected by Tinder developers.
And most importantly, it lets users to change location free for 2 times. This speaks volumes of its credibility and efficiency. So, whenever you're wondering how to change location on Tinder for free, get UltFone on your device and enjoy its free trial.
Take a look at how to change location on Tinder without paying using this remarkable tool:
Step 1

Run UltFone iOS Location Changer on your computer. Be sure the "GPS Change" icon is selected on the left tab and hit Enter.

Step 2

Now, connect your device to the computer and hit Next to get going.

Step 3

The program will show the world map on the screen. Enter any location or move your mouse manually to get any location you wish.

Step 4

The program will hardly take a few seconds to move your iPhone's location to that spot. Now, launch Tinder on your iPhone and enjoy exploring your possible matches in this new area.
Why choose UltFne iOS Location Changer to changer Tinder locattion?
Compared to its competitors, UltFone offers the below advantages:
It protects your privacy on the internet. With this tool, you never have to worry about getting caught when using a fake location.
Allows you to change you location as many times as you want.
Super-easy and quick to use.
Supports all location-based apps and games like Pokemon Go.
It works smoothly on all iPhone models and iOS versions.
Part 3. Change Location on Tinder with Tinder Passport
Tinder Passport is a premium feature that can help you change location. With this built-in tool, you can quickly search for a specific city where you want to go. And within seconds, it will bring you there. But it is only available for Tinder Plus and Tinder Gold subscriptions.
Don't know how to change Tinder location via Tinder passport? Just follow the below instructions to proceed:
Step 1. Tap your profile icon and navigate to Settings.
Step 2. Click Location (on iOS) and "Sliding in" (on Android).
Step 3. Choose "Add a new location" and select your preferred location on the map.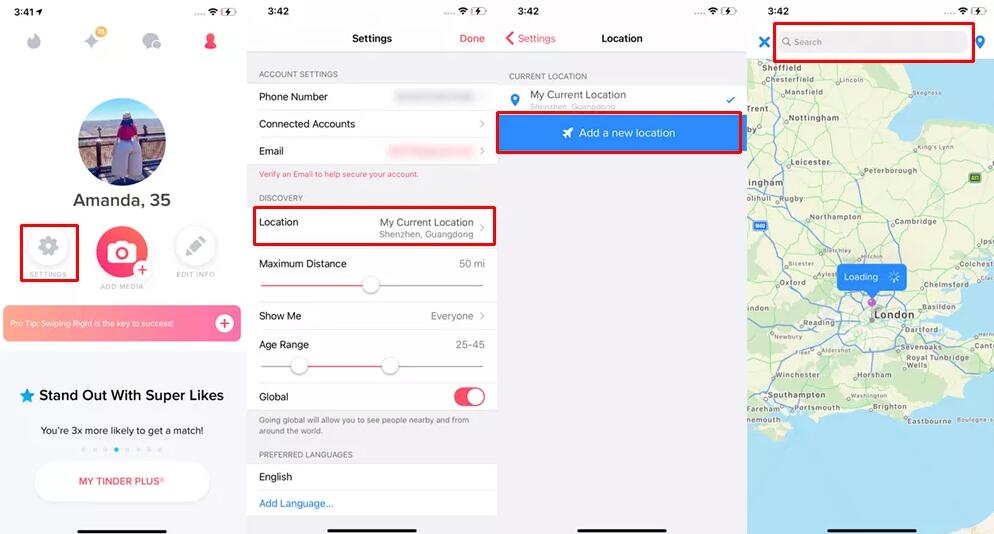 Pros:
The process is quite simple and easy.
The paid plans offer additional benefits like unlimited likes and so on.
Cons:
Only available for paid plans.
Others can notice the Tinder Passport feature. Thus, you might not get desired results.
Based on user feedback, Tinder paid plans are best suited for people who want additional benefits like conversations before matching, extra likes, and Passport feature, etc. But if your goal is to change location only, consider the specific tool like UltFone iOS Location Changer.
Part 4. FAQs About Tinder Location Change
Here are some important queries of users regarding the topic under discussion.
1. Can you change Tinder location with VPN?
Technically, NO. You might have used a VPN service on your phone for several location-based apps. But unfortunately, VPN doesn't work with Tinder.
The reason, Tinder basically relies on your phone's GPS settings to detect your location. Whereas, a VPN only changes the IP address which comes in handy for faking location on browsers.

2. If I change my location on Tinder, will they see me?
No, only the people in your current passport location can see your Tinder profile. But if you have already swiped right for someone, they will be able to see your previous location as well.
3. How to hide my location on Tinder?
Step 1. Hiding your location on Tinder is very easy for both Android and iOS. All you need to do is:
Step 2. Go to Settings on your phone and tap Tinder.
Step 3. Under its Location feature, you'll see four different options.
Step 4. Choose "Never" to hide your location.
Conclusion
This article has answered your query about can you change your Tinder location. With the above discussion, it's easy to conclude that you can easily change Tinder location on an iPhone without paying.
Just install UltFone iOS Location Changer on your computer and start playing with your Tinder location. This software is fairly easy to setup and use, and also offers a free trail to all users. And yes, you don't need to jailbreak the iOS device for it to work.
Feel free to ask any questions.