How to Transfer Files to iPad from PC/Mac without iTunes
Files transfer between computer and iOS device is always been a problem for many iPhone/iPad/iPod users. User who are not familiar with the operation of iTunes would easily get their other data lost, so how to transfer files from Windows PC to iPad Air/Pro/mini/4/3/2 without iTunes? Here are the top 3 ways which you may have a try.
Method 1: Transfer Photos/Videos/PDF/ePub/Music and other files from PC/Mac to iPad with UltFone iOS Data Manager
For users who need to transfer data without iTunes, then an iTunes transfer alternative tool is required. Here we highly recommend UltFone iOS Data Manager, it is an all-in-one iOS manager which can help to delete, import, export files like music, photos, videos, iBooks, etc in an incredible speed. It is available for both Windows and Mac. For further operation, you can read the following content.
Step 1: Download and install UltFone iOS Data Manager to your PC/Mac, connect your iPad Air/Pro/mini/4/3/2 with computer via USB cable. Launch the program and choose "File Manger" and you will see the interface below.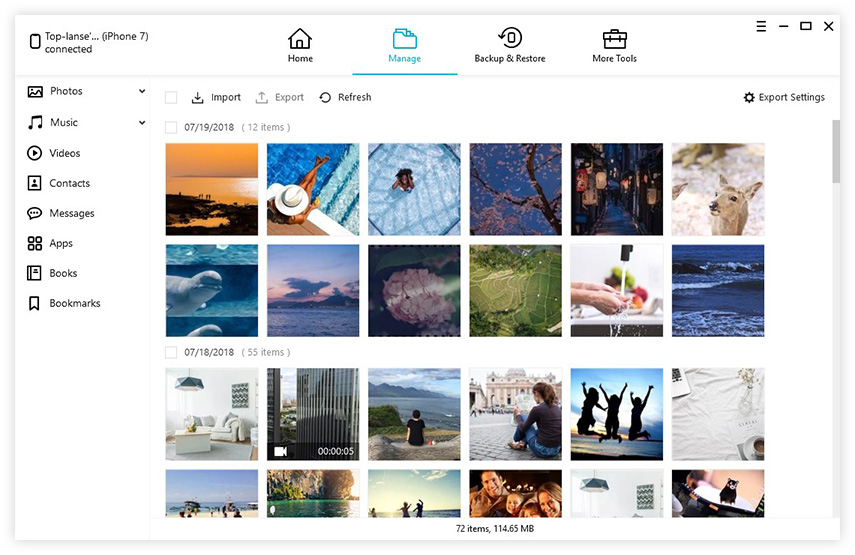 Step 2: Choose your target files types which you want to add from computer to your iPad/iPhone/iPod. Here we take music as example, select "Music" from the main menu and tap "Import" at the top menu bar.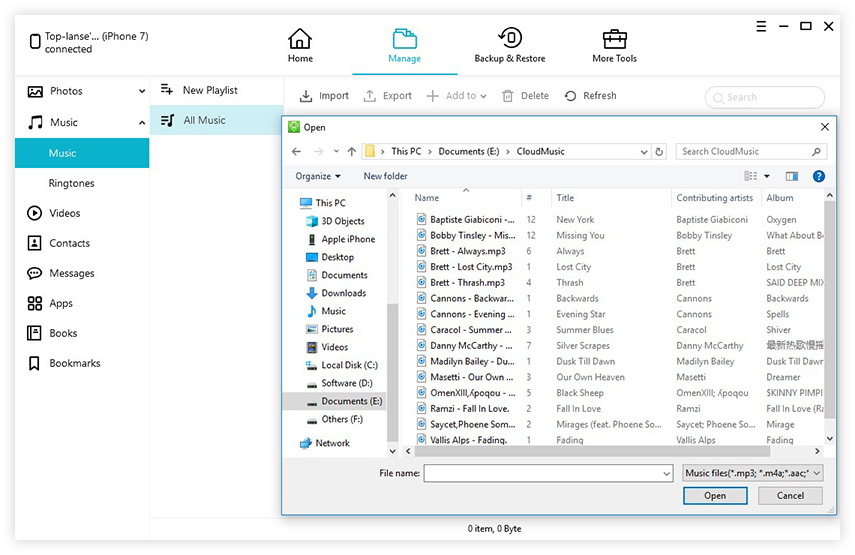 Step 3: Choose music in the pop-up window, and click "Open" to allow them transferred to your iPad. The transferring speed is kind of quick, you can immediately find music in your iPad.
If you want to transfer other types of files, you can refer to Guide of File Manage to know more. With the help of UltFone iOS Data Manager, users are sure to easily add files to iPad from PC or Mac.
Discount for readers: 20% coupon code IDM-ART-20OFF
Method 2: Transfer Files from PC/Mac to iPad with Email
For some basic files, users can also use Email for transferring, but this method has some limit that the files will be kept in Mail app that could be inconvenient for users.
Step 1: Open Email on your PC/Mac, add files as attachments send them to the Email account which you have already logged in on your iPad Air/Pro/mini/4/3/2.
Step 2: Open iPad and go to Mail app, receive the new coming mails. Tap the attachment to download and veiw.
Method 3: Use Cloud Drives to Copy Files from PC to iPad
If you are familiar with Cloud Drives, then this method can be easy for you to operate. You should:
Step 1: Choose a cloud drive (Apple's iCloud, Google's Google Drive, Dropbox and Box.), upload your files to your cloud drives.
Step 2: Download Cloud drive on your iPad, log in your account and view files on your iPad Air/Pro/mini/4/3/2.
That's all about how to achieve Windows to iPad files transfer, these three methods can also be used to transfer files between PC/Mac and iPhone/iPod in iOS 14/13/12/11/10/9.