Best Alternative to iMazing for iPhone/iPad
iMazing is a general software that acts similar to a file manager for iPhone, iPad, iPod, and different iOS devices. Similar to iTunes, this tool can import media files to your Apple devices. Apart from this, there is one more feature that iMazing gives you and iTunes don't. The tool allows you to add movies, music, podcast, TV shows, and audiobooks to iTunes or PC from iOS devices. Moreover, the tool also allows you back up iPhone SMS, contacts, playlists, and photos to computer. But there is always a different side of the coin, which makes users to look for iMazing alternative.
Well there are certain advantages of iMazing such as it allows you data transfer from one iOS device to another trouble free and so on. But this is what it was meant for. On the other hand, the tool gives some off-putting experience. There is some error in the software that sometimes fails to recognize the device. Moreover, most of the users have provided iMazing app review as not being smooth as touted. In addition to this, the tool cannot remove or edit duplicate contacts, which is a major drawback. All these drawbacks lead the users to look for iMazing alternatives for iPhone.
Part 1: What Makes UltFone iOS Data Manager the best iMazing alternative
In order to cover all the drawbacks that iMazing has, UltFone iOS Data Manager is the perfect tool to use. The tool is used to backup, restore, transfer, and manage data as well as repair operating system. This is the main reason as to why people prefer this tool over iMazing.
Key Features of UltFone iOS Data Manager:
The tool allows backing up all your data without space limitation to computer
When using this tool, you can choose specific files to backup. Hence, the option to selectively backup the data is present
The tool offers you a preview of data that before backing up
In addition to this, the tool uses less time comparatively
Moreover, the tool supports different types of data such as contacts, photos, videos, music, WhatsApp attachments, app attachments, and 30+ other types
Part 2: How to Manage iPhone Data with UltFone iOS Data Manager
UltFone iOS Data Manager is the iMazing alternatives for iPhone and using it is as easy as child's play. Here are the steps to follow.
Step 1: Connect your PC and your iOS device and launch the tool. Select "Manage" from the menu.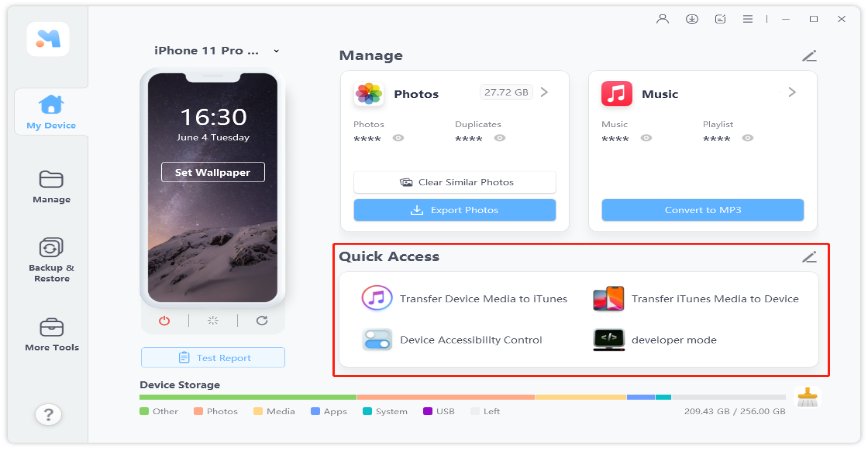 Step 2: Now you can see some options here: Import, Export, Delete, Refresh.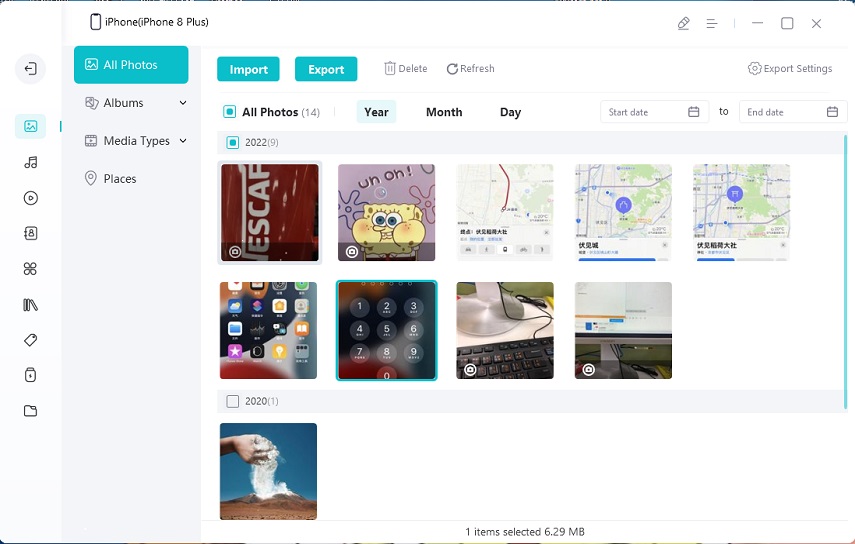 Step3: Select a file type and start managing them by your own.
Part 3: Comparison of iMazing and UltFone iOS Data Manager
Now that you have seen both, iMazing and UltFone iOS Data Manager, here is a detailed comparison of them. Have a look.
To begin with UltFone iOS Data Manager offers the option of selectively backing up the data. Here, you can choose which data to back up. This feature is absent in iMazing, which makes it less preferred among the users.
In addition to this, UltFone iOS Data Manager offers the option to preview the data before backing up. As expected, this feature too is not present in iMazing, adding one more point for UltFone iOS Data Manager.
Further, UltFone iOS Data Manager takes only half an hour to transfer almost 50GB of data. This is too less time as compared to iMazing. This feature makes iMazing to take a step back in the race.
Even though iMazing supports a number of files, the plethora of files that UltFone iOS Data Manager supports is much more, thus adding weight in this comparison.
Last, but not the list, UltFone iOS Data Manager offers users to view old backup of your data. This is one of the features that are not seen in iMazing. Thus one more point gets added for UltFone iOS Data Manager.
Finally, talking about the precision of the tools, UltFone iOS Data Manager takes over iMazing, since it works smoothly and does not have any glitch.
Summary
All in all, you had a look iMazing and its features. You also had a look on different advantages and disadvantages of the tool. Next, you got introduced to UltFone iOS Data Manager, which is the best alternative to iMazing. Rest, we leave to your fine judgement and wisdom to decide which tool is the best.