Full Guide: How to Fix iPhone 5/5s/5c/SE Won't Turn On
iPhone 5 series is really a miracle for users to explore high idevice experience. But after you handle it for some time, you may find your iPhone 5 won't turn on after restore, while charging, etc. Facing such a carking problem, you may consider that your iPhone 5 is broken and you need to look for another new one. However, there are many tips you can try to fix this issue that iPhone 5 won't turn on. Just keep on reading.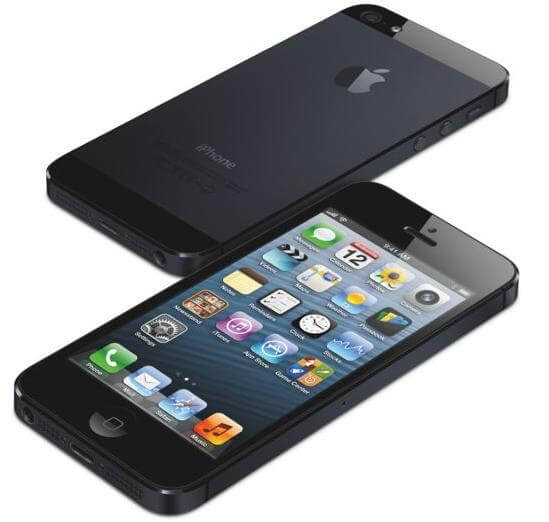 Why My iPhone 5 Won't Turn On?
The "iPhone 5 doesn't turn on" problem can happen to anyone at some time. You press the Power button but nothing happens. This could take place when your battery has run down, the charger has failed, the iOS 15/14/13... got crashed, the firmware turned corrupted, or your iPhone 5 has really got broken, stuckn in recovery mode, etc. Therefore, it is improtant to backup iPhone that won't turn on.
How to Fix It When iPhone 5 Can't Turn On?
Try the following tips before you hold the disappointment towards your iPhone 5 that won't turn on.
Tip 1: Charge Your iPhone 5
Connect your iPhone 5 to a wall charger for at least 15 minutes. When iPhone 5 is on a low battery, it will turn off automatically to remain its battery life to preserve your data and settings. If you are not sure there is plenty of charge left on your iPhone 5 battery, then just charge it for a while.
Note: Some USB ports on Keyboards have no enough power to charge your iPhone 5 and you are highly recommended to plug your iPhone 5 into a wall charger. Moreover, if the charging doesn't work, try to use another charger. You can also improve iPhone 5 battery life.
Tip 2: Perform a Force Restart
Hold the Home and Power buttons at the same time. If you press the Power button to turn iPhone 5 on and it won't restart, then you can hold the Home and Power buttons for at least 10 seconds. An Apple logo will appear after that and you can release both of the buttons. Wait for about 1 minute, and your iPhone should come back to normal.
Tip 3: Use iOS System Repair to Fix iPhone 5 Won't Turn On without Restore
Try UltFone iOS System Repair. This is a free tool to help iOS users to reboot iPhone that can't turn on normally. It has only 2 buttons to put your iPhone into recovery mode and then out of recovery mode. This will maintain your device into the best performance. After reboot, your iPhone will run into normal as usual.
Step 1. Connect your iPhone 5 or iPhone 5s that won't turn on to computer, and click "Enter Recovery Mode". It will put your iPhone in recovery mode in a few seconds.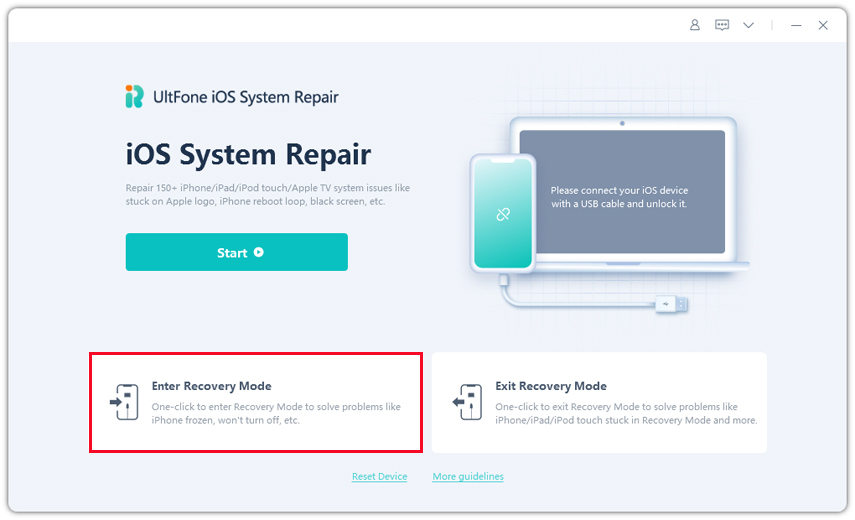 And then click "Exit Recovery Mode" to force reboot iPhone 5. After this, your iPhone 5 should turn on successfully.
If a force reboot does not fix iPhone 5 not turning on problem, you can use "Repair Operating System" feature to fix iOS to normal.
Tip 4: DFU Restore iPhone 5
To solve iPhone 5 won't turn on, you can put your iPhone 5 in DFU mode, and then restore it in iTunes. But this will wipe out all settings and data in your device. Sometimes after you jailbreak or update an iOS on your iPhone 5, you may encounter the issue that iPhone 5 won't turn on. You can take this tip to fix this problem.
Tip 5: Reset iPhone to Factory Settings
Reset all settings on your iPhone 5. Sometimes a malfunction in the proximity sensor can make your iPhone 5 screen turn off. You can hold down the Home and Power buttons to restart the iPhone 5 and then go to Setting, General > Reset > Reset All Content and Settings. And confirm the reset. It is worth mentioning that this will delete all your preferences and settings except data.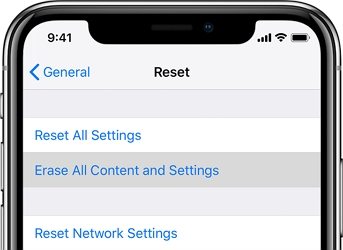 Tip 6: Recovery Mode Restore iPhone 5 to Fix Not Turning On Problem
You can use iTunes to restore your device when all the tips you have taken are not workable. But you need to backup your iPhone 5 in advance. Try free iPhone backup tool to backup any kind of your data. To restore iPhone 5, first, put iPhone 5 in recovery mode, then you will see the "recovery mode" alert. Use iTunes to restore your iPhone 5.

Conclusion
With all the above tips, you can easily fix the issue that iPhone 5 won't turn on. iOS System Repairis the free iOS reboot tool that can force boot iPhone. Even none of the common tips works, you can still use it to repair iOS system to fix iPhone 5s wont turn on without restore .