How to Solve My iPhone Keeps Turning On and Off
An iPhone turning on and off continuously is of no great use to anyone! It is the most worrying situation to cope up with. Well, why will it not be? You just cannot do any single task completely. Though there are many various reasons behind this Apple iPhone keeps turning on and off issue, we have got the best solutions for solving your problem instantly. The below article will help you out with the issue with the very precisely described solutions for it. Every solution is different and is useful in its own way. Let's go to the solutions then!
Solution 1: Hard Reset iPhone
The very first thing to do when dealing with "my iPhone keeps turning on and off" issue is a hard reset. A simple hard reset will be the best solution in case your iPhone is in fact turning on and off automatically or even the device's battery might be draining quickly consequently making the iPhone turn off often. Follow below described steps to know how to hard reset iPhone.
Step 1: If you own an iPhone 7 or further model, press for long the Volume Down along with Sleep/Wake button at the same time. If you own an iPhone 6 or older model, press for long the Home along with Sleep/Wake button at the same time.
Step 2: Hold the buttons unless you see Apple logo on the screen of your iPhone. Release the buttons when you see the launch screen.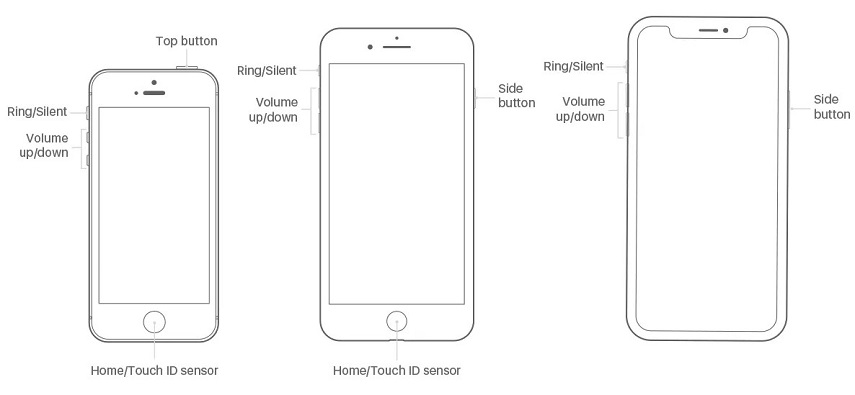 Solution 2: Update iPhone Software
In case a hard reset do its job and solve your problem, then you need to take some measure to solve any software bug that might be causing "iPhone keeps turning on and off" issue. Such software issues can be dealt with a software update. However, it is the best if you go for a backup of all the data via iCloud/iTunes and then update your iPhone. It is possible to update the software manually as well as wirelessly. If you wish to wirelessly update your device then navigate to Settings >> General. Here go to Software Update >> Download and Install. Your device should be connected to good Internet connection for the entire process. In case you are unable to wirelessly update the iPhone, go for manual way, that is, via iTunes. Follow below steps to update iPhone software. Follow the below described guide so as to update your device's software.
Step 1: You need the latest iTunes version installed on the PC you will be using for further process. Connect your PC and iPhone via USB cable.
Step 2: The iPhone will be automatically detected when you connect it to PC. In case it is not detected, launch iTunes and just find your iPhone through the list and choose it. Now the option Summary >> Check for Updates.
Step 3: If the update will be available, you can see it in the list when you tap the option Check for Updates. Click Download and Update.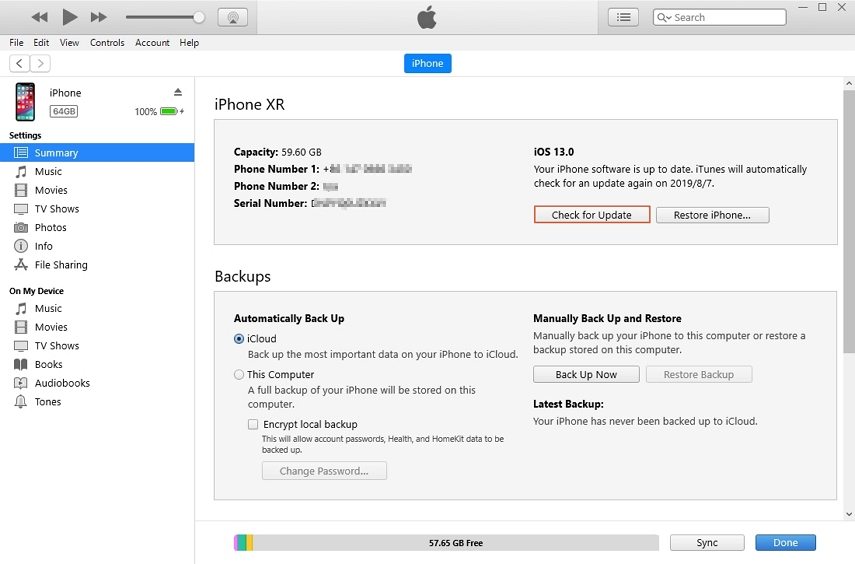 Solution 3: Reboot iPhone with UltFone iOS System Repair (ReiBoot)
In case the above two methods do not solve the "brand new iPhone keeps turning on and off" issue, you need a good fixing method that will solve your problem as well as keep your data safe. UltFone iOS System Repair comes into picture herein. The tool being the best solution available for you will surely help you deal the iPhone screen keeps turning on and off issue. Also, it ensures no data loss at all. What else can you ask for? Follow below simple steps to solve the iPhone issue.
Step 1: First launch UltFone iOS System Repair on the PC and simply using a USB connect frequently turning on and off iPhone to it. Click the option Repair Operating System.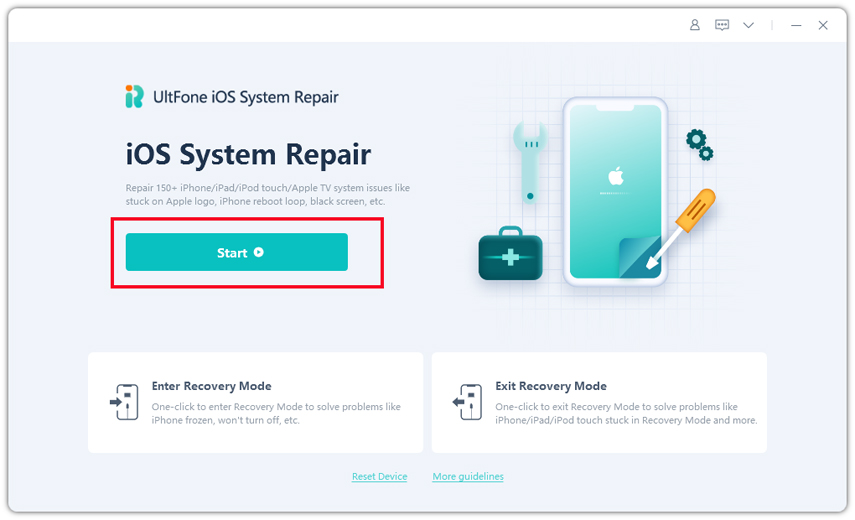 Step 2: The next thing required is the firmware package. You can get it from Download option.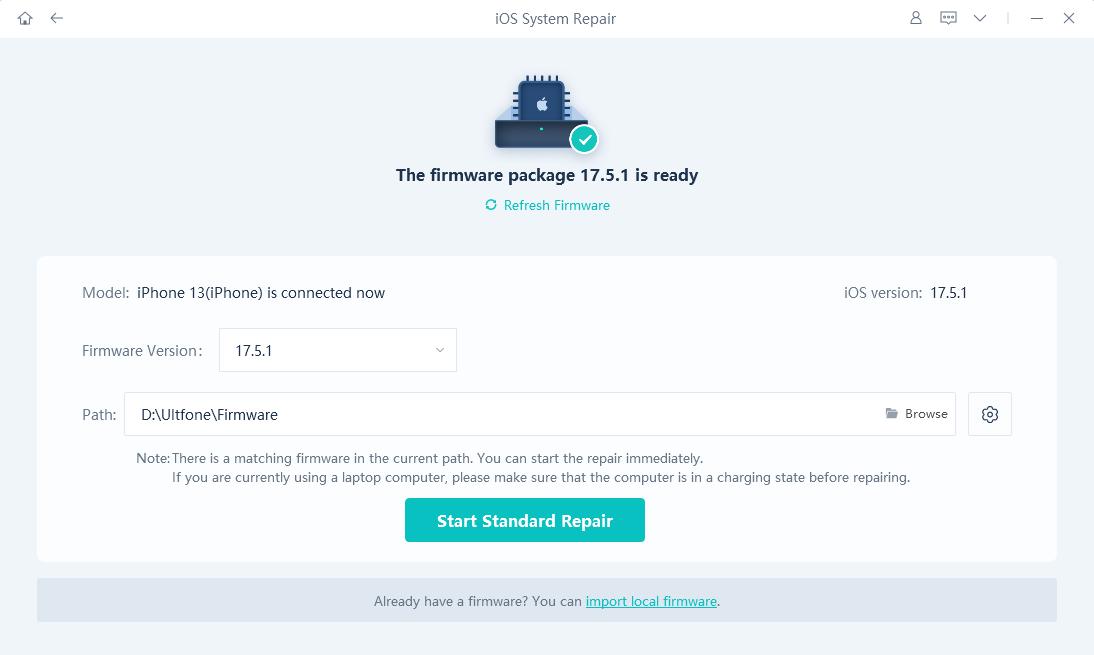 Step 3: Tap Start Repair and wait till the repairing process gets over. Once done, your iPhone will be back to normal since the issue will be solved.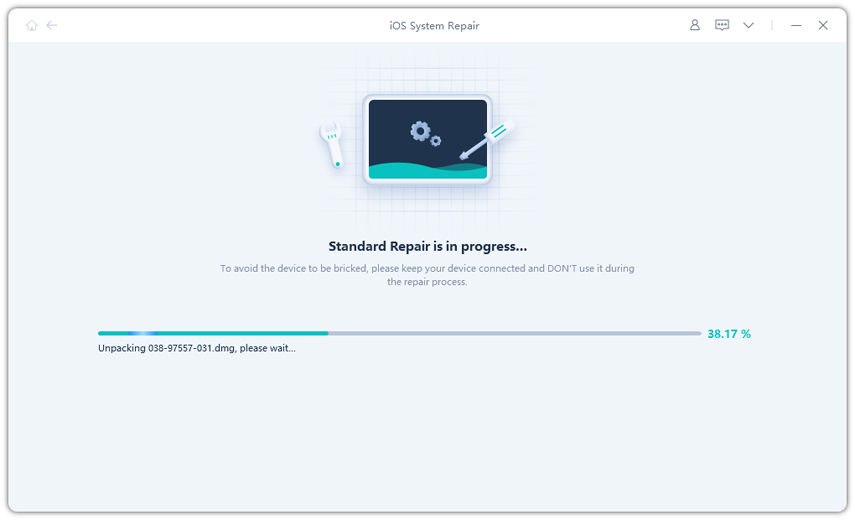 Solution 4: Check the Battery Health
Is your iPhone turning on and off continuously still? You need to go for simple yet uncomplicated solutions. Just check if you device is having sufficient battery so as to at least switch on you device. Or there is also a probability that due to heavy apps on your iPhone, your device's battery is quickly draining out. To solve the battery issue, if any, simply plug in the device and let it charge for sufficient time. Keep an eye on battery health and when you think the device has got enough battery, try to restart your iPhone. Another thing can be a bad charging cable. So try using some different charging cable than yours and check if the issue still persists.
Solution 5: Restore iPhone from DFU Mode
The next certain solution for the "my iPhone keeps turning on and off" issue is DFU mode. You need to restore your iPhone from DFU mode to get your problem solved.
Step 1: To put your iPhone in DFU mode, press Home as well as Power button for a minimum of 5 sec. Continue holding the buttons till the screen goes black. Release Power button while holding the Home button for a minimum of 10 sec. You will enter DFU mode.
Step 2: To exit DFU mode, hold Home as well as Power button for a minimum of 10 sec. Release Home while holding the Power button. Continue this till you see Apple logo on screen.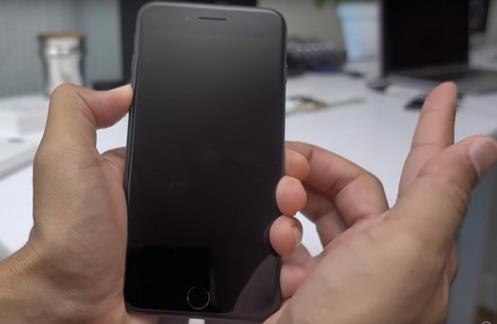 Solution 6: Contact Apple For Repair
If nothing works all you need to do now is contact Apple for any further step. There might be some hardware issue that is causing your iPhone to turn off and on every now and then. And hence, Apple professional help is needed here to get the issue solved. He is the right person to go to for any hardware-related problem.
The above article discussed the best 6 ways to get dropped iPhone keeps turning on and off issue solved. Hope one of the above methods helped you solve the issue. Nevertheless, we recommend to use UltFone iOS System Repair (ReiBoot) for its feature to get any type of iOS problem solve easily and right away. Share your feedback about the solutions above with us in comments below.