How to Fix iPhone 13/12 Won't Turn On
I was updating my iPhone, and suddenly it switched off. Since then, I am trying to switch it on without any success. I recently switched to iOS and hence didn't know much about the OS. Can someone tell me what to do when iPhone 13/12 Pro Max won't turn on with iOS 15/14.3?
Many new iPhone users experience this problem when they try to update their devices. The most common reason why the iPhone 13/12 won't turn on past Apple logo is because its battery ran out. Other than that, software issues can also interrupt the regular boot sequence of your iPhone and prevent it from turning on past the Apple logo.
Here, we'll focus on what we can do in case iPhone 13/12 won't turn on. Let's start. Here is a list of methods that we've compiled to help the users. Try them one by one and narrow down the right fix for your iPhone 13/12.
Method 1. Check Your iPhone 13/12 Charger
Instead of freaking out when the iPhone 13/12 not turning on, check the charger. In most of the cases, the problem is that the charger isn't plugged appropriately. So, connect your charger to a stable power source and then plug your iPhone in it. Leave it on charge for 15 minutes or so and then check if you can turn it on.
Method 2. Hard Reset Your iPhone 13/12
If you are skeptical that it may be some software bug that might be causing the problem, then we can try a hard reset. It will be enough to fix temporary glitches and bugs in your device. So, when your iPhone 13/12 froze and won't turn on, make sure that you try this.
To force restart iPhone 13/12 Pro, press the Volume Up key and release it instantly. Press the "Volume Down" key and immediately release it as well. Then press the Power button for a few seconds until you see the Apple logo. You can let go of the button now and wait for the device to finish booting.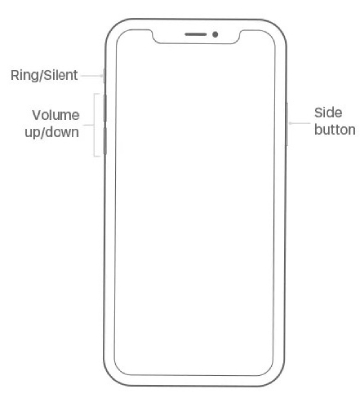 Method 3. Inspect USB Cable
If the charger isn't working, then the next thing to check is the USB cable. When you search "my iPhone 13/12 won't turn on," it is one of the top things that people will recommend. So, if you had the USB cable plugged into the charger, remove it from there and connect it with a laptop or car charger or power bank.
It'll help you figure out if the problem is with the charger or the cable. Physically damaged cable will be easy to recognize, and you can replace it as well.
Method 4. Check USB port
In case your iPhone is still not charging, it might be a sign that the charging port has some issues. Sometimes, dust, dirt, etc. can disrupt the connection and prevent the device from charging. As a result, your iPhone 13/12 Pro won't turn on. So, you need to check the port on your iPhone as well as the charging port where you plugged the lightning cable.
Clean the port and try reconnecting to see if the problem persists.
Method 5. Repair iOS to Fix iPhone 13/12 Won't Turn On without Data Loss
If you want to fix the iPhone 13/12 Pro that won't turn on after iOS 14.3 update without data loss, then the obvious choice should be using UltFone iPhone System Repair tool. It can repair over 150 different kinds of software related issues including iPhone 13/12 does not turn on without a hitch.
So, you need to get the software on your system and follow the guide below to fix the iPhone.
Step 1 Run UltFone and choose the Repair Operating System mode to fix the issues. Connect your iPhone with the system and hit the Fix Now button.

Step 2 When prompted, download the firmware package file that is suitable for your device. The software can detect the firmware version automatically so that you won't have to find it manually.

Step 3 Once the firmware file download finishes, the "Repair Now" option will appear on the screen. Hit the button and initiate the repair process instantly.
In a brief period, this professional iOS system repair tool will repair your device OS, and it will reboot. You can check this video guide of how to fix iOS issues using this software.
Method 6. DFU Restore iPhone
If you are not concerned about the data on your device, then we can also try DFU Restore for iPhone 13/12 Pro Max black screen won't turn on issue. It will erase the device data and settings and allow you to set up the device from scratch.
Step 1: Connect your iPhone with a system that has iTunes installed on it. Quick press Volume Up Button > Quick Press Volume Down button > Release them > Press Side button > Wait 10 seconds> Press Volume Down again for 5 seconds > Release Side button and keep holding the Volume Down button. As the screen appears black, you've entered the DFU mode.

Step 2: The moment your device enters DFU mode, iTunes will recognize it and prompt you to restore the iPhone. Confirm the Restore and wait as the process finishes.
After restore, you can use previous backup stored in iTunes or iCloud to restore data on your device.
Method 7. Repair Your iPhone At The Genius Bar
Last but not the least valuable method when the iPhone 13/12 Pro won't turn on after update is taking your iPhone to an Apple Store. As the above methods don't seem to fix your problem, it means that your iPhone is suffering from a hardware malfunction. It can be fixed by the Genius Bar staff that carries out all kinds of repair of Apple products. So, before you give up on your iPhone, get it checked thoroughly at an official store by experts.
iPhone 13/12/12 Pro Won't Turn On FAQs
1: Why is my iPhone 13/12 screen black and won't turn on?
In rare cases, the iPhone 13/12 won't turn on past Apple logo issue appears when there is a software crash or the device hardware is not working. Mostly, it happens as a result of charging issues which can be fixed easily. Whereas, if it is a system glitch, the best method to solve it is to use a professional iOS system repair tool to fix it without data loss.
2: How to turn on iPhone 13/12?
As long as there is no problem with the iPhone, you can turn it on by pressing the Power button. But if the iPhone 13/12 Pro Max won't turn on or got stuck somehow, then a force restart/hard reset is recommended.
Wrapping Up
We have listed all plausible methods to fix iPhone 13/12 won't turn on stuck on the Apple logo issue. You can try all the steps above to solve this problem, and UltFone iPhone System Repair tool can solve iPhone 13/12/11 not turning on caused by system malfunction without data loss, thus we recommend it to you if none of other methods works.