[2023 Updated] Free Download DoulCi Activator with Activation Codes
When the Apple users were locked out of their devices or can't remember Apple/iCloud ID accidentally, the urgent affair is to remove or bypass the iCloud activation lock. Actually Apple doesn't provide any further solutions about this issue. However, those persons who are getting into trouble always attempt to figure out a feasible method and even free ways to bypass iCloud activation lock. The DoulCi Activator is one of them.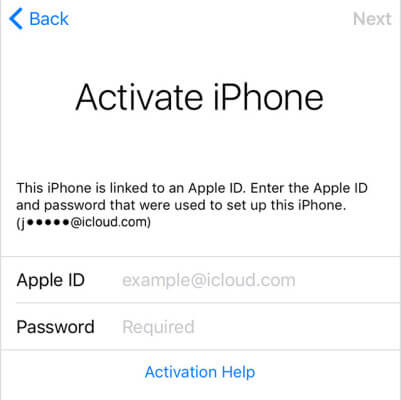 What is Doulci iCloud Unlocking Tool?
DoulCi Activator is the world's first free tool that enables you to unlock iCloud activation lock on any Apple device (iPhone, iPad, iPod, Mac) without the need of iTunes. With this tool, the iOS users who have found their device locked can bypass the most needed iCloud activation process without the need of entering Apple ID and Password. And it also works for those who bought second-hand iPhone/iPad but cannot get rid of activation lock without previous owner. Moreover, it is compatible with Windows and Linux.
Free Download Doulci Activator to Bypass iCloud Activation Lock
With the DoulCi Activator, it is not the end of the world anymore. You now have an iCloud activation lock bypass tool to unlock locked feature and activate iPhone, iPad or iPod again even though you forgot your login password. But you must know that DoulCi Activator can only bypass activation lock for iOS 7.1.2 and lower versions. If you have higher iOS versions, it will not work.
Note: The free download service of DoulCi Activator is closed and now its official site https://www.doulci.com/ is only for preventing scamming from third-party sites. If you download from other third-party sites, please make sure that you can bear the possible malware or virus. Some people may tell you that DoulCi Activator version 11.3 is now released on 2018, and you may think you can find DoulCi Activator 2018 download package somewhere, but as I told you, please be careful.
If you have already got the download files of DoulCi Activator, below we will explain step by step how to do it.
Step 1: Unzip the files. Once it is unzipped successfully, you will see the files: download doulci iCloud unlock tool. The installation on a web server is quite easy and is similar. You just need to install the script on a local server and then edit your hosts file .

Step 2: Connect your iPhone, iPad or to iTunes iPod via USB cable.

Connect your device after downloading doulci activator full version

Step 3: Wait for a few minutes until the magic happens. Done! Finally, exit the tool and disconnect your device to it.

iCloud activation lock has been removed successfully
There are video guides on how to download DoulCi Activator to bypass iCloud activation lock. Below is one of the videos for your reference.
DoulCi Activator Codes
As long as you free download or install DoulCi Activator, it will ask for an Activation Code. These are a list of Activation Codes for it. At times the keys may be used by another user because there are large numbers of persons using them so just keep trying them until they work.
facacde84zrocst9ftj57ohm
2a8euuooa7opdpyyg7c75ck7
h9672c39myi8mi3ah2aad7vz
j3xi6b5bjdqm53xvrkgigz2m
y699bpi8xuewf5ter8d2xs92
b4226wuocnfdjs4n33j7n4tx
crayz9o4zsn9ufba2rcqt2r5
sq3pjsw56vy62d6h4n437onp
hnkhkyec39h7zujbadfkxqvb
tmeei9ssiiog5kmxxxn4icyr
ErC6OsufQDalvR6Mv86sXinNaEnIjD
48YJlRngbNnQAndRj58whfgjc1oCXQ
pw8SZceXr3t72lgpBUrgHlF5B4ui3S
HSqPR3v2RCfdUN5ihLlNBXdBXb08uk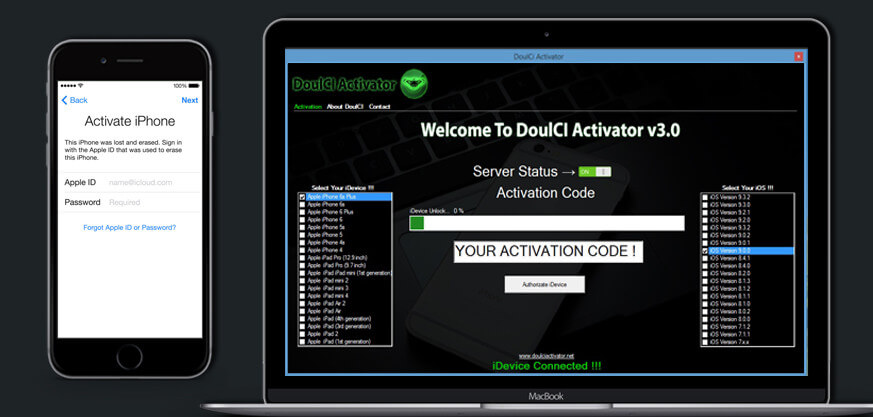 Best Doulci Activator Alterntiave - UltFone iCloud Activation Unlocker
Doulci is undoubtedly a great tool to bypass activation lock on iPhone/iPad. Unfortunately, you need to learn that doulCi only works for iOS 7.1.2 or below versions. For higher iOS versions, this software does not support. Another downside of this program is that hackers can create similar tools using the same method as Doulci but with malware code, which could cause serious potential damage to your device and computer.
If you own a new iPhone 11 or iPhone X running iOS 14/13/12, you can't use Doulci, instead, you can use an Doulci alternative - UltFone Activation Unlocker. This software uses the most cutting-eding technical solutions to solve iCloud activation lock problem.
Main Features of UltFone iCloud Activation Unlocker
Support various iOS devices including iPhone 11 series, iPhone X series, iPad Pro, iPad Mini, etc.
Support new iOS 14 activation lock removal.
You don't need to offer extra information such as IMEI or screen passcodes in order to bypass iCloud activation lock.
You can sign in a new Apple ID through App Store to download apps via Wi-Fi.
20% Coupon Code: AU-ART-20OFF
Step 1. Launch this program on your Mac, and connectc your iCloud locked device to computer via USB cable.

Step 2. This program will jailbreak your device in order to bypass iCloud activation lock. It will download a jailbreak tool after you connect your device.

Step 3. After the jailbreak tool is downloaded, you can click Start Jailbreak. The program interface will instruct you how to jailbreak your device. Please make sure your device has enough power.

Step 4. After your device is jailbroken successfully, this program will start bypassing iCloud activation lock.
Bottom Line
Is DoulCi Activator really working or just a scam? Only God and the DoulCi team knows. Some people worry about that once their iPhone is stolen, the thief can make use of this tool to harm it and then use the iPhone without entering Apple ID and password. UltFone iCloud Activation Unlocker tool is safe to use and it is legitimate for unlocking second-hand phone or when you forgot your Apple ID password.