6 Ways to Get into a Locked iPhone without Password
Nothing can be more disturbing than the sight of a locked iPhone in this digital age. Being unable to unlock the device for any reason can be a great shock, especially at this time when our phones are almost everything to us. "Is there a way to get into a locked iPhone?" We end up asking questions like this only of course until we find some genuine person who can guide us what to do in such situation.
However, in this case, you don't need a person physically as we promise to help you if you get locked iPhone and unable to access it. We will help you know how to get into a locked iPhone 11/X/8/7/6/5/4 with 6 different ways. So, without any further ado, let us begin!
Part 1: How to Get into Locked iPhone [If It Is iCloud Activation Lock]
First, it is important to understand whether you are upset with iCloud activation lock or normal screen lock. That means, if you get locked iphone due to the iCloud activation feature and don't know how to remove it, the tool named UltFone Activation Unlocker will help you. This tool is designed to help you bypassing activation lock within minutes and without any complications. Before you try it, let us know its features.
Helps removing activation lock in any scenario,lost mode or second-hand,stolen.
Works securely and efficiently, nothing else required.
Not harmful or malicious things to be worried about.
Remove activation lock within minutes without IMEI.
Supports all iOS versions from iOS 12 to iOS 15 with ease.
Step 1Launch Tool

Start with downloading UltFone Activation Unlocker from the official website and then install it. Open it once done and then hit on "Start" once connected the device.

Step 2Connect Device

Agree to the Terms and Conditions and then get your device connected with the PC in the next step.

Step 3Download Jailbreak Tool

The program will now begin to download the jailbreak tool on your PC. Make sure to have a stable internet.

Step 4Jailbreak Device

Once the tool is downloaded, tap on "Start Jailbreak" and follow the instructions.

Step 5Remove Lock

Put your device info and then click on "Start Remove" button. The program will begin to remove the activation lock.

This is how to get into locked iphone without password if it is iCloud activation lock.
Part 2: 5 Ways to Get into Locked iPhone [If It Is Screen Lock]
Like we said above, you need to know what lock is troubling you. If it is the screen lock, you can follow the following mentioned 5 ways. Let us look at them one by one to know how to get into a locked iPhone even on iOS 15.
Way 1: Get into Locked iPhone with UltFone Screen Unlock Tool
The first way to get out of the locked phone is to use UltFone Screen Unlock Tool. Yes, UltFone offers another tool to help their users. This is an ideal option if you wish to get things with ease. The steps are simple and you don't have to be a tech-savvy. Here are some features of it.
Factory reset iPhone without passcode.
Offers enter/exit recovery mode with just one click. This feature is free.
Able to fix more than 150 iOS issues, like stucking on Apple logo, reboot loop, spinning wheel.
Repair iOS/iPadOS/TVos safely.
Compatible with all iOS versions and iOS devices including Apple TV.
Step 1Open the Program

Once you have downloaded it, install and launch it. Select "Factory Reset iPhone" option as shown in the image below.

Step 2Fix Now

When you will enter a new screen, click on the "Fix Now" button shown.

Step 3Firmware Download

Click on the "Download" button and the program will get you a matching firmware.

Step 4Repair and Remove Screen Passcode

When the firmware gets downloaded, you will need to just wait as the repairing will begin. Wait until it gets done.
If you've removed the screen lock but still stuck on activations screen. You can choose the first part above to unlock it and get to access device without remembering iCloud account or password.
Way 2: Get into a Locked iPhone with iTunes
iTunes is another way to get into a locked iphone. Using this method will lead to erase your data completely. Also, here are some things to be noted before proceedings.
This method works when you know the iCloud credentials.
It will lead to data loss of your current data in iPhone.
Only works if you've already synced your device to iTunes before.
Step 1: Launch iTunes and get your iPhone connected to PC. iTunes will detect your device and will take backup.
Step 2: A "Restore iPhone" option will appear on the screen. Click on it and your device will get reset.
In case it prompts you for iCloud credentials in between the process, please don't proceed if you don't know it. You can navigate to the Part 1 mentioned in this article.
Way 3: Get into a Locked iPhone with Siri
Here is another way to get into a locked iphone. Some points to be noted are:
Siri method can be helpful if you use older iOS version under iOS 6. If your iOS system is above iOS 6, this method will not work.
The process is a bit complicated.
As per the reports, only 40% people got success with this method.
Step 1: Activate Siri on your iPhone and open the clock by commanding it.
Step 2: Tap on clock and you'll notice the world clock. There, click "add another clock".
Step 3: Start typing anything and long press it. Now, choose "Select All" followed by "Share".
Step 4: Choose message app and type something in the "To" field.
Step 5: Press the return button and choose the "+". Tap "Create New Contact" followed by "Choose Photo".
Step 6: Photo library will open on your device. Tap on Home button now and your device will be unlocked.
Way 4: Get into a Locked iPhone Via Recovery Mode
To get into a locked iphone, you can also take help of recovery mode. Let us know how. Before that, please note:
You must have latest iTunes version.
Use original lightening cable.
Step 1: Launch iTunes and plug iPhone to PC.
Step 2: Keep pressing the Home button until the iTunes icon comes on the screen.
Please note that the recovery mode steps may vary according to the device you own. Read this article for more.
Step 3: Once you're in recovery mode, the iTunes will detect it and show the pop-up. Here, click on "Restore" option and then setup your device.
After setting up, if you are getting activation screen but iCloud password is not in your mind, refer to Part 1.
Way 5: Get into a Locked iPhone Via Find My iPhone
Find My iPhone is the most useful service these days. It helps in finding your device if you've lost it. Before proceeding, know that:
The process needs internet connection on iPhone.
It deleted everything from device.
Requires Apple ID and credentials.
Step 1: Visit your browser ad head to the iCloud official website. Proceed with entering the iCloud account and password to login.
Step 2: Now, click on the "Find iPhone" icon.
Step3: Choose "All Devices" option. Your device will be listed in the list.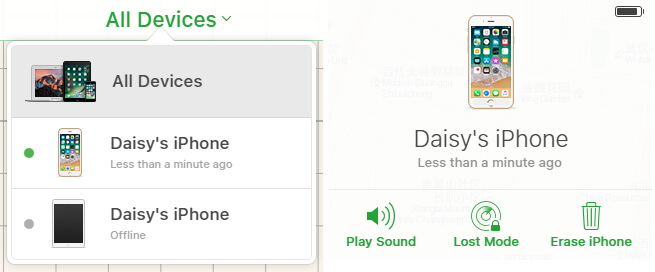 Step 4: Choose your device and click on "Erase iPhone". That's it! Your device will be reset and you will be able to access it.
Conclusion
We made you aware with various ways to get into a locked iPhone. We hope that you are not upset anymore. Where UltFone Activation Unlocker is a good way to get into a locked iPhone, the UltFone Screen Unlocker is a great way to get rid of the lock screen. Also, we've mentioned other methods well. It's your call to choose one. Please let us know what suited you!