How to Fix System UI Not Responding Error on Android Phone
My Samsung Galaxy S8 keeps flashing the "Unfortunately System UI isn't responding" error every time I try to press & hold the home button. The error started appearing after I upgraded my device to the latest OS. Is there any way to fix it?
System UI is not responding has become a common Android error that's encountered by different users. While the error is commonly seen on Samsung, LG, and Motorola devices, it can get triggered on any Android smartphone. If you're facing the same pop-up message on your screen, we understand your frustration.
That's why we've put together a detailed guide on how to fix system UI isn't responding S8/S6/LG. So, without any further ado, let's get started.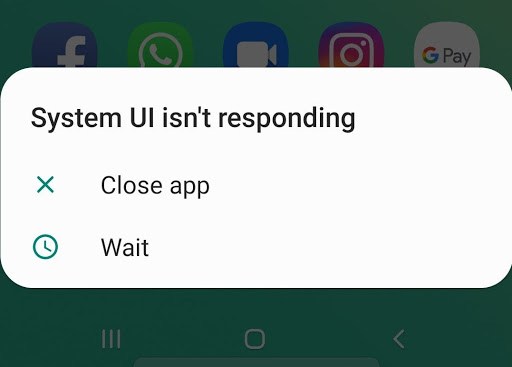 What Does It Mean System UI Isn't Responding?
Firstly, let's see what does system UI mean. com.android.systemui has stopped basically means that your smartphone's user interface has crashed while trying to load an app or service. The error is commonly encountered by users who have recently upgraded their smartphones to the latest OS. However, there are several other factors that may also cause the System UI to crash abruptly. Some of these factors include:
Your device has insufficient internal storage. Lack of storage will restrict apps from running properly and as a result, you'll see the Unfortunately, the process.com.android.systemui has stopped message on your screen.
You have installed third-party apps from untrusted sources (apart from Google Play Store).
There's a damaged/corrupted SD card on your smartphone.
You have accidentally deleted important system files.
Having known what is com android systemui, how do I fix system UI has stopped? Read on.
The Best Way to Fix Unfortunately System UI Has Stopped Error
Since different factors can trigger the said error, you may not know its primary cause all the time. If that's the case, it'll always be a good strategy to rely on a professional tool to troubleshoot the problem. We recommend using UltFone Android System Repair, a professional repairing software, that's specifically designed to fix different types of Android errors.
You can use the tool to fix 150+ system errors, even if you don't know what's triggering the problem. UltFone will automatically detect and resolve the issue so that you can continue using your device without getting interrupted by system errors.
The Steps to Fix Unfortunately the System UI has stopped with UltFone Android System Repair
Step 1 Install and launch the software on your PC. Then, connect your Android device to the computer and click Repair Android System to get started.

Step 2 Click Repair Now on the next screen.

Step 3 You'll be asked to enter the device information. Use the drop-down menus to select the device name and model.

Step 4 Based on your smartphone's information, the tool will automatically start downloading the right "firmware package". Make sure your device is connected to an active Internet connection.

Step 5 Once the firmware package is successfully downloaded, you'll see a confirmation message on your screen. Again, click "Repair Now" to proceed further.

Step 6 To repair your device, you'll first have to put your device in "Download Mode". Simply follow the on-screen instructions to enter Download Mode on your device.

Step 7 Now, UltFone will automatically start repairing your smartphone. This process may take a few minutes to complete. You'll see a "Success" message after the tool has successfully repaired your device.
After the repair, your Android phone will restart. The problem of Samsung system UI has stoppederror should have been solved.
Other Tips to Fix unfortunately system UI has stopped working in android
In addition to using a professional tool like UltFone Android System Repair, there are several other ways to fix the Samsung S7 system UI has stopped.
Tip 1. Uninstall Google Updates to Fix unfortunately System UI Has Stopped LG/Samsung/Android
If your device started flashing the system UI isn't responding after updating the Google app, it's quite possible that the updated version of the app is causing the issue. In this case, you can simply uninstall the Google updates to troubleshoot the error. To do this go to Settings>Apps and select the "Google" app. Then click the "Uninstall Updates" button to remove the latest updates from your device. Finally, restart the smartphone and check if the problem is fixed or not.
Tip 2. Clear Google App Cache
If uninstalling Google app updates doesn't fix the problem, you'll have to clear its app cache as well. Cache files are automatically created to speed up the overall process. However, when too many cache files start piling on each other, it can also trigger different system errors. That's why it's always advised to clear app caches on a regular basis.
Follow these steps to clear the Google app cache on your Android device.
Step 1: Go to "Settings" and select "Apps".
Step 2: Scroll down and open the "Google" app from the list.

Step 3: Select "Storage" and then tap "Clear Cache" to remove the app cache.
Tip 3. Update Android System
An outdated version of Android can also trigger different types of system errors and system UI has stopped is one of them. Check if there are any pending system updates on your device and make sure to install them ASAP. To check for Android updates, you can go to System menu > Advanced > System Update and click the "Check for Updates button". If there is an update available, install it right away.
Tip 4. Reboot Your Device in Safe Mode
Sometimes third-party applications are also responsible for triggering different system errors. While it's not easy to pin-point the specific third-party application, you can easily determine if they are causing the problem or not by booting your device in safe mode. When a smartphone is booted in Safe Mode, only essential system apps are loaded and all the third-party apps are disabled. In case you don't see the system UI isn't responding error in Safe Mode, it'll become clear that a third-party app is causing the problem.
Here's how to boot an Android device in Safe Mode.
Step 1: Press and hold the "Power" button for 3-4 seconds until you see the boot menu on your screen.
Step 2: Then, tap and hold the "Power Off" option for a few seconds and the "Reboot to Safe Mode" message will automatically pop-up on your screen. Click "Ok" to confirm your actions and the device will reboot into the "Safe Mode".

Step 3: Once you're in the safe mode, use your device for a while and check if the error still appears or not. In case it doesn't, reboot your device normally and uninstall all the third-party apps one-by-one to identify which one is causing the issue.
Tip 5. Factory Reset Your Device to Fix System UI Keeps Crashing
Finally, if nothing resolves the problem, you'll have to perform a factory reset to fix the system UI has stopped Galaxy S7 error. The factory reset will remove everything from the storage and your device will become brand new again. However, make sure to keep this method your last option, and don't forget to back up all your files before proceeding with the factory reset.
Video Guide to Fix usystem ui isn't responding working in Android
A Final Word
While System UI has stopped won't cause any damage to your device's firmware, it will get pretty annoying when the error will keep flashing repeatedly. If you're facing the same error, the above-mentioned solutions will help you fix it and use your device without any interruptions. If you want to fix the error instantly, UltFone system repair is worth using. It'll automatically detect the root-cause and fix the problem to give you a working Android smartphone.