How to Import Whatsapp Chat from Google Drive
People often know the method of storing their chat history but don't know How to import WhatsApp chat Backup from Google Drive. Google Drive is file storage, and there are many reasons people like to use the Google Drive application. The main reason for this is the ease of access to their files. You can access all your files in one place without any hassle. There are many other benefits of using the Google Drive application on your phone, but we will only focus on one of them here. It is "Importing WhatsApp Chat from Google Drive."
WhatsApp data is stored in Google Drive in a folder called "WhatsApp." This is the same folder in which all your other WhatsApp data are stored, such as images and videos. You cannot access WhatsApp files directly from your Google Drive account. You can access this folder by navigating to your Google Drive page on any web browser and locating it in your list of folders. Also, you can restore these files if you reinstall the WhatsApp app.
Part 1: How to Import WhatsApp Chat from Google Drive to iPhone
If you're moving from an Android phone to an iPhone, you might be worried if you don't know how to import WhatsApp chat from Google Drive on iPhone. We'll walk you through 2 easy methods of importing your chat history from Google Drive to your new iPhone. Firstly, make sure that your chat is backed up to Google Drive.
Solution 1: Import WhatsApp Chat Back up via Mail
You can import WhatsApp chat from to iPhone via mail by following these steps:
1. Open WhatsApp. Select the contact's name or group name you want to export after opening, click on the 3 dots present in the upper right corner and select "more".
2. After that, choose export chat from all the options. Then a pop-up will appear on your screen asking you if you want to include media or not.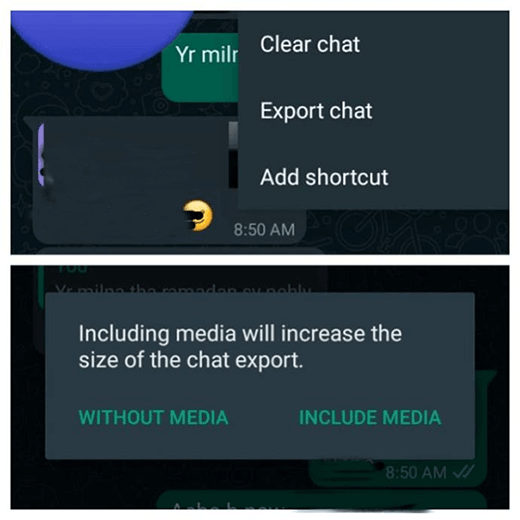 3. Then, there will be various options for exportation. Click on Gmail. After clicking on Gmail, enter the email account. And click on the send button.
4. Now, Open the mail which was sent from your Android phone. Download all files attached in the mail to your iPhone. It will automatically import your chats from Gmail.
Ta-Da. It's done as you see that you can easily import Whatsapp Chat History to iPhone using mail. But there is one con to using this method. You can export just one chat at a time. So it may consume time.
Solution 2: Use a tool to Import WhatsApp Chat Backup
You have backed up your WhatsApp messages with Google Drive, but now you want to know how to import WhatsApp chat from Google drive on iPhone. The solution mentioned above is quite easy, but it may be time-consuming and result in data loss if you don't know how to do it properly. So, we recommend using a third-party tool like Ultfone WhatsApp Transfer to avoid data loss. The reason why we choose Ultfone is that it offers great features like:
It allows users to transfer WhatsApp chats between iOS devices and Android devices.
It can also backup and restore WhatsApp chats.
There is no need to install any additional software on the computer to use this App.
The transfer can be done in just one click.
The user interface is user-friendly and easy to understand.
Let's see the steps to import WhatsApp Chat Backup from Google drive.
Step 1Download Ultfone WhatsApp Transfer on your PC, and launch it to get started. Select 'WhatsApp Transfer' from the options. The next step is to connect both phones to your computer. Then click 'Transfer' to begin the transfer. You'll notice a pop-up asking if you're okay with the data on the new device being overwritten by the new data.

Step 2The following screen will reveal that the data from the old phone is being backed up to your computer. That means you'll always have a backup on your PC if something happens to your new phone.

Step 3You must log into WhatsApp on your new phone. The data may be uploaded to your phone but not to WhatsApp if you don't.

Step 4Ultfone WhatsApp Transfer will then begin creating the data to be recovered. In other words, it prepares the data to be transferred to your iPhone.

Step 5The transfer will now begin. It is necessary not to disrupt the phones, or you will lose your data.

Step 6Now it's only a matter of waiting for the transfer to finish. When you're finished, disconnect your phones.
By following these simple steps, you can easily import chats.
Part 2: How to Import WhatsApp Chat from Google Drive to Android?
Are you switching to a new Android smartphone? You should bring all of your WhatsApp messages and group conversations with you. If you keep the same phone number, backing up and restoring WhatsApp messages is simple using Google Drive. And you won't need to rely on a third-party utility to perform this. All you have to do is connect your Google account to your WhatsApp backups.
Let's have a look at the steps. After following these steps, you can easily Import WhatsApp chat from Google Drive to Android.
1. Install and Launch WhatsApp on your Android phone. After opening the App, there will be an option of Agree and Continue. Click on it. After that, enter your phone number, press the Next button, and tap okay.
2. Now, WhatsApp will send you an SMS with a verification code. After verification, WhatsApp will now request permission to view the data on your smartphone and ask you to access your contacts. Allow it. WhatsApp will also request permission to access local files. You have to allow it as well.
3. WhatsApp will now search for backups from local storage or Google Drive. The details will appear on the screen when it detects the most recent backup. Because WhatsApp works, you will have to select whether or not to recover the data immediately away. You will not be able to recover the data once the setup is complete. Check the backup's information to ensure that it is the most recent backup. Then, on the right, press the Restore button. After the restore, click on the Next button.
4. Enter your WhatsApp display name and then press the Next button. After the procedure is complete, you will have an opportunity to set up a Google Drive backup service on your new phone. It's advisable to go with the Daily option here. Then press the Done button.
That's how you can easily Import your WhatsApp chat from Google Drive to your new Android phone.
Conclusion
In conclusion, we should say that these are one of the easiest methods to import WhatsApp chats from Google Drive. Overall, there is more than one way to import WhatsApp chats from Google Drive to your phone. The best choice will depend on your needs and the Google Apps option.