Is It Possible to Install IPSW without iCloud Activation? Find the Answer Here
IPSW files are generally used to upgrade an iPhone, iPad, iPod to a newer version. Files with IPSW extensions store Apple Software Update files that you can use to upgrade your iDevices. While you'll need an unlocked iOS device to install an update through the IPSW file, many people also want to know if it's possible to install IPSW without iCloud activation. In this guide, we're going to explain how to install an iOS update through an IPSW file, even if you're stuck at the iCloud activation screen.
Part 1: Can I Download IPSW without iCloud Activation?
Yes, it's possible to download and install an IPSW file without iCloud activation. All you'll need is the dedicated IPSW file and a laptop (Windows or macOS). But, despite being a working solution, it's not an easy method at all.
Even one small blunder can cause catastrophic results and your iPhone/iPad may get damaged forever as well. This is why it's always advised to install IPSW without iCloud activation cautiously so that you don't end up messing up your iDevice.
Part 2: How to Custom/Download IPSW to Bypass iCloud for iPhone 5/6/7/8/X [Windows Users]
So, if you are ready to install custom IPSW to bypass iCloud lock and install a new iOS update, here's what you should know. First, we'll take a look at the step-by-step procedure to install IPSW on an iPhone using a Windows PC.
Step 1 - First, download the dedicated IPSW file on your Windows PC and change its extension to .ZIP.
Step 2 - Use a Zip extractor to extract the file at a safe location on your PC.
Step 3 - Once you have extracted the file successfully, you'll see different files with ".dmg" extension. To continue further, well first have to decrypt these files using a dedicated decryption key. Visit https://www.theiphonewiki.com/ to get the key.
Step 4 - Copy the largest .dmg file to your desktop and download a decryption tool to decrypt it. Make sure to enter the right decryption key while decrypting the file.
Step 5 - Now, open the decrypted file on your desktop and look for the "Application" folder.
Step 6 - Locate "setup.app" and delete it from the folder.
Step 7 - Again, save the decrypted file and make sure to encrypt it using the encryption key we used earlier.
Step 8 - Finally, copy the .dmg file back to the original Zip folder. You'll have to replace the existing file with the new one.
That's it! Now, you simply have to compress the IPSW file again and change its extension back to IPSW. You'll be able to bypass iCloud activation with this file without any hassle.
Part 3: How to Create Custom IPSW for iCloud Bypass [Mac Users]
If you are a Mac user, the process to install the IPSW file would be slightly different. So, let's quickly check out the detailed procedure on how to install IPSW without iCloud activation on your iPhone/iPad.
Step 1 - Start by downloading the IPSW file on your Macbook and change its extension to .ZIP.
Step 2 - Extract the ZIP file and open the extracted folder. Look for the largest ".dmg" file and drag it to your desktop.
Step 3 - Like the previous method, this file will be encrypted and you'll have to visit The iPhone Wiki to decrypt it.
Step 4 - In this case, you can use the official decrypt software on your macOS, also known as iDecrypt.
Step 5 - Click "Ok" to ignore the warning message and choose the desired output folder. Then, enter the key for "RootFilesystem".
Step 6 - Tap "Decrypt DMG" and wait for the process to complete.
Step 7 - Now, open the decrypted file and go to the "Application" folder. Locate the Setup file and move it to Trash.
Step 8 - Right-click the decrypted file and click "Eject" to save it.
Step 9 - Now, change the file name to the original name of the dmg file and copy it back to the extracted IPSW folder.
Step 10 - Using a compression tool, compress the IPSW file and change its extension back to IPSW.
At this point, you'll be able to use the altered IPSW file to bypass the iCloud activation lock and install a new iOS update as well.
Part 4: Bypass iCloud Activation Lock without IPSW [Simple and 100% Work]
If you've found installing IPSW without activation lock a complicated process, we've got a simpler solution for you. Instead of going through the hassle of decrypting dmg files and renaming them, you can simply use UltFone Activation Unlocker software to bypass the iCloud activation lock and access your smartphone instantly.
Unlike the IPSW method, using UltFone has no restrictions and you can even bypass activation lock on the latest iPhones running iOS 14 easily without other tools or tech knowledge. It works for iPhones as well as iPads, making it the most convenient way to bypass an iDevice that's stuck at the activation lock window.
Here are a few features of UltFone Activation Unlocker:
Bypass activation lock on almost all iDevice without previous owner.
UltFone Activation unlocking tool is available for Windows as well as Mac.
A user-friendly interface that'll make it easier for everyone to bypass iCloud activation lock.
Follow these steps to bypass iCloud activation using UltFone Activation Unlocker.
Step 1 - Install and launch UltFone on your PC and click "Start".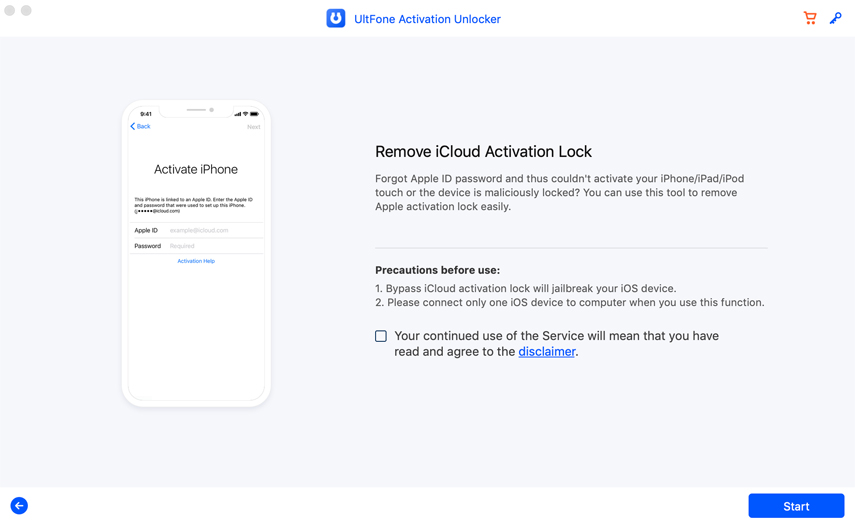 Step 2 - You'll see the T&C agreement on your screen. Read it carefully and click "Next" to proceed further.
Step 3 - Now, connect your iDevice to the PC and let the software download the appropriate "Jailbreak Tool" accordingly.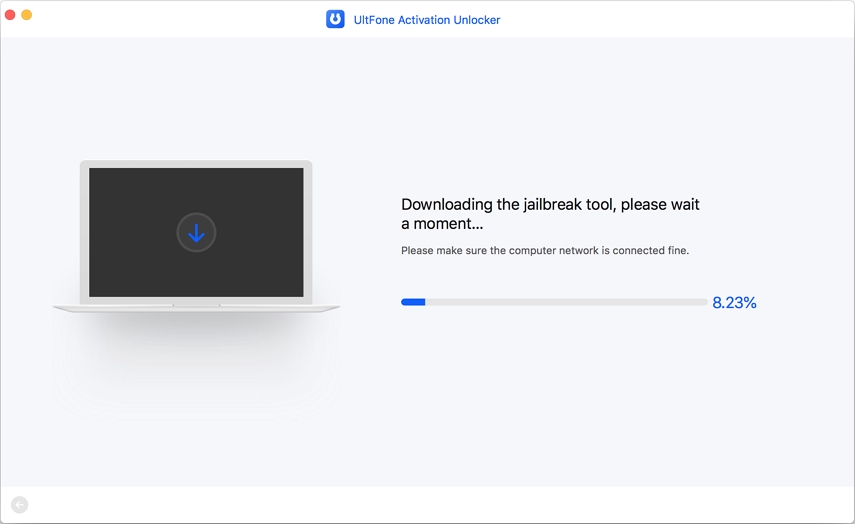 Step 4 - After the downloading process completes, click "Start Jailbreak".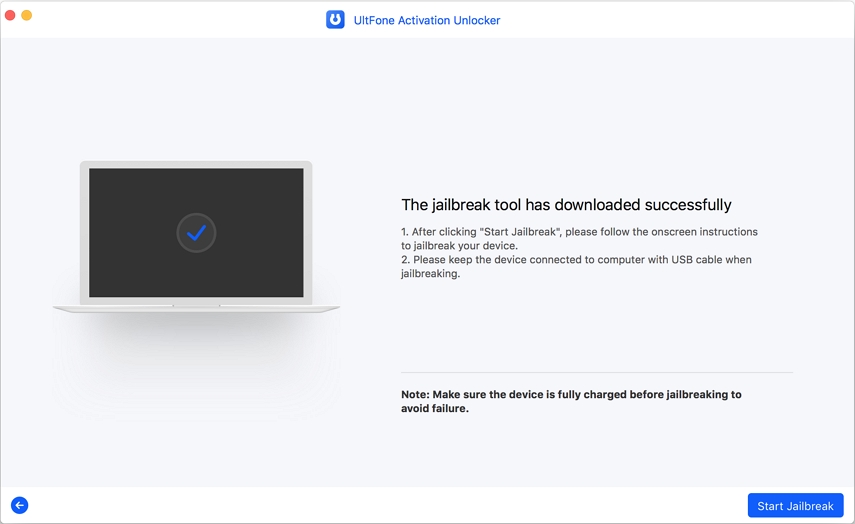 Step 5 - Follow the on-screen instructions to jailbreak your device and click "Next".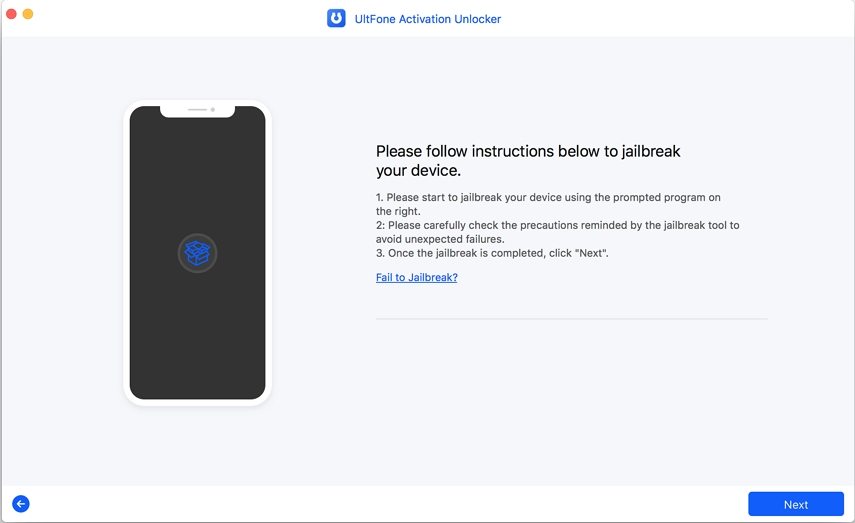 Step 6 - In the next screen, confirm the device information and click "Start Remove" to initiate the activation lock removal process.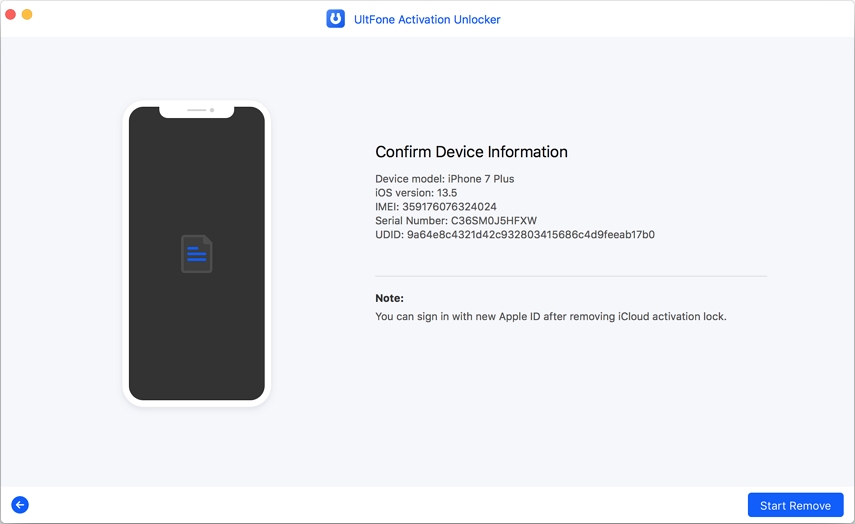 Step 7 - You'll see on-screen progress and the UltFone will automatically prompt you with a confirmation message when the process completes.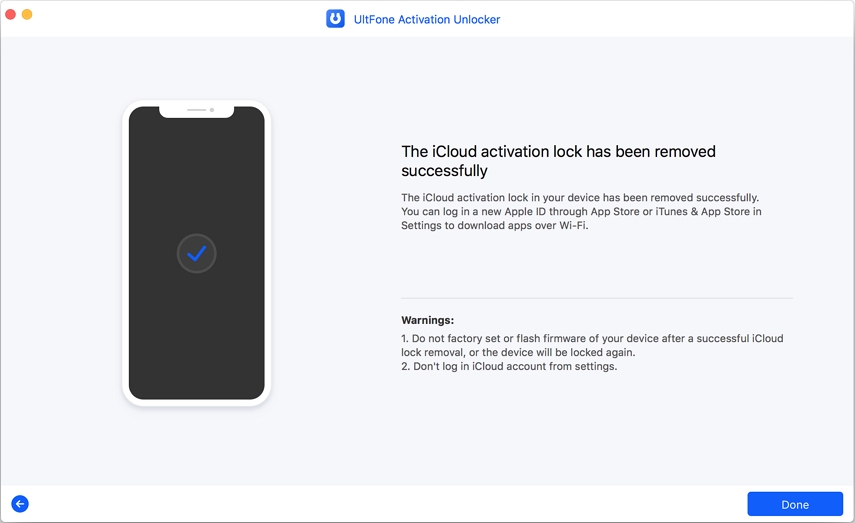 The activation lock will be removed instantly and you'll be able to access your device normally.
Bottom Line
Even though installing IPSW without iCloud activation works, it has several limitations. For instance, it has a fairly low success rate and does not work on the latest iPhone models. Not to mention, the entire process to install IPSW without iCloud activation is an extremely complicated process. That's why if you're looking for a more convenient and less complicated solution to bypass the activation lock, make sure to use UltFone Activation Unlocker. It'll remove the iCloud activation lock with minimum efforts.