Can't Activate My New iPhone 7, How to Do
If you have seen an error that your iPhone 7 can't be activated as you try to activate your new red iPhone 7. Should this unfortunate scenario ever happen to you, here's what you should do.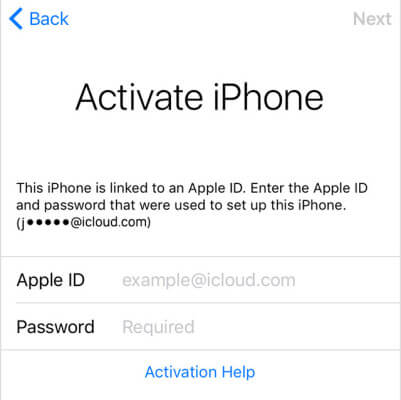 Why Can't Activate New iPhone 7?
Any time you set up a new Or used iPhone, or your own iPhone after you restore it in iTunes, you get the white 'Hello' screen that asks you for details about yourself before you can start using it.
One of the steps you have to go through is activating the device, and sometimes, this doesn't go as smoothly as you'd like it to.
In some cases, you may see error messages such as any of the following:
The activation server is unavailable – this means that the server that checks to make sure your device can be activated is either down or is experiencing a high volume of users at once. This is common during times of iPhone launches when everyone's trying to activate their device at one time.
The SIM card is unsupported – this means you have a SIM card in your device that isn't made to work with your iPhone.
Activation couldn't be completed – this means some kind of glitch in your internet connection or iPhone itself is causing the problem, and you'll have to troubleshoot those issues by looking into the things that could possibly have gone wrong.
How to Fix "Can't Activate My New iPhone 7"Error
Here are several methods listed to help you on how to fix" can't activate iphone 7".
1. Wait
The first time you see this error, it's better to wait. Chances are that the servers at Apple are truly busy or buggy which means the activation stuff isn't going through. You should wait for a few minutes before trying again.
I'd also go as far as to remove the SIM from the tray and then re-inserting it onto the tray and then trying to go through the activation process again.
2. Restart
Hold down the power button for several seconds. A red slider will appear that says "Slide to power off." Slide it, and wait about thirty seconds for your phone to completely shut down. Then hold down the power button again until the Apple logo shows on the screen. Now try the activate the phone again. This will fix the problem the majority of the time.
3. Lock/Unlock SIM Status
In case nothing works, you should probably check to see if the problem is with the SIM-card / carrier. If you are trying to activate a different carrier on a locked iPhone (which hasn't been unlocked yet), you'll get the activation errors obviously.
In these cases, you'll have to call the carrier directly and ask them to activate your iPhone+SIM card. Most of the time, the support executive will guide you through the activation process. If you have an iPhone which was on a different carrier (earlier) and now you're trying to activate a different carrier, you should know that the earlier carrier should've unlocked your iPhone.
4. Wifi / Network Issues
May be it's the Wifi/network that's causing the issue? May be your network is blocking gs.apple.com on a couple of ports. To test this, you should get connected to a different Wi-fi source than the one you are using now.
5. Via iTunes
This is where it gets a little tricky but useful. If things don't work still, you should try to activate your iPhone via iTunes. To do this, simply connect your iPhone to your computer via the USB cable. Turn it off and reboot – which triggers iTunes to open. (if it doesn't open, manually open iTunes).
Once iTunes detects your iPhone, it might ask you to go through a few steps to activate your iPhone. Although this happens less frequently as most people activate directly on their iPhone, you might be able to fix the issue.
6. Restore
And in case you're not able to fix it, then it's time to roll up the sleeves and restore the device.
Turn off your iPhone and then connect to your computer.
Open iTunes and then switch your iPhone on. iTunes will tell you that it has detected an iPhone and would you like to restore your device. Yeah, we do need to restore the iPhone so go through the restore process.
Once restored, try activating the iPhone again.
7. Talk/Take to Apple Care
If nothing works, maybe it's time to call Apple Care and figure out a solution through the customer support guys
With these workarounds mentioned above, you are supposed to fix the activation error on iPhone 7. If that doesn't work, you can give UltFone iOS Data Manager a free download and try, which can help you solve all issues on iPhone 7 you've met.