iPhone 13 Won't Turn Off? Here's How to Turn Off iPhone 13 Easily
The iPhone 13 lineup has finally hit the stores and people are going crazy over these new flagship models. However, the new iPhone 13 models are running into a few unexpected errors. One such error is that the iPhone 13 won't turn off. Many users have reported that their device is not powering off even when they're pressing the power button. If you're stuck in a similar situation, this guide will help. We'll share different working solutions to power off the iPhone 13 easily.
Way 1. Turn Off iPhone 13 with Buttons
Before everything else, try turning off the device by pressing the "Power" button. In case this doesn't work, you can try the combination of "Power" and "Volume" keys to get the job done. Simply press and hold the "Power" and "Volume Up" buttons until you see the "Power Off" slider on your screen. At this point, release both the keys and swipe the slider right to turn off the device.  
Way 2. Turn Off iPhone 13 from Settings
If Way 1 doesn't work, it's quite possible that the "Power" button or the "Volume" key is not working properly. In this situation, you can use the "Settings" menu to power off your iPhone. To do this, go to "Settings" and tap on "General".
Scroll down till the end of the screen and click "Shut Down". Click "Ok" to confirm your actions and the device will power off automatically. To turn on the device again, you can press the Power button or put your device in recovery mode by connecting it to a computer and then exit recovery mode without a computer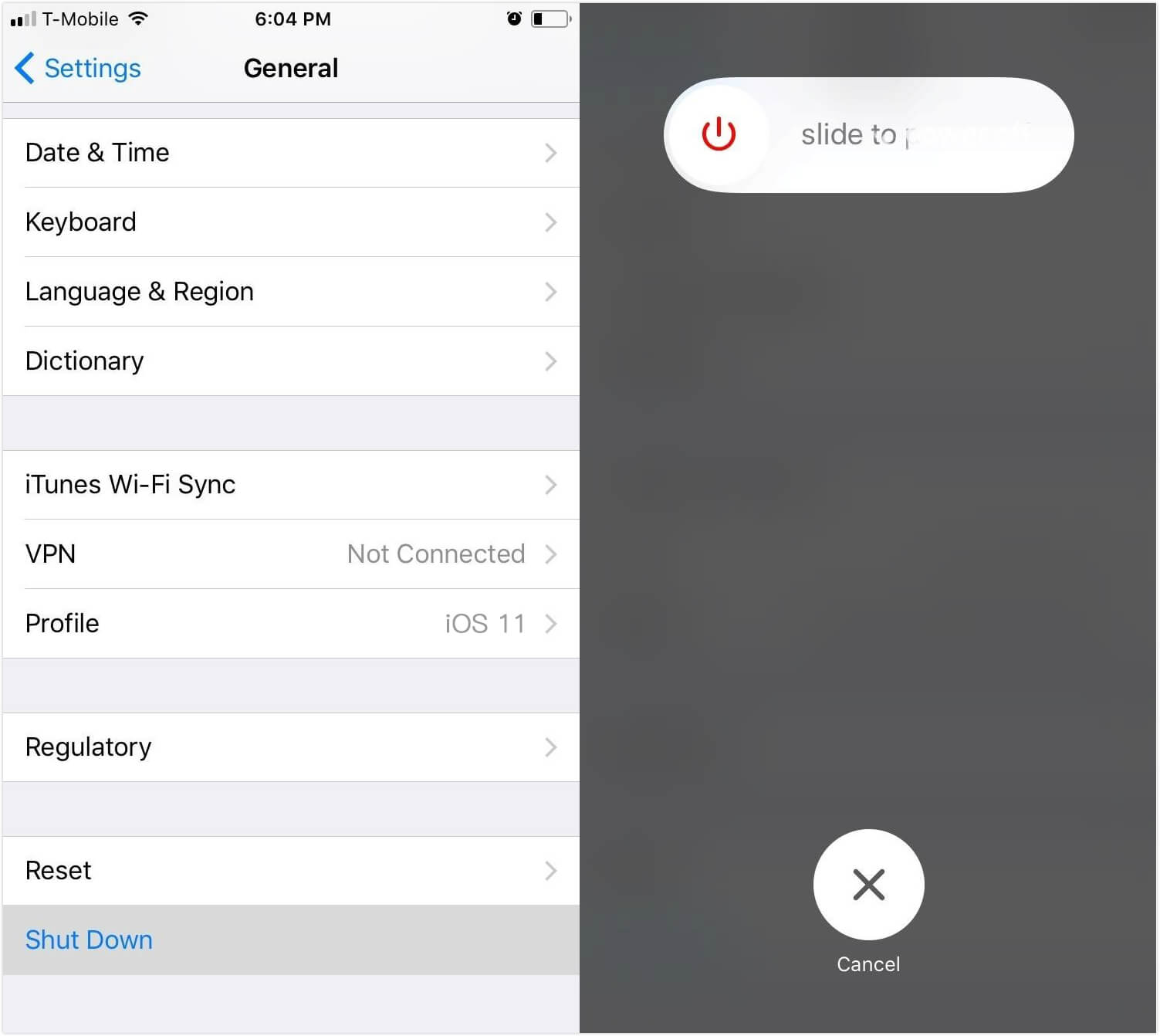 Way 3. Restart iPhone 13 using AssistiveTouch
If your iPhone 13 still won't turn off, you can also use assistive touch to power it off. Assistive Touch is an exclusive iOS feature that's been a part of the ecosystem since the iPhone 5. Enabling Assistive Touch will place a virtual button on your screen and you'll be able to use it to perform various actions. Here's how you can enable Assistive Touch on your iPhone 13.
Step 1: First of all, go to "Settings" and click "Accessibility".
Step 2: Scroll down and click on "Touch". On the next screen, click "Assistive Touch".

Step 3: Toggle the switch to enable "Assistive Touch" on your device.

Step 4: Once the feature is enabled, you'll see a virtual button floating around the screen. Click the button and tap "Device" > "More" > "Restart". This will instantly restart the device.
Way 4. How to Turn Off iPhone 13 when Frozen
Now, it's worth understanding that the previous solutions will only work when your iPhone is working properly without any unexpected lags. In case the screen has frozen or you are unable to operate the device, you'll have to look for different solutions to turn off the device. One of the easiest ways to power off an iPhone 13 (when the screen has frozen) is to use UltFone iOS System Repair. It's a system repair tool for iOS that's designed to fix unexpected system errors on any iDevice.
One of the major advantages of using UltFone iOS System Repair is that it doesn't cause any data loss whatsoever. It doesn't matter whether you're stuck in the recovery mode or the repeated boot loop, UltFone System Repair will troubleshoot your device without affecting your personal files. And, if you're not happy with the latest iOS 15, you can also use UltFone System Repair to downgrade your device to the previous stable iOS version.
Some of the additional key features of UltFone System Repair include:
One-click solution to enter/exit recovery mode.
Troubleshoot 150+ iOS related issues without losing your valuable data.
Reset iPhone/iPad without the iTunes password.
Compatible with the latest iOS 15 and iPhone 13 models.
So, here's how to shut down iPhone 13 using UltFone iOS System Repair:
Step 1

First of all, download and install UltFone System Repair on your computer. Then launch the application and connect your iDevice to the system using a USB cable.

Step 2 After the device gets recognized, click "Enter Recovery Mode". Wait for a few seconds and your device will automatically reboot into recovery mode.

Step 3 Keep the device connected to the system and click "Exit Recovery Mode" to reboot your device normally.
That's it. Once your device reboots normally, you can turn off your iPhone 13 freely.
Note that this method is totally free, but if your iPhone still cannot turn off normally after the restart, there might be something wrong with iOS. To solve it, try the iOS system recovery feature of UltFone iOS System Repair.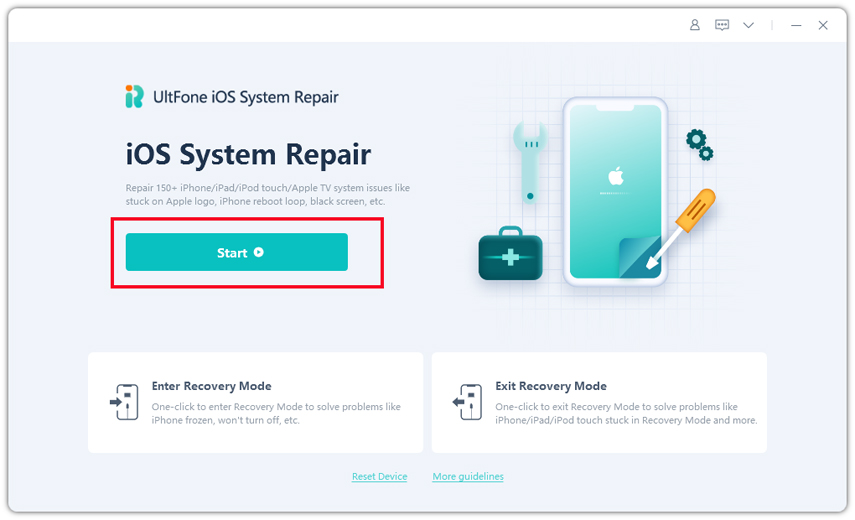 Conclusion
Following its tradition, Apple has shocked the entire world with the new iPhone 13 lineup, however, even the latest iPhone 13 models can run into unexpected errors like the iPhone won't turn off. If you are also facing issues while turning off the device, make sure to follow the above-mentioned solutions to troubleshoot the problem. And, in case you are stuck at a frozen screen and can't operate any feature, simply use UltFone iOS System Repair to reboot the device.