How to Save Photos from WhatsApp on iPhone
As an iPhone user it is possible to run out storage from all the media documents you receive from different apps like WhatsApp, Line, Kik or Viber. So you may disable the auto-saving feature but finally find that some images or videos are very important to you. So how to save WhatsApp photos to iPhone in the best ways? So, let's begin!
How to Automatically Save Photos from WhatsApp to iPhone
Many people have the "Save to Camera Roll" option turned off in their iPhone if they are added in multiple WhatsApp groups or chats that constantly receive tons of pictures and videos. Before you start the process of saving photos, make sure that the "Save to camera roll" option is turned on.
1.Go on the WhatsApp application on your iPhone and select Settings.
2.Select Chats from the options listed and click on the Save to Camera Roll to set it on.
Now to automatically save WhatsApp images on your iPhone, we've mentioned all the steps you need to perform.
What if you want to import and use photos in your Photos app into WhatsApp and share with other people? Here are the steps you can follow.
1. Click on Settings on your iPhone and select the Privacy option from all the tabs mentioned.
2. Select Photos and go to WhatsApp.
3. Now select Read and Write under the Allow Photo Acess tab.
4. Through this option you can download and share all photos with your friends.
As you can see these steps will help you save all WhatsApp images automatically to your iPhone's camera roll. However, if you want to know how to save multiple photos from WhatsApp to iphone camera roll manually then check out the next part of the article.
How to Manually Save WhatsApp Photos on iPhone
If you don't want to grant WhatsApp access to your camera roll, or have images automatically downloaded and saved to the camera roll folder either, then follow these steps to manually save pictures via WhatsApp app:
1. After opening WhatsApp on your iPhone, go to the Chats tab.
2. Now click on the chat from where you want to download and save images.
3. After selecting the picture you want to download from the chat, click on the Share icon down below at the bottom left corner.
4. Click on Save from the options, and the image will be downloaded and saved to your camera roll.
As you can see this is a fairly easy process to do on your own manually, however if you want to directly save images through WhatsApp, the app will ask for permission to access the Photo app through a popup. Simply tap on the Allow button in the menu and you're good to go, with the images being directly saved.
Save Multiple WhatsApp Photos from iPhone/iTunes/iCloud with UltFone iOS Data Extractor
As you can't save multiple images at a time through WhatsApp, it can become a pain staking process having to manually select each image, download and save it. Or auto-saving WhatsApp photos to iPhone will run out internal storage. So in order to save time and phone storage, you can use UltFone iOS Data Recovery tool, to extract and save all WhatsApp images from iPhone, iTunes/iCloud backup to your computer.
Here are some features of of UltFone iOS Data Recovery:
Helps users to recover 22+ data types, including photos, videos efficiently from any Apple devices no matter you've created a backup or not.
Recovers not only pictures, videos from WhatsApp messages, but also document attachments.
Supports many mobile applications apart from WhatsApp including Viber, LINE, Kik, Wechat Backup & Restore(Mac Only)
Compatible with many Apple devices including iPhone 11, iPhone SE, iPad and iOS 14.
Not only is the software easy to use, but is pretty fast as well. And if you want to know how to save WhatsApp photos to iPhone with the UltFone tool, here are the steps you need to perform:
Step 1After launching the application on your computer, here select the Recover Data from iTunes Backup for example.

Step 2On the next screen, all the backups made on your computer will be listed. Select the backup file that contains the images you want to recover and click on the Next button.

Step 3On the next page, you'll find a list of data type to choose from. Select WhatsApp & Attachments as we're looking to recover and export images from WhatsApp. Click on Scan.

Step 4Now on this screen you will find all the images from the backup, select the ones you want to save and click on Recover to PC, to make a backup on your Computer.
And you're done! Wasn't that easy and effortless! You can also directly export WhatsApp photos from iPhone, not only existing photos but also deleted WhatsApp photos will be scanned out. UltFone iOS Data Recovery can also read and extract WhatsApp iCloud backup so that you can preview, export whatever you need. Just give it a try.
Save WhatsApp Photos with UltFone WhatsApp Transfer [Quickest]
Although the above method doesn't show you how to save WhatsApp photos to iPhone, instead it saves WhatsApp photos from iPhone to the computer. Ultfon WhatsApp Transfer is another great tool by Ultfone through which you can make easily transfer from WhatsApp. Here are some of its features:
You can easily transfer all your WhatsApp data easily to a new device either iOS or Android.
Allows data transfer from one WhatsApp Business account on a device to another for both iOS & Android.
A simple, easy, one click process to backup and restore WhatsApp and WhatsApp Business data.
Allows you to create a backup for social apps including Line,Viber, Kik, WeChat on your iPhone device and restore them as well. Available only for Mac.
Compatible with iOS 14 and Android 10.
By following the below mentioned steps you can complete the transfer easily. Here's how:
1.Install the UltFone WhatsApp Transfer on your Mac device. Once installed launch the application and connect your iPhone via USB cable.
2.Select the WhatsApp option from this screen.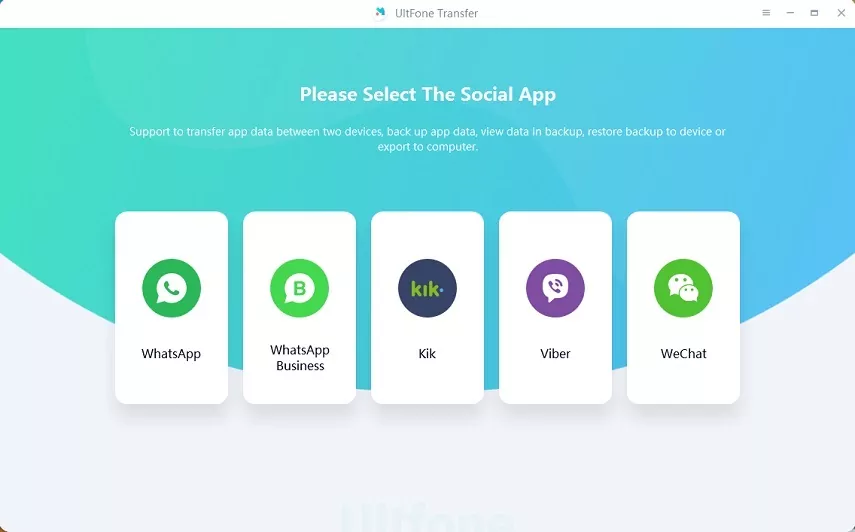 3.Click on Backup that you can find on the left side menu. Now choose the device from the options presented in the drop down box as shown below. Finally, click on Backup now.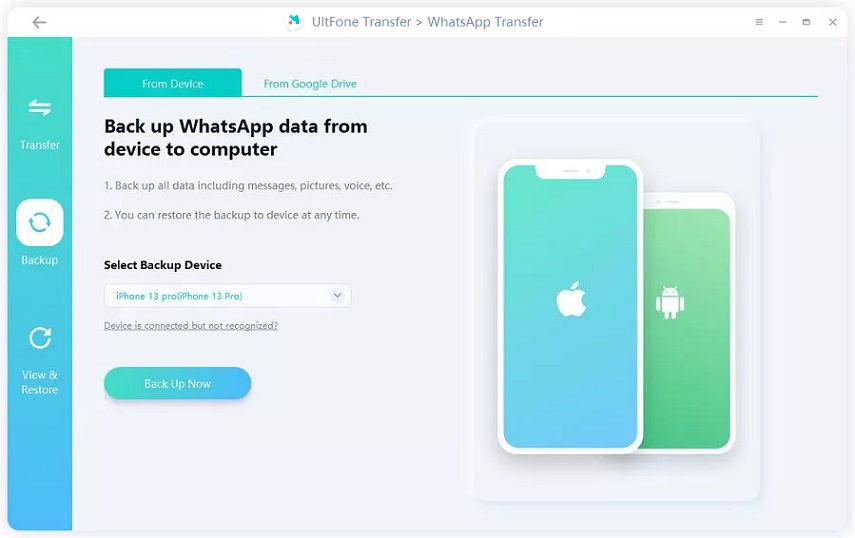 4.Wait while the WhatsApp data is being backed up. Do not disconnect your device while this process is running as it can cause data loss. Also, please note that the amount of time this process will take depends on the amount of data being backed up. Greater the file size, the longer it will take. Please be patient.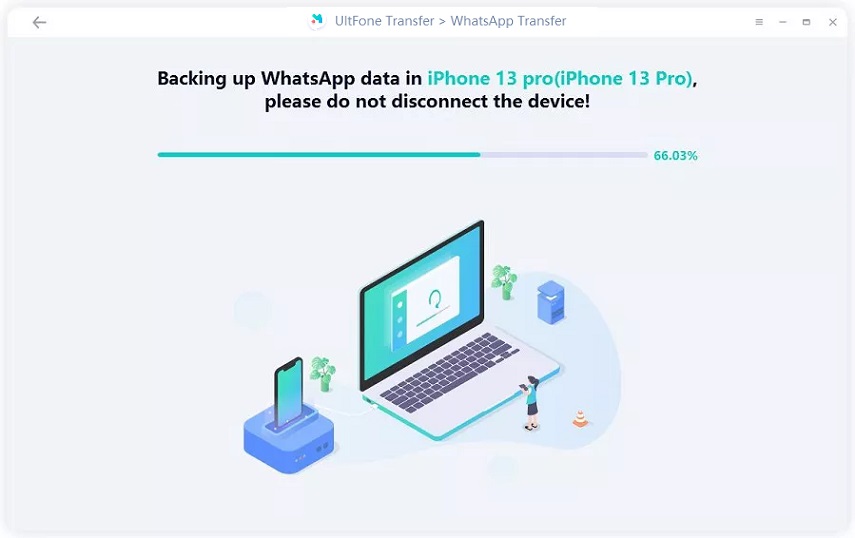 5.Once the backup is complete it will be saved directly to your computer.
And that is how simple the process is while using UltFone WhatsApp Tranfer while looking for ways on how to save WhatsApp photos from iPhone. You can restore to iPhone whenever you want.
Wrapping up
As you can see from the above mentioned methods we have described in detail, it is fairly easy to save WhatsApp images to iPhone, although it can be time taking and tedious when doing without the help of any tool. However, with UltFone iOS Data Recovery and UltFone WhatsApp Transfer that process becomes exceptionally fast.