How to Fix Overheating Problem on iPhone 13/12 (Pro)
Among all issues on iOS devices, iPhone overheating is one of the most common problems found. Lots of users encountered the issue generally after a new update. It can occur to any iOS device and even on the latest iPhone 13 model. It's worth mentioning here that your iPhone overheating issues aren't a good thing and it is not wrong to state that "a cool system is a happy system". Indeed, the iPhone should be cold down before you use it. So, in this post, we're going to walk you through real fixes that can help you fix overheating issues on your iPhone 12/12 Mini/12 Pro(Max) and iPhone 13/13 Mini/13 Pro(Max).
Part 1: Why Is My iPhone Overheating?
Well, it's quite normal for iPhones to get a little warmer, particularly when charging or using it for several hours. But, if your device is extremely hot that it could even burn your hand, it's a completely different story and not a good thing.
To determine the causes of the iPhone overheating problem, give a thought on what has happened before the beginning of the problem. For instance, did your device begin to overheat after an update or installing new apps?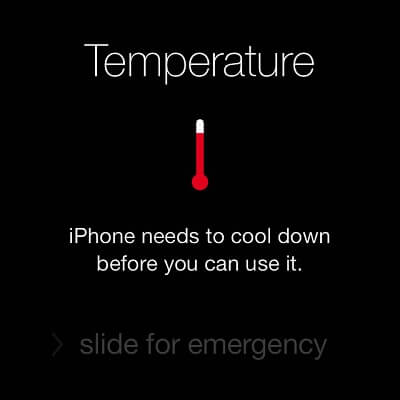 Generally, the iPhone overheating problem can either due to software glitch or bad hardware. Some users may though of the issue being caused by a defective or damaged battery. While it could be possible, in most scenarios, the overheating problem has been occurring due to software issues, especially rouge processes and apps.
The smartphone is a computer in your hand. Laptop and desktop generally have numerous ways to keep the hardware cool, which includes a fan strapped on the processor's top. On the other hand, our phones don't have any moving parts. Cooling them is a challenge and you can even make a steeper one by, for instance, running lots of apps that are constantly using Wi-Fi or internet connection. Various applications could push the processor of your computer in the hand as hard as it can make it exhausted and that's when it starts to overheats. So, using your iPhone for so many hours without any pause results in overheating.
But, overheating issues on the iPhone could be even due to rogue apps. The problem becomes worse if so many apps have turned to rogue and activated the processor to operate and operate until it's totally revved up. That's when you would have to identify the apps that are misbehaving and then, simply put an end to it.
Part 2: How to Fix An iPhone That Is Overheating After Update
As you can see that if your iPhone 12/12 Pro(Max)/13 is overheating and it is mostly caused by software issues. Fortunately, software-related overheating problems could be fixed with easy by performing below workarounds.
Method One: Restart Your iPhone
The first recommended thing to try is to restart your iPhone. A simple restart could fix minor glitches that causing the overheating issues on your device.
Here's how to restart your iPhone X/11/12/13:
Press and hold down the Volume up/down button and side button until you see the power-off slider.
Drag the power-off slider.
To turn back your device on, press and hold down the side button until the Apple logo appears.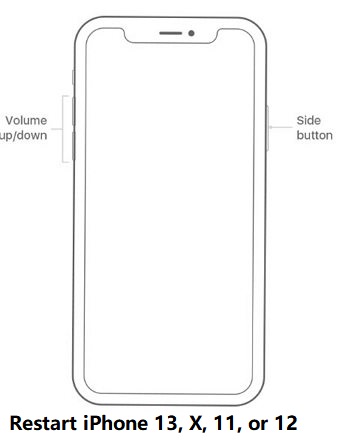 Method Two: Disable Background App Refresh
On new iPhone models, there is an App Refresh feature that keeps the running apps in the background updated. Well, the apps consume energy, resources, and data. This will certainly result in iPhone overheating and won't turn on. By turning off the feature, you can easily resolve the overheating issue. To do so, follow the below steps:
Step 1: On your iPhone, go to "Settings".
Step 2: Click on "General".

Step 3: Click on "Background App Refresh" and turn it off.

disable background app refresh
Method Three: Turn Off Bluetooth and Airdrop
Both Bluetooth and Airdrop are going to put pressure on the processor if they are turned on always. So, turning them both off could fix your iPhone overheating and freezing problem.
Below is how to turn off Bluetooth and Airdrop on iPhone:
Swipe down from the top on your iPhone.

Tap on the Bluetooth and Airdrop icons to turn them off.

disable Bluetooth airdrop
Not to mention, when Bluetooth and Airdrop are on, they are highlighted in blue color. If they are turned off, then they turned to grey.
Method Four: Update iOS
In order to fix the overheating problem, make sure that your device has all the latest updated installed. To check whether your iPhone is up-to-date or not, follow the below steps:
Step 1: On your iPhone, go to "Settings"> "General">" Software Update".

Step 2: If any updates are available, then install them right away.

update ios
Method Five: Close All Running Apps
Closing out all running apps can help reduce the workload or pressure on your iPhone processor. This, in turn, could help you fix iPhone overheats easily problem.
To close all running apps, follow the below steps:
Step 1: On the home screen of your iPhone, swipe up from the bottom and then pause to open the app switcher or device multitasking screen.
Step 2: You can swipe right or left to select the target app you would like to close

Step 3: Swipe up on the preview of the app to close it.

close app
Method Six: Check Battery Usage and Remove Battery Consuming Apps
To address and fix an iPhone overheating when charging problem, checking battery usage settings will help you identify the apps that are most using your iPhone battery life. Once determining the apps that are reasons behind the overheating problem, remove them to fix the problem.
Below is how to check battery usage and uninstall battery consuming apps:
Step 1.

On your iPhone, go to "Settings">" Battery">" Battery Usage" menu. Go over the info of battery usage for each app.

check battery usage

Step 2: To delete battery consuming app, tap & hold any icon on your Home screen for a few seconds. When all app icons begin to jiggle, locate the app that you like to delete and tap the "X" located at the corner of the app icon.

Step 3: Finally, tap "Delete".

delete app
Method Seven: Reset All Settings
Many problems, glitches, and bugs can be resolved by resetting your device. And iPhone overheating after update issues can be resolved with this method.
To reset all settings on your iPhone, follow the below steps:
Step 1: Open "Settings".
Step 2: Click on "General".

Step 3: Click "Reset">" Reset All Settings" and that's it.

reset all settings
Method Eight: Reinstall iOS System without Data Loss
Looking for a powerful solution to fix iPhone 13/12 overheating and screen dims problem? We recommend you try UltFone iOS System Repair tool. This software has helped so many users to fix their iOS related issues such as stuck on Apple logo, black screen, etc. It can even help you fix the overheating problem on your iPhone X without data loss by repairing and reinstalling the iOS system.
Get UltFone iOS System Repair on your computer and follow the below steps to learn how to use it to fix your iPhone overheating problem:
Step 1Run UltFone iOS System Repair and connect your iPhone to the computer. Then, click the "Start" button from the main window.

repair-os

Step 2Click "Standard Repair" and download the suitable firmware package for your device.

download firmware

Step 3Once the firmware package is downloaded, click "Start Standard Repair" and let the software complete the process to fix overheating issues on your iPhone.

repair-done
Method Nine: Factory Restore iPhone in iTunes (Data Loss)
Nothing above helps you to fix the iPhone overheating issues? Well, try to factory reset your iPhone with the help of iTunes. This should be your last common workaround if none of the above solutions works for you and don't want to use any third-party solution. Wondering why? Because the method results in data loss and so, do it at your own risk.
Here's how to restore your device to factory settings with iTunes:
Step 1: Open iTunes on your computer and connect your iPhone to the computer using a digital cable.
Step 2: Once iTunes detects your device, click on your device icon.

Step 3: Finally, click on "Restore iPhone" and that's it.

factory restore
The Bottom Line
That's everything you should know about fixing iPhone 13/12 overheating problem. If you don't want to go through hassle going through all common workarounds to fix the problem, simply use UltFone iOS System Repair tool. Unlike other solutions, it certainly helps you fix your problem without causing any data loss and effectively.