How to Fix iTunes Error 9006 While Updating/Restoring iPhone 2023
I was trying to restore my iPhone and suddenly this error message popped up on my screen - "There was a problem downloading the software for the iPhone ''iPhone'' An unknown error occurred (9006). Make sure your network settings are correct and your network connection is active, or try again." - Does anyone know what error 9006 mean and how can I fix it.
Restoring an iPhone via iTunes is usually a hassle-free process that only takes a few minutes to complete. However, there are a few situations when the process may get interrupted due to unexpected errors like the iTunes unknown error 9006. If you are also seeing the same error code on your screen while restoring the iPhone, continue reading. In this article, we are going to discuss what iTunes error 9006 means and what solutions you can implement to fix it.
On further scrutinization, we found out that many users are encountering the same problem with their brand new iPhone 13. If you are facing the same problem, this guide is for you. In today's article, we'll unveil various solutions to fix the iPhone 13 screen glitching error on your own. So, without any further ado, let's get started.
So, without wasting another second, let's dive in.
Part 1: What Causes iTunes/iPhone Error 9006
The "iTunes error 9006" is a network-related error that gets triggered when your device is unable to connect to the iTunes server. However, some other factors behind the said error may include: 
The Apple server might be busy and thus not responding to your request.
Your device may have a poor network connection.
iTunes may have lost its connection with the Apple server.
The IPSW file might have not been downloaded completely or it might be corrupt.
Part 2: Common Fixes to iTunes Error 9006
So, now that you know what triggers the iTunes 9006 error, let's dive into the solutions that'll help you fix it and complete the iOS restore process without any hassle.
Fix 1. Check your Internet Connection
Since poor network connection is one of the most common reasons behind the iTunes 9006 error, let's start by checking if your Internet is working properly or not. To do this, you can try opening another website on your web browser. In case the website doesn't load properly, go ahead and reset your Wifi router. If a poor network connection is causing the error, this will fix the problem and you'll be able to reset your iPhone easily.
Fix 2. Connect to a Different Wi-Fi
In case your Wi-Fi connection is not working properly, you can also switch to a different connection to complete the software update. In many cases, the network is down due to backend maintenance. If that's the case with your ISP (Internet Service Provider) as well, you can simply connect to a different network connection and complete the process.
Fix 3. Update iTunes to the Latest Version
While restoring an iPhone via iTunes, it's crucial to have the latest version of the application. If your PC has an outdated version of iTunes, you are most likely to encounter unexpected errors like the iTunes error 9006. To ensure iTunes is updated to the latest version, go to Help > Check for Updates.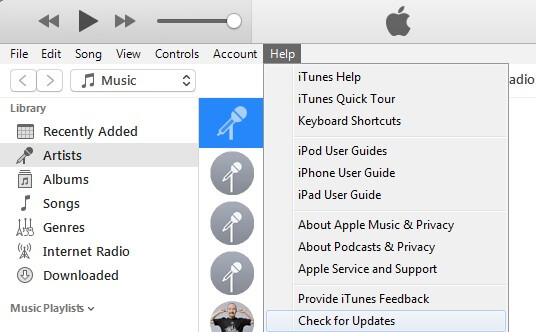 In case there are any pending iTunes updates, go ahead and install them. Then, restart your computer and you'll be able to restore your iPhone without seeing the iTunes error 9006 code.
Fix 4. Update Your Computer Operating System
Though it may seem a bit hard to digest, an outdated operating system can also cause the iPhone update error 9006. This usually happens due to software incompatibility issues. For instance, if the latest iTunes version is not compatible with your outdated computer operation version, you won't be able to restore your iPhone via iTunes.
Fix 5. Disable Firewall Security Software
If you are still seeing the iTunes error 9006 while updating or restoring your iPhone via iTunes, the next step would be to disable the firewall security or your antivirus application. As we mentioned earlier, the error usually occurs when your system fails to establish a connection with the iTunes server.
If you already don't know, Antivirus and Firewall security are the two major elements that can restrict your device from connecting to the Apple server. So, make sure to disable them and then, try installing the latest software updates.
Fix 6. Reboot your iPhone and Computer
One of the easiest ways to fix any system errors on an iPhone is to simply restart the device. If you are a tech-geek, you may already know that restarting the device terminates all the background processes instantly. So, if a third-party background process is triggering the above said error, you'll be able to resolve it without any hassle. However, in this situation, since your PC is also involved in the process, it would be better to restart it as well.
Fix 7. Verify Date and Time Preferences
Another reason behind the error is the incorrect date and time preferences on your Macbook. Ideally, the Macbook is configured to automatically set the accurate date and time based on the user's current location. However, if you have disabled default date & time settings, you'll most likely run into various system errors and "iTunes error 9006" is one of them.
On your Macbook, click the "Apple" icon at the top-left corner and select "System Preferences". Then tap on "Date & Time" and check the box next to "Set Date & Time Automatically".
Fix 8. Use Administrator Account
It's worth understanding that restoring your iPhone via iTunes will require special permissions. It means you would have to log into your system using the administrator account. Many users face the iTunes error 9006 because they try to run iTunes via a regular "users" account. To avoid this scenario, make sure to switch to the administrator account and you'll be able to complete the process without getting interrupted.
Fix 9. Manually Download the IPSW File to Fix iTunes Error 9006
In case none of the above solutions works, you may also need to try downloading the IPSW file manually. To do this, simply go to https://ipsw.me and download the suitable IPSW file according to your current iPhone model. Then, follow these steps to install this file on your device.
Step 1: On your computer, launch the "iTunes" or "Finder" app and open the "Summary" tab.

Step 2: Press and hold the "Shift" key and click on the "Update or Restore" option. You'll be asked to select the IPSW file to proceed further. Navigate to the folder where you have downloaded the file and select it.
That's it, your iDevice will start upgrading to the latest iOS version and you won't have to deal with the iTunes errors 9006.
Part 3: One-Stop Solution to iTunes/iPhone Error 9006 - Update/Restore iPhone without iTunes [No Data Loss]
In the majority of the cases, the above-mentioned solutions would have fixed the problem on your iPhone. However, if you are still unable to fix it, we recommend using professional iOS system repair software such as UltFone iOS System Repair.
The tool is tailored to fix nearly 150+ system errors on iOS and 200+ iTunes errors. Whether your iPhone is stuck at the black screen or you can't get past the recovery mode, UltFone iOS System Repair will help you troubleshoot the device easily. One of the major reasons why you should choose UltFone System Repair is that it resolves all the system errors without causing any data loss whatsoever.
Here are some of the key features of UltFone System Repair that make it a reliable tool to resolve iOS errors.
One-click solution to enter or exit the recovery mode.
Fix 150+ system issues without data loss.
Reset iPhone/iPad/iPod without passcode/iTunes/Finder.
Compatible with the latest iOS 15 and iPhone 13 models.
So, here's the step-by-step process to fix iTunes error 9006 using UltFone iOS System Repair.
Step 1 Start by installing the application on your system and launch it to get started. On its home screen, click the "Start" button.

Step 2 Connect your iPhone to the system and select "Standard Repair Mode" to proceed further.

Step 3 On the next screen, click the "Download" button to download the firmware package for your device. Make sure that your system is connected to a stable Internet connection during the process.

Step 4 Once the downloading process completes, click "Start Standard Repair" to initiate the repairing process.

Step 5 Wait for a few minutes and let the tool repair your device automatically. When the process completes, you'll see a confirmation message on your screen.
Now, your iPhone has been updated to the latest version without any hassle.
Conclusion
The iTunes error 9006 is a common system error that gets triggered due to network-related problems. While the error may seem intimidating at first, it's worth noting that you can resolve it by yourself. So, follow the above-mentioned solutions or try UltFone iOS System Repair to fix iTunes error 9006 and restore/update your iPhone easily.