How to Fix iCloud Restore Stuck Problem
I bought a new iPhone 6S and tried to restore it from iCloud backup. It has been on "Restore from iCloud" screen for more than 2 hours now. And at first, the message was "time remaining: estimating" and it is now saying "about 2 days
There's no denying that experiencing such kind of issues while restoring is maddening. And there could be several reasons behind iCloud restore stuck problem. For instance, poor Wi-Fi connectivity is one of the most common reasons to encounter this issue. However, the good news is that there are some ways that can help you fix this problem. This post is all about helping you explore all possible solutions you can try out to resolve restore from iCloud time remaining estimating.
Part 1: 3 Solutions to Fix iCloud Restore Stuck Issue
If restoring from iCloud backup taking forever, then we recommend you to be patient and try out the following common workarounds to fix the problem.
Solution 1: Check iCloud System Status
In order to check iCloud System Status, navigate to the https://www.apple.com/support/systemstatus/. You need to ensure that iCloud Backup, iCloud Account & Sign in, Apple ID are working. You'll witness a green dot next to these options if everything is great.
In case if these aren't working, all you can do is to wait for a while. Once Apple resolves the server issues, an iCloud restore will go smoothly without any interference from your end.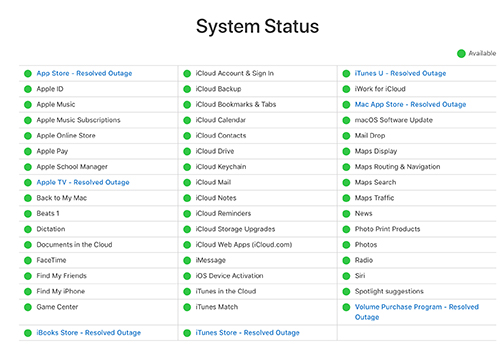 Solution 2: Check Wi-Fi Connection
As may or may not know that restoring from iCloud using cellular data is not possible, and thus, ensure that your iPhone is connected to a reliable Wi-Fi connection throughout the restore process. If you don't know, then you can connect your device to Wi-Fi by moving to the "Settings">" Wi-Fi".
If the restore from iCloud time remaining estimating problem persists, then we recommend you to try two following things:
Reset Network Settings: Go to "Settings">" General">" Reset">" Reset Network Settings". Now, try again to connect your iPhone to Wi-Fi.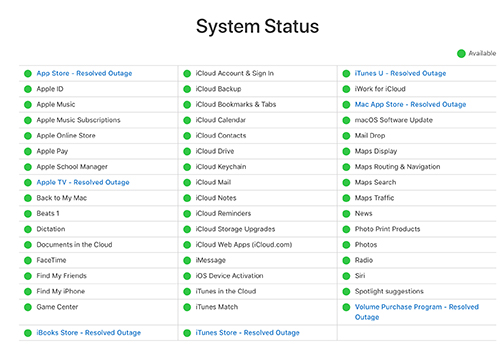 Disable Wi-Fi Assist - It ensures your device doesn't switch to mobile data when your Wi-Fi connection becomes weaken. To do that, go to "Settings">" Cellular">" Wi-Fi Assist". Here, turn it off and that's it.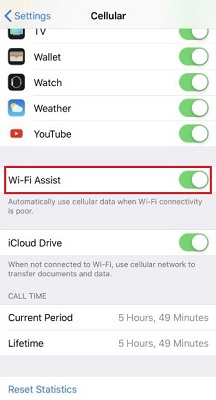 Solution 3: Stop Restoring from iCloud Backup
You can try to stop restoring from iCloud backup in order to get rid of iPhone restore from iCloud stuck on estimating time remaining. To do the job, there is no need for a computer and new iCloud restore from backup unless you witness things are missing. However, follow the below steps to stop iCloud restore that's stuck:
Step 1: On your iPhone, open the "Settings" app.
Step 2: Move to the "iCloud" settings.
Step 3: Here, navigate to the "Backup".
Step 4: Click on 'Stop Restoring iPhone" on the next screen.

Step 5: Click on "Stop" when a pop-up will appear to ask if you like to stop the restore.

After you stop iCloud restore that's stuck, erase your iPhone and then restore from iCloud to begin the process again.
Part 2: Still Having The Problem Of iPhone Restoring From iCloud Backup Taking Forever?
If none of the common workarounds helps you fix the issue of restoring from iCloud backup taking forever, then you definitely need a more powerful solution to fix the problem. In that case, all you need is the UltFone iOS System Repair tool. With the assistance of this tool, you can fix iPhone restore stuck issue without causing any kind of data loss. No matter what's a reason behind the issue, you can certainly rely on this tool to do the job in no time.
Ready to learn how to use the UltFone iOS System Repair tool to fix your iPhone restore stuck issue? Download the tool on your desktop computer and then follow the below steps:
Step 1 Run the UltFone iOS System Repair tool and connect your iPhone to the computer with the help of a digital cable. Then, click on Start button from the main interface.

Step 2 Click "Standard Repair" and then download the recommended firmware package for your iOS.

Step 3 Upon successfully downloading the firmware, click "Start Standard Repair" and let the software do its job. In a while, your problem will be solved.
Part 3: People Also Ask about iCloud Restore
1. Why is it taking so long for my new iPhone to restore from iCloud?
There could be many reasons for that. In most cases, it occurs due to weak Wi-Fi connectivity or if your device loses Wi-Fi connection and switches to mobile data. Or it could be possible that the Apple servers may not be working temporarily.
2. How long does it take for a new phone to restore from iCloud?
For a new iPhone, it can take around 1 to 4 hours per GB to restore from iCloud.
3. What does restoring iCloud backup mean?
Restoring iCloud backup means is to restore your iPhone's data from an iCloud backup. You're retrieving the data that you saved previously to iCloud and reloading it on your iPhone. Generally, this even means that you're overwriting all of the existing iPhone's data. iCloud will wipe out the data and settings on your iPhone in order to perform the restore process.
The Bottom Line
That's all on how to fix iCloud restore stuck on estimating time remaining problem. If you're looking for a quick fix, then look no further from UltFone iOS System Repair. This tool will help you resolve the problem without going through much hassle, especially without data loss.