How to Delete All Contacts on iPhone 12/11/XR/XS/8/7
I have over 1100 contacts saved onto my iPhone, which are duplicates of contacts in my iCloud account. How do I delete all of them at once rather than having to go into each contact one by one to delete it?
Saving contacts in your iPhone eases a lot of your tasks when it comes to contacting a person over a phone call. But sometimes, you may have plenty of contact numbers saved in your contact list that might confuse you. Here, deleting some of the duplicate and unwanted contacts can work for you!
Now, when it comes to deleting the contacts on iPhone, you can delete individual contacts without any hassle, but if you want to delete all or multiple contacts at once, then you might find yourself stuck because you will need to use iCloud for that. In this guide, we will show you how to delete iPhone contacts all at once in a hassle-free and quick manner!
Part 1: Best iPhone Contacts Manage Tool to Merge, Delete, Add Contacts Easily
Are you hunting for the best iPhone contacts manager tool to merge, delete or add contacts flawlessly? If yes, then we have got your back! UltFone iOS Data Manager aims to help you export or remove all contacts from iPhone in a click.
The Outstanding Features of iOS Data Manager
Delete all contacts on iPhone at once.
Find and merge contacts in a click.
Backup contacts and other data on iPhone to computer without iTunes.
Transfer data between iOS device and computer without syncing.
The Steps to Clear Contacts on iPhone with iOS Data Manager
Step 1 Download and launch UltFone Data Manager on your PC or Mac. Now, connect your iPhone to the computer via a USB cable and choose the "Manage" feature from the main menu to begin!

Step 2 Now, choose the "Contacts" category from the left panel. All contacts on your iPhone will be listed on the program.

Step 3 Now, you can check all contacts or multiple contacts, click Delete button to confirm your choice.
So, it is very easy to delete iPhone contacts all at once with this iPhone management software. You can also click De-duplicate button to find and merge contacts in a simple click.
Part 2: How to Delete a Contact on iPhone
Whenever it comes to deleting a contact on iPhone, it permanently deletes it from your iOS device. And if you opt for deleting a contact from your email account, then you permanently delete the specific contact from all the devices signed in to the same email account.
Here is how to delete a contact on iPhone:
Open Contacts app on iPhone, and tap on the contact that you'd like to delete. Tap on the Edit button and then scroll down, you'll find the Delete Contact button. Tap on the button and confirm your choice.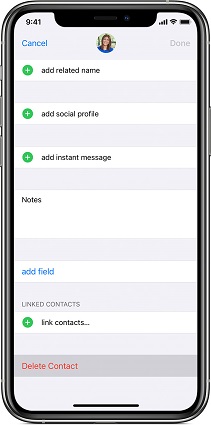 Part 3: How to Delete Contacts from iPhone All At Once
Another way to delete all contacts on iPhone is via iCloud. By using the web version of iCloud, you can select multiple contacts and delete all of them at once by following the steps below!
Step 1: Go to iCloud.com on your computer and log in by using your Apple ID and password.
Step 2: On the main page of this website, choose Contacts category.
Step 3: Highlight the contacts that you wish to delete.
Step 4: Scroll down and choose other contacts to delete.
Step 5: Now, tap on the Settings icon at the bottom left of the screen and choose Delete button.

Step 6: In the box, tap on Delete to confirm your choice.
You have successfully deleted all contacts at once by using iCloud!
Part 4: How to Erase All Contacts from iPhone Gmail/Outlook/Yahoo
If you are an iPhone user, you might already know that iPhone supports users to import contacts from a certain email account like Outlook, Gmail, or Yahoo. So, if you want to know how to clear all contacts on iPhone Gmail/Outlook/Yahoo, please follow the list of steps mentioned below!
Step 1: Navigate to Settings > Contacts > Accounts. Here, you will see all your accounts that apply to your iPhone.
Step 2: Select the account you wish to delete and toggle off the Contacts option.
Step 3: Now, a pop-up box will appear asking you if you are sure to continue; later, all contacts from the selected account will be removed from your iPhone.

Step 4: Finally, tap on Delete from My iPhone.
It was quick and hassle-free to erase all contacts from iPhone Gmail/Outlook/Yahoo!
Wrap It Up
Here we have come to the end of this guide on how to delete all contacts from iPhone 12/11/XR/XS/X/8/7. Well, erasing multiple contacts on iPhone at once might sound pretty challenging, but in reality, it is not that tough as it sounds with the right methods and tools in hand!
So, what are you waiting for? Just choose the method of your choice and get an answer to how to clear contacts on iPhone in just a few minutes. But if you ask us, then we will suggest you try your hands on the UltFone iOS Data Manager. From files and photos to contacts, this iOS manager tool will help you manage everything flawlessly on your iPhone at a very affordable price.