How to Fix The Apple ID Cannot Be Used to Unlock This iPhone/iPad
Apple's iCloud Activation Lock is an extremely useful security feature that's designed to restrict unauthorized persons from accessing an iPhone/iPad. Even if your device gets stolen or lost, no one would be able to access it, thanks to the Activation Lock functionality. But, this feature has also become a severe issue for many users, especially those who have bought a second-hand iPhone. Many users, who purchased old iPhones, had to face the "The Apple ID Cannot Be Used to Unlock This iPhone" error. This issue generally occurs when the previous owner had forgotten to remove their iCloud account before resetting the device. If you're facing the same error, continue reading, the following guide will provide you with various effective solutions to fix the error.
Method 1: Fix "The Apple ID Cannot Be Used to Unlock This iPhone" Issue with UltFone Activation Unlocker
Since it would be impossible for many users to contact the previous owner, the most convenient way to fix "The Apple ID Cannot Be Used to Unlock This iPhone" would be to bypass iCloud Activation Lock. To do so, you'll need a professional tool that's specifically designed for this purpose. We recommend using UltFone Activation Unlocker. It's a dedicated iOS tool that'll help you remove the iCloud Activation lock without having to enter the Apple ID or password. The software will simply bypass the activation lock window, allowing users to access their iPhones without any interruption.
You can also use this software if you've forgotten your iCloud credentials and have accidentally reset the device. Once the Activation Lock is removed, you won't encounter the "Apple ID Cannot Be Used to Unlock This iPhone" error anymore.
Here are a few features you'll get with UltFone Activation Unlocker.
Supports almost all iDevices and iOS version, even the latest iOS 14.
Remove activation lock without any Apple ID or Password. No need to contact the previous owner.
A user-friendly interface will make it extremely easy to bypass your iPhone, even if you're not a tech-geek.

Supports also iPad, iPad Mini, iPad Air, iPad Pro.
So, here's the step-by-step procedure to unlock the iCloud Activation Lock on an iPhone.
Step 1Launch the Tool

Launch UltFone Activation Unlocker on your PC. In the home screen, you'll see different instructions notifying that the software will jailbreak the device to remove Activation Lock. Click "Start" if you're ready to jailbreak your iPhone.

Step 2Read Agreement

In the next screen, UltFone will show a detailed Agreement. Read the T&C carefully and click "Next" to proceed further.

Step 3Connect Device

Step 4Download Jailbreak Tool

After your device gets successfully recognized, UltFone will start downloading the right jailbreak tool. Be patient as this process may take a few minutes. Make sure that you're connected to a stable Internet connection.

Step 5Start Jailbreak

Once the jailbreak tool is downloaded successfully, click "Start Jailbreak" to continue with the process.

Follow the on-screen instructions to jailbreak your device and then click "Next".

UltFone will show you device information for the final time. Confirm the information and tap on "Start Remove" to remove the iCloud Activation Lock.

Step 6Unlock Device

It'll start removing the activation lock from your iPhone. Don't worry, this process won't take too long to complete. However, make sure that your iPhone is firmly connected to the PC throughout this process.

Once the process completes, you'll see a confirmation message on your screen.
That's it; you'll be able to set up the iPhone using your own Apple ID without having to face the "the apple id cannot be used to unlock this iPhone" issue.
Method 2: Ask the Previous Owner to Help If the Device is Second-Hand
If you've bought the iPhone from a friend, you can also ask them to help you with the issue. In this case, you won't need to bypass iCloud Activation Lock. All you have to do is call your friend and ask him/her to remove the specific iPhone from their iCloud account.
Step 1: Go to iCloud.com on your desktop and ask your friend to log in with their credentials.
Step 2: Once logged in, click the "Find iPhone" option.
Step 3: Now, click on the "All Devices" tab at the top of your screen and choose the iPhone that you want to remove (in this case the iPhone that you've bought from your friend).
Step 4: Finally, click "Remove From Account" to remove the selected iPhone from the iCloud account.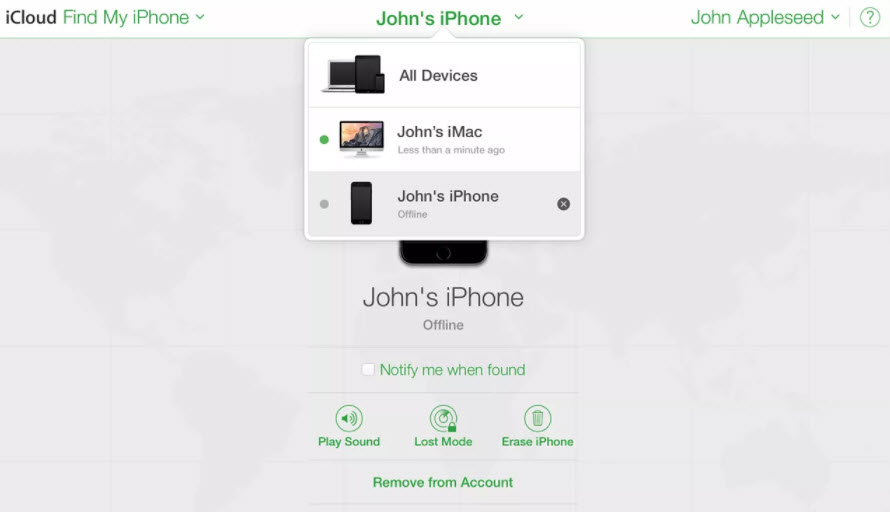 Once the device is successfully removed, simply restart it and you'll be able to set up the iPhone with your Apple ID. This is a pretty convenient solution, especially if you can contact the previous owner. This way you won't have to jailbreak the device or go through the hassle of bypassing the activation lock.
Method 3: Unlock the Activation Lock with Screen Passcode (iOS 11 and Above)
If your iPhone is running iOS 11 or above, there's another method to access the device without having to bypass the iCloud activation lock. All the iDevices running on iOS 11 or above support two-factor authentication. It's a special feature that allows iOS users to turn-off activation lock using the screen passcode.
However, this method will only work if you've accidentally reset your own iPhone and remember the passcode as well. To do this, simply click on the "Unlock With Passcode" option and enter the passcode to remove the activation lock.
Final Words
The majority of people who buy a second-hand iPhone encounter the "the apple id cannot be used to unlock this iPhone" error. Of course, it can be pretty annoying to see this error on your screen, especially when you've recently purchased the iPhone. However, the good news is that it is not one of the fatal iPhone issues and you can easily fix it on your own. Start by looking for contact details of the previous owner and ask them to remove the iPhone from their iCloud account. In case that doesn't work, use UltFone Activation Unlocker to bypass the activation lock and access the iPhone without any inconvenience.