How to Fix Apple ID Cannot Reset Security Questions Insufficient Information
I honestly tried over and over again, but i forgot my security answers and eventually i got locked out of my apple id. I tried to change my security questions but i couldn't. Cannot Reset Security Questions. We do not have sufficient information to reset your security questions. Please help me. I can't buy anything on my apple id because i need to verify it, but it sends a code to an old iPad that doesn't work.
When someone buys an Apple device and creates his account for the first time, he will get the Apple ID and will be prompted to answer some security questions. If the person forgets the password or his account gets locked by mistake, answering the security questions will help in identifying you and regaining access. However, providing wrong answers to security questions will lock your Apple ID. If you are facing the same situation, we have got your back. In this post, we will be sharing some useful tips that can help you for sure. Let us begin and explore what action to take if you are stuck with this issue.
Part 1: How to Reset Apple ID Security Questions with Apple ID Password?
If you contact the Apple support or wish to get identified online easily by them, security questions have a vital role. This helps Apple to verify that it's you who is trying to gain access back to his account. Apple asks to answer security questions when you want to change the password, see device and account info or purchase any item from iTunes. Right now, if Apple cannot reset security questions for you, reset it with Apple ID password. If you have the password in your hand, the process of resetting Apple ID security questions is more manageable. To do so, follow these methods:
Step 1: Visit the link iforgot.apple.com.
Step 2: Type your Apple ID.
Step 3: Select the option of resetting the security questions. After that, click on "Continue".
Step 4: Enter the password of your Apple ID again and click on "Continue".
Step 5: As the instructions are shown on the screen, you can verify yourself. Depending on your account info and other things, you will be asked to provide details.
Step 6: Select new questions, answer them and click on the "Continue" button. For avoiding this in future, you can set up two-factor verification or two-factor authentication.
Part 2: Fix "We Don't Have Sufficient Information to Reset Your Security Questions"
If Apple ID cannot reset security questions and displaying "we don't have sufficient information to reset your security questions" message, contact the Apple account security team. Only they can assist in this condition.
Step 1: Open the link https://support.apple.com/en-us/HT204169. This is basically Apple support page.
Step 2: Find the area where you are located. For example USA, click "Get support now" and it will show you the category you want to ask. Hit "Forgot Security Questions" tab now.
You will now be offered some solutions depending on your region. Make sure to follow the prompts and get assisted.
Please note that the team of Apple will ask a few questions in order to authenticate your identity. Post that, you will be given a new Apple ID and most probably the purchases you've made in the past will lose.
Part 3: How to Reset Apple ID Security Questions without Apple ID Password?
Until now, you have the chance to reset Apple ID security questions by using the Apple ID password or resetting it with a rescue email. But what can be done when you have forgotten the password, security answer/questions and have no backup email added to your Apple account? You cannot reset Apple ID security question in such a situation. Now, all you have to do is unlock your Apple ID anyhow. Contacting Apple team may be helpful, but the process is tedious. They will instead provide you with a new ID than giving you access to the previous one. And then you will lose all the purchases. After an update, your iPhone/iPad can't be activated. To tackle this problem, smartly, using an Activation Unlocker is the right decision.There are many instances when UltFone activation unlocker can help like when you do not remember the Apple ID password, hacking of your own Apple ID if you forget it, erasing all the content and settings without logging out from Apple ID, etc.
Allow you to bypass activation lock if you forget the password.
Remove activation lock on a second-hand device.
Compatible with iOS 13.6 activation lock bypass.
Work with Windows and Mac with ease.
Step 1: Launch UltFone Activation Unlocker
Download, install and run the UltFone Activation Unlocker. Keep in mind that it will jailbreak your Apple device. Connect the device to bypass iCloud lock. Click on "Start" to proceed. If you are using Mac, read and agree with the agreement after clicking on "Start".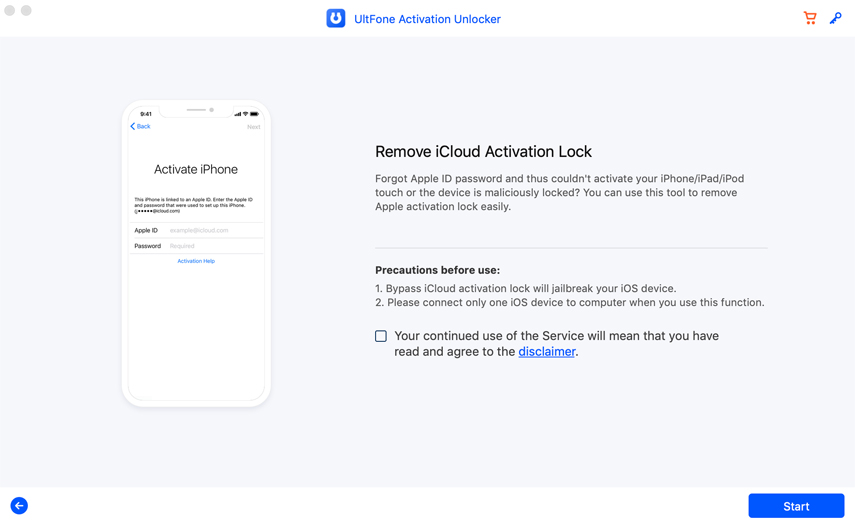 Step 2: Connect the Device to Computer
Connect your iCloud locked iPhone/iPad to the PC with the lightning USB cable.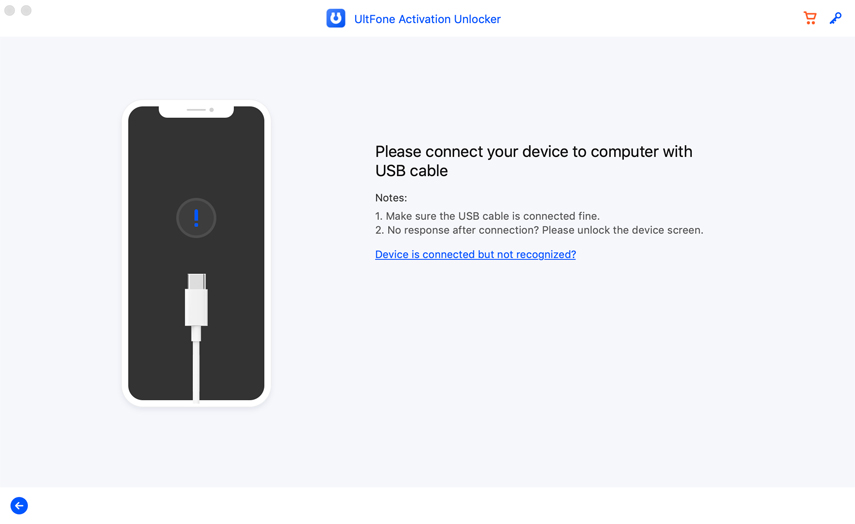 Step 3: Download Jailbreak Tool
The application will identify your device, and then it will download the suitable jailbreak tool. Make sure to keep the device connected, and the internet connection is good.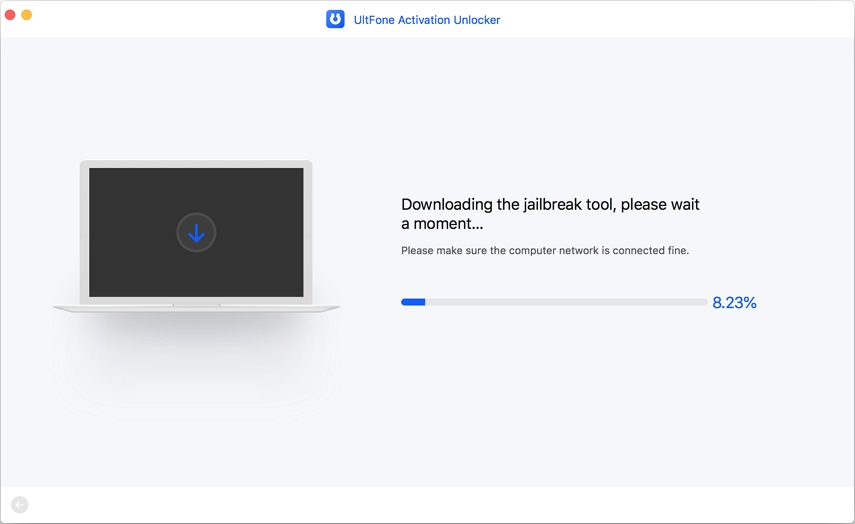 Step 4: Start Jailbreak
After it downloads the jailbreak tool, click on "Start Jailbreak" button. You will receive instruction on the screen for jailbreaking the device. Read the precautions carefully to avoid failure. Click on the "Next" button when the jailbreak finishes.
Step 5: Confirm Details
In the new window, kindly check the device details if it is wrong or right. Click "Start Remove" button for removing the iCloud activation lock. Now, the process of removing iCloud activation lock will begin. Do not disconnect the device from PC. You can log in to a new Apple ID using App Store or iTunes&App Store in Settings.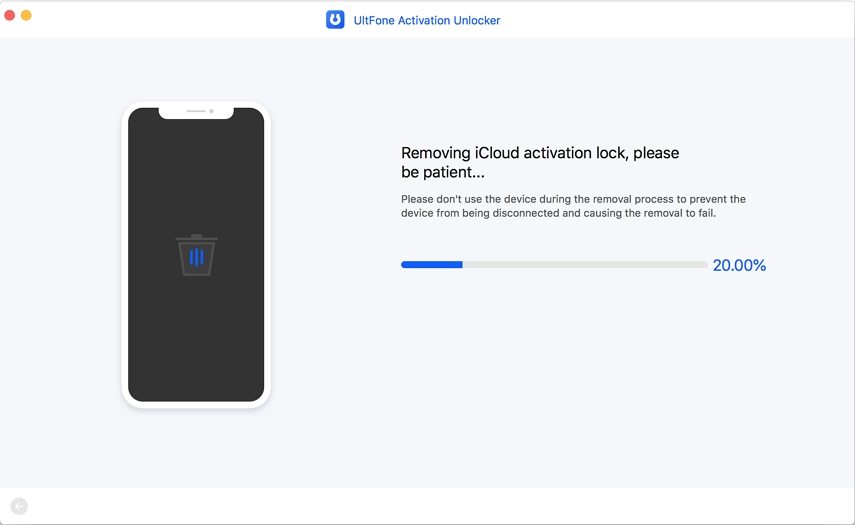 Note: Factor reset or flashing firmware after bypassing the activation lock will put Apple ID in the locked mode again. Avoid logging into the iCloud account with "Settings".
Bonus Tip: How to Change Security Questions?
If you are still facing any issue about security questions, this bonus tip will be helpful. You can change security questions. This is how you can do it.
Step 1: Open the link appleid.apple.com on the browser of your choice. This will direct you to the Apple ID account page. Enter the Apple ID to sign in.
Step 2: Once you loged in, you will redirect to account page.
Step 3: Go to the "Edit" option under security section after signing in to the Apple ID. Are the security questions being already there? You will be said to answer them before doing anything else.
Step 4: Set the questions by clicking on the "Add Security Questions". Select a new security question and type the answers.
Step 5: Add an email address and verify it.
Let's Conclude
Every user hates it when Apple cannot reset security questions. One has to follow all the above methods to fix Apple ID cannot reset security questions insufficient information problem. Isn't it's easy to deal with the error now? Feel free to get your doubts cleared by asking us. Also, thanks for reading this. Don't forget to share it with your friends who need this solution.