Full Guide to Fix Apple ID Password Not Working
Your Apple ID stores most of your valuable phone information and allows you to access the data anytime, anywhere. It is a reliable store of your data and an important source to access multiple functions of your phone (such as iTunes and app store). Hence if your confirmed iPhone passcode not working, you are stuck. There had been a rising concern among users who have faced the problem that Apple iPhone/iCloud password isn't working. Well, if you are one of the anxious users, we are always available to sort things out for you. Here we bring to you a full and detailed guide on how to fix Apple ID password not working.
Part 1: Why Apple Password Not Working
A lot of people have encountered the following issues:
Apple password not working
New Apple ID not working
My iCloud password is not working
My iTunes password is not working
Well, there are several reasons for this. It's usually due to the Apple server issue, or someone else has changed your Apple ID password. Numerous methods can assist you to sort out the puzzle. Let's discuss them in detail.
Part 2: General Solutions to Apple ID Not Working
Reset your Apple ID Password Using Find My iPhone Application
Find My iPhone is a compelling application provided by Apple and it is beneficial to fix the issue of new Apple ID not working. Follow these simple steps to reset your ID password.
1. Open the Find My application on iPhone. Upon starting the application, you will see a sign in Interface.
2. Click on Forget Password, and enter your iPhone password. Upon Confirmation of Password, you will be asked to enter the new password. 
3. Type the new password and then Tap on "Change". Well Done, you have successfully reset your Apple ID password.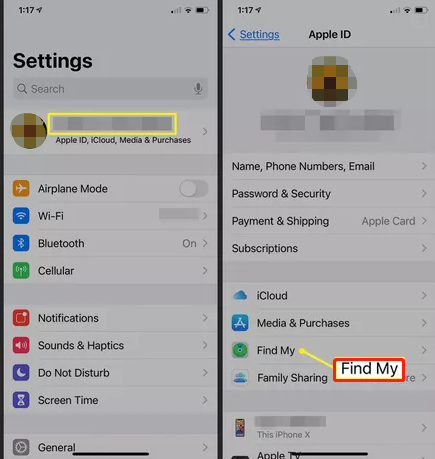 Reset your Apple ID Password Using Apple Support App
For the vast majority of folks, the above method usually works out. In some cases, if the issue isn't fixed, you could try this method using Apple Support app. Here's the process you need to follow.
1. Open the Apple Support App from your iPhone. Tap on "Get Support" then choose Apple ID.
2. Upon tapping on Apple ID, choose "Forget Apple ID Password". Tap on "Get Started" and then select "A Different Apple ID". 
3. Enter your Apple ID and tap Next. Apple Support App will verify your identity via message or email.
4. Upon successful verification, the application will ask you to "Enter Password". Now enter your iPhone password.
5. Choose a new password and tap "Change". Great! Now you have successfully updated your Apple ID password.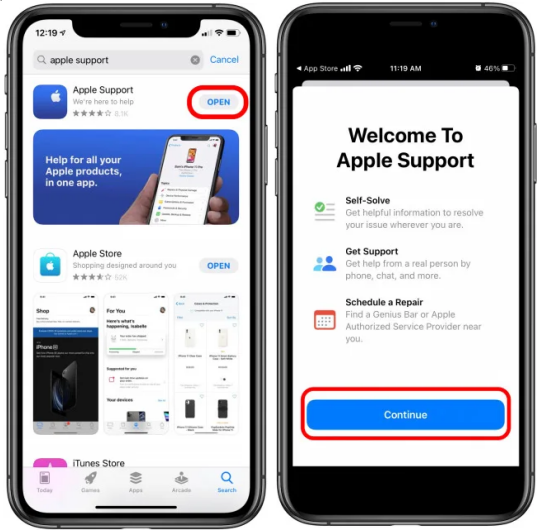 Reset your Apple ID Password via My Apple ID Website
Another method to reset your Apple ID password is resetting it via My Apple ID Website. The technique is simpler when compared to others. Follow the steps below to finish the resetting.
1. Open My Apple ID Website. Tap on Forget Apple ID Password and then enter your Apple ID.
2. Apple will confirm your identity. You can verify your Apple ID by Email or answering security question. 
3. Upon Successful Verification, "Enter your new password" and then click on Update Password. Great! You have successfully reset your Apple ID password.
Create A New Apple Account:
Don't forget that you can also create a new Apple Account. Setting up an Apple account is super easy. In Order to create a new Apple account, you need to follow some guidelines:
1. Tap Settingas from your iPhone. Scroll down and tap on iCloud. Select "Get a Free Apple ID".
2. Now fill out the information required to create an Apple account. After filling all the relevant information, you need to confirm your account.
3. Upon Successful Confirmation, you have created a new Apple account. It is recommended to use a strong password that will help protect your account.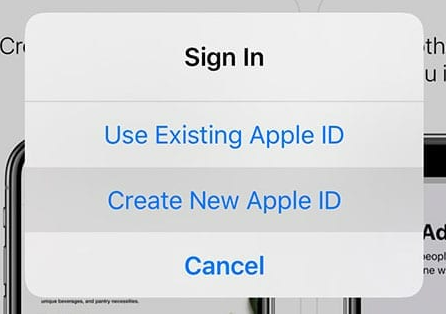 Part 3: What to Do When My iTunes Password is Not Working
One of the most common causes of iTunes password not working is the wrong password. Well, in this situation, you might firstly need to confirm your password, and if your password is right, then try the method below.
1. Launch iTunes application on your computer. Click "Edit" at the top of the iTunes window.
2. Select "Preferences" from the drop-down menu. At the top of the Application Section, click on Advanced. 
3. Under Advanced Section, tap on Reset iTunes Stores Cache then click "OK".
Part 4: What to Do When My iCloud Password is Not Working
iCloud often stores most of the important data you have on your phone, including pictures, messages or contacts. It allows you to have a backup of all your crucial data so that you don't need to worry about losing them. But what if your iCloud password is not working? You will lose hold of your vital data. Here are some methods that can save you from this situation.
Restart your iPhone/iPad
A quick fix to your iCloud password not working is to restart your iPhone/iPad. Here're the specific steps:
1. Hold the power button. A slider would appear on your screen.
2. Slide it towards the right, and you iPhone will shut down. Once it's off, long-press the power button again.
3. Your device shall restart, and the issue shall be fixed.
Sign Out and Sign in iCloud again
If the above method doesn't help, we have got to consider the possibility of a flaw in the iCloud server. The best way to fix the situation is to sign out and then sign in again after some time.
1. Open the settings, go to [Your Name]. Scroll down the bottom of the screen, to the option stating sign out
2. A screen shall appear and ask you for a password, enter it and click turn off
3. Re-click on the sign-out option, to confirm signing out from the iCloud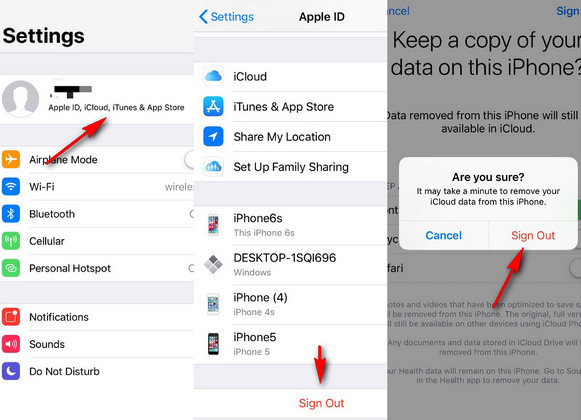 4. Sign in with your Apple ID and password again.
Update Your Device
One of the significant reasons following the problem can be the fact that your Apple device isn't updated to the latest IOS version. The device having an older version of iOS may cause some difficulties in carrying out some operations, and this might be a cause of your confirmed iCloud password not working.
1. Open Settings app on your iPhone. Choose the General option.
2. You shall find software update, click on it.
3. Look for the newest version and update your device.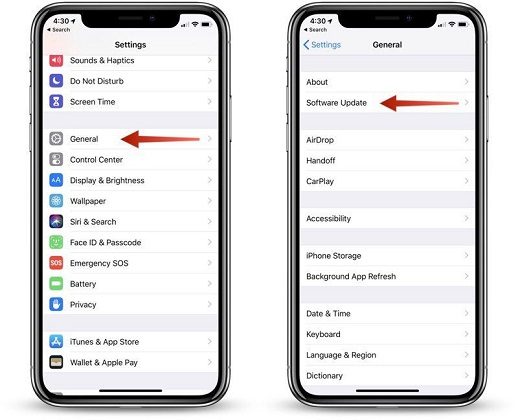 Part 5: All in One Solution to Fix Apple ID Not Working
Since there's a great possibility that your Apple ID not working is due to some software glitches, then UltFone iOS System Repair would be your first choice to solve the problem. You don't even to know what on earth causes the problem, with this software, just by a couple of click, the problem will be fixed.
Features:
Repair more than 150 iOS system issues such as Apple ID password not working, the reboot loop, Apple logo, and blank screen without losing data.
Reset iPhone/iPad/iPod Touch even if you don't have password/iTunes/Finder
Downgrade from iOS 15 without iTunes.
1-Click to enter and exit recovery mode on iPhone/iPad/iPod.
Support all iOS versions and iPhone models, including the latest iPhone 13 series and iOS 15.
Step 1 Download and launch the software and connect your device to the computer. Click "Start" to enter the iOS system repair module. On the following screen, click "Standard Repair" to proceed.

Step 2 click the "Download" button to download the automatically matched firmware package for your device. You can change the saved path by clicking "Browse" to select another location to store firmware package.

Step 3With the firmware package downloaded successfully, please click "Start Standard Repair" to fix the iOS issues on your device. When the iOS system recovery is done, your iOS device will automatically reboot and everything will back to normal.
Part 6: FAQ About Apple ID Not Working
Q1. How to Remove Activation Lock on an iPhone?
Activation lock is used to prevent someone else using your device in case of theft or loss. You might be in trouble using your device if you forget your Apple ID password or bought a device that is activation locked. At this point, UltFone Activation Unlocker can help you bypass activation lock easily and prevents you from the previous owner's tracking or locking down. Besides, it allows you to log in your new ID. Give it a try and we promise you'll fall in love with it.
Q2. What to do When Your Apple ID is Locked?
Apple automatically blocks Apple account if they suspect suspicious activities. The doubtful activities shall include numerous attempts of logging in without the right password or incorrect answers to the security questions. In these cases, Apple automatically blocks the account. However, you can reset your account and regain the access to your account by Two Factor Authentication or Recovery Key. These methods are generally helpful to get back your account.
Final Thoughts
To conclude, your Apple ID password not working can put you in an unwanted situation, hence we have got you covered. The above-listed ways are tried and tested various times and had bought positive results for most users. And if you like this article or have anything want to share with us, feel free to leave a message in the comment section.