How To Fix iCloud Backup Taking Forever
I wanted to give my iPhone to my little sister and tried backing up data on iCloud. But the process is stuck midway. Can someone tell me why is my iCloud backup taking so long?
A lot of situations require backing up iPhone data to iCloud. Whether we need to update the device or create a new backup, iCloud is usually the first choice. However, if the iPhone backup is taking forever using iCloud, it can be a frustrating situation. So, in this guide, we'll talk about how long iCloud backup takes and what you can do to speed up the process.
Part 1: How Long Does Backing Up to iCloud Take?
As iCloud is the official storage and backup service for Apple users, it is evident that at some point, you'll have to use it. Giving an exact answer for this is difficult as your backup speed might vary as well. Typically, backing up the data can take up to 30 minutes or an hour, depending on the amount of data you want to upload on the cloud.
So, if you are trying to backup iPhone to iCloud, but it's taking forever, it means that there is some underlying reason behind it. You might have an unstable internet connection, less storage space left, or the backup files might be too large. All these reasons will affect the speed, and you will end up waiting for a long time that might seem forever.
Part 2: How to Speed Up When iCloud Backup Taking Forever?
There are multiple things worth trying to speed up the backup process of iCloud. Here we have listed them briefly.
Tip 1. Spare More Space for iCloud Backup
If you are wondering, "why is my iPhone iCloud backup taking so long," then keep in mind that iCloud only offer 5GB of storage for free. So, if your backup data size is larger than 5GB, then it is apparent that the process will take time.
The ideal thing to do is cleaning the unnecessary data from your device. When there is less data on your iPhone to backup, the process will automatically be fast and smooth.
Tip 2. Turn Off Large Apps And Files Backup
It is the large-sized files that often out a stop in the backup, and you don't see it moving forward. As these files are one of the primary reasons for iPhone backup taking forever, it means you should turn off backup of such files.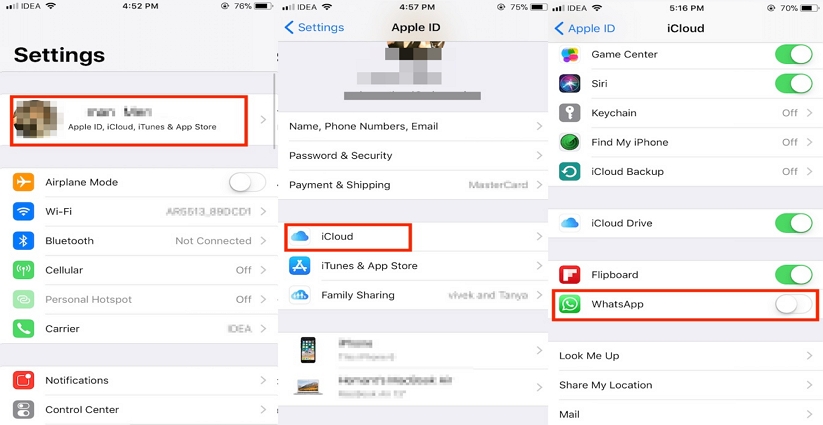 Just go to Settings > Your Name > iCloud> App name> toggle the bar to turn off the backup of such apps and their respective data. It will prevent the useless files from being added to the backup, and you won't have to wait that long as well.
Tip 3. Turn Off Unnecessary Backups
The next intelligent thing you can do is turning off unnecessary backups. In case you are wondering, "why is my iCloud backup so slow," then let us tell you what happens when your device data is backed up daily. It will create redundancy in the files and fill up the cloud space faster than ever.

To disable backup of such app data, open Settings > iCloud > Storage > Manage Storage > Backups > your device name > Show All Apps > and toggle on the app name whose backup you want to switch off. Hit the Turn off & Delete option and prevent iCloud from spending so much time in unnecessary backups.
Tip 4. Connect To A Good Internet
Another common reason for "why is my backup to iCloud taking so long" is your internet connection. Being a cloud service, iCloud backup depends on the speed of your internet connection. If the network isn't stable, the process will get interrupted, and you'll have to wait for a long time to backup even a small size of data.
Tip 5. Deleted Unwanted Data Especially Photos
The data that makes up the significant part of your iCloud backup is photos. If you can't figure out why is it taking so long to backup my phone to iCloud, the answer is pictures you are trying to upload to the cloud. Hence, you need to delete unwanted photos along with other data such as videos, music files, documents, etc.
For selective deletion, you can open the respective app and select files to delete. Like in the Photos app, you can select multiple photos and hit the Trash Can icon to delete the images.
Part 3: Backup iPhone to Computer Instead of iCloud
The best tip we can give if you don't know why is my iCloud backup taking forever is creating a backup of data on Computers instead of Cloud. Not only iCloud has limited storage space, but it also relies on internet connection speed that always fluctuates. Furthermore, you don't get the freedom of selective backup or selective restore. But this problem can be resolved using UltFone iOS Data Manager.
Advantages of Using iOS Data Manager to Backup iOS Data without iCloud
No internet reqirement
Backup iPhone data to computer for free
Support selective backup without needing to ovewritting current data
iew backup files and perform selective restore
No limitation of storage
Keep all backup files on computer, so you can select to restore from old backup
Transfer files to/from computer without iTunes
One click to export photos to computer
One click to merge duplicate Contacts on iOS device
After knowing the perks UltFone iOS Data Manager offers, we can assure you that you wouldn't want to use any other software for data management and backups. Get this tool and use the guide here for creating the latest backup of your iPhone data.
Step 1 Run this program and connect your iPhone with the system. From the home interface, switch to the Backup & Restore tab and choose the "Device Backup & Restore" option.

Step 2 Select the file type that you want to backup.

Step 3 Hit the Backup button at the bottom and wait as the task finishes.
After that, you'll be able to see your latest backup and restore it whenever you want.
Part 4: FAQs about iCloud Backup
1: What does iCloud backup include?
As iCloud is created for iPhone backup, it supports various file types and formats supported by Apple devices. When the iCloud backup is taking forever, knowing what data type is backed up, sure comes in handy to fix the problem. The list of data iCloud backup includes is below:
App data, including photos, videos, music, etc.
Call logs and visual voicemails
Ringtones and notification settings
Apple purchases
Messages along with all instant messaging app installed on the device
Device Settings
Health app data and HomeKit data
2: What is the iCloud storage plan?
When a user signs up for iCloud, he/she gets 5GB of free storage. However, you can upgrade the storage plan from 5 GB to 2TB as per requirements. The storage plan differs from country to country. Hence, the ideal thing would be checking out the official link for the iCloud Storage Plan.
3: How to check iCloud storage?
Most users want to know why is my iCloud backup so big. The answer is hidden in the storage. To check iCloud storage, open Settings > your name > iCloud > Manage Storage/ iCloud Storage, and you'll see which type of data is occupying how much space in the cloud.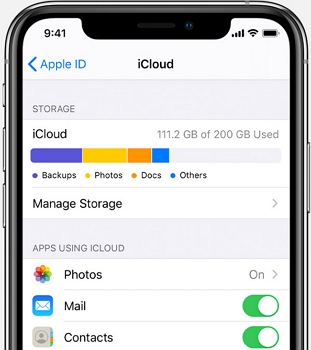 The Bottom Line
Now you have the answer to "why is my iPhone taking so long to backup to iCloud". So, the next time you face such an issue, you'll know what to do. We recommend that you use third-party iPhone backup software to backup iPhone/iPad data without iCloud as it offers more flexibility when it comes to iPhone backup.